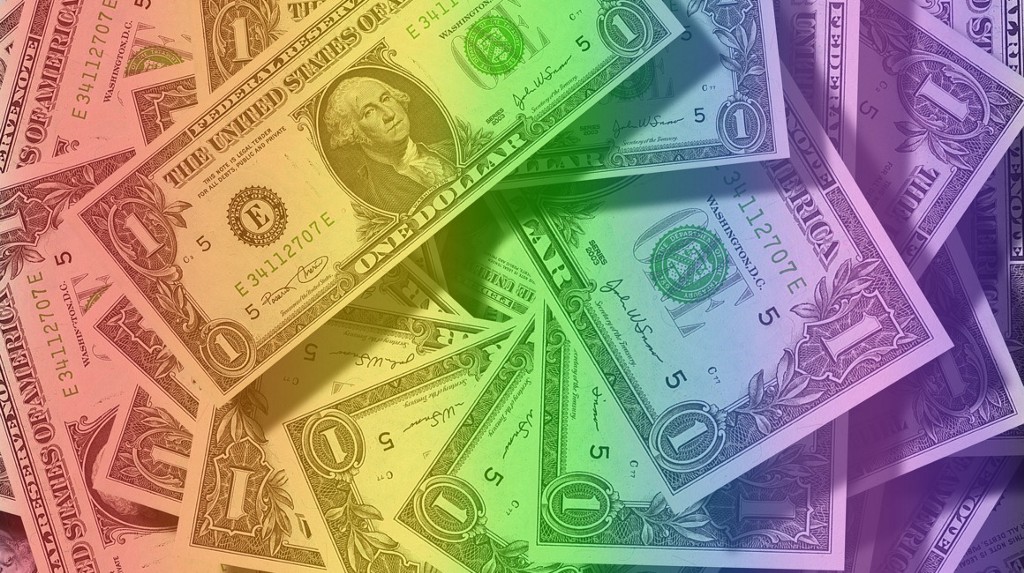 Gay marriage may be the law of the land, for now, but LGBTQ people continue to face many hurdles. There's the increased risk of sexual violence and the threat of police brutality. And there are also economic barriers — both on the individual level (LGBT workers, especially men, earn less on average than similarly qualified heterosexuals), and in the form of special challenges for LGBTQ business owners.
According to a 2015 Gallup study, LGBTQ business owners make up 3.7% of small business owners in the U.S. The National Gay & Lesbian Chamber of Commerce estimates there are 1.4 million LGBTQ-owned businesses. LGBTQ business owners tend to be younger and earlier in their careers compared to the general population, the Gallup study showed. They're also more likely to rely on credit cards than their own cash reserves. Twenty-three percent of LGBTQ business owners said that being LGBTQ made it harder to run their businesses.
Despite these disadvantages, LGBTQ business owners are attempting to use their status as LGBTQ business owners as an advantage rather than a deficit. They're finding microlenders aimed at financing LGBTQ businesses, supplier diversity initiatives are opening up to LGBTQ people, and business owners are finding ways to make their stories of love and adversity part of their business' appeal.
Not Protected Against Discrimination
Like all business owners, LGBTQ people need to go to the bank and meet a loan officer in order to fund their new businesses. In fact, LGBTQ people are especially dependent on loan officers, because they are less likely to have savings they can use to fund their business. But straight, cis loan officers may be uncomfortable with LGBTQ business owners, whether consciously or unconsciously, experts say.
Eric Weaver, CEO of Opportunity Fund, which provides loans to small business owners who may not meet the requirements of traditional lenders, said he has heard LGBTQ business owners discuss these biases.
"Some of our clients have told us when they try to approach banks, it's the same as what you might hear from a black [straight] business owner — I didn't feel comfortable. I feel like I wasn't wanted there. I didn't feel like people wanted to do business with me as I am," Weaver said.
And if the loan is co-signed, the applicant's relationship to the co-signer may also be a factor. Because same-sex marriage hasn't been legal for much more than a year, many same-sex couples haven't been married long enough for loan officers to consider them financially stable.
"Some loan officers might put more stock in a co-signer who is legally tied up with the other person and own joint property and the rest of it," Weaver said. "As you get into larger loans, there are human decisions involved and there are subtle biases and a traditional underwriter may look at someone who has been in a stable relationship for 20 years more favorably than over someone who is single or who was only recently married."
Tammy Powers, owner of a Tran's Bay Bike Shop on Treasure Island in San Francisco Bay and Tammy's Chicken in Waffles, a waffle cart, said she has experienced this bias with bank loan officers before.
"It's hard and when you're asking for money or loans unless I have a rapport with that bank or that microlender," Powers said. "You walk in and it's that weird shocked look on their face of 'Oh my god this person is talking to me and they're transgender and I've never talked to a transgender person before.'"
There are only 12 states where LGBTQ business owners have the ability to make a complaint if they are turned down for a loan and believe it was discriminatory, says Jonathan Lovitz, senior vice president of New York LGBT & Allied Business Network. A federal bill, The Equality Act, would allow national credit protection for LGBTQ business owners but it has been stalled in Congress.
Lovitz said it is especially important for female LBTQ business owners of color to have these protections.
"You know from all the stories for women and ethnic minorities, it's hard enough to get any kind of venture capital that way, let alone throwing in the sexual orientation and gender identity component on top of it. Many people throw their hands up and say it's impossible," Lovitz said.
Natasha Case, co-founder of Coolhaus, an ice cream sandwich truck business, founded the business with her partner, Freya Estreller, in 2008. Case said that people she worked with often did not realize she and her business partner were a couple. Sometimes, people reacted badly when they found out, and she had to choose whether to continue to do business with them.
"I do think that particular facet of being a gay couple when we started, even though it's not that long ago, we felt like it was trickier territory to navigate, even in L.A. being in a young brand," Case said. "I still think there was more of a question mark for some of the people who were starting to work with us about their opinions. When you're younger and starting out, you think, 'I'm going to work with this person and neutralize it a little bit,' and when you're a little older you realize, 'Why would I even want to work with someone who is not accepting?"
She said there is also a lack of representation for lesbian business owners on LGBTQ business panels, so there is a lack of role models.
"For LGBT people, it's very different between the G and the L. And G is still in a man's world," Case said. "Whenever I speak on panels, I speak openly about Freya and I hope that encourages people who don't know I'm a lesbian to see a positive role model. On a UCLA panel, I was the only woman on the panel. It was like eight gay dudes and me. I'm really glad to be up there to be representing the women."
She said her sexuality is not always a disadvantage in that sometimes male business owners are more comfortable around her. But sometimes they get too comfortable and make misogynist comments, which she speaks out against.
Powers said she has also experienced professional exchanges with cisgender people where they feel incredibly comfortable asking invasive questions about her body.
"They jump into really rude questions — 'Are you pre-op or post-op?' — and I'm like 'You're asking about my genitals.' And they're like, 'You're transgender so I thought we could talk about everything' and I say, 'No not at all. That's not normal,'" Powers said.
She said her gender has also affected the way people view her capability as a business owner. Whereas her ambitious plans received praise before she transitioned socially, now she faces a lot more skepticism.
"I still have that same exact drive. It's just how people perceive me," Powers said. "Because I'm no longer a male, I'm not as much of a leader or I need someone to show me something or 'You can't do this all by yourself,' but I'm the same person!"
Visibility Is Everything
There are times when LGBTQ people can use their identity to create a powerful story for their brand. Natasha Case and Freya Estreller's love story created interest in their brand and helped spread news about their business to the national level. They now have a national fleet of ice cream sandwich trucks. They released a book, with beautiful photographs of the electric blue California sky and pastel hues of their ice cream, with ice cream sandwich recipes and stories about their experience building a business together.
Case said it was a challenge to bring their personal life into their business brand at first but they adapted to this reality quickly. She said it is "undeniable" that their story is a big part of their brand.
"Just being younger in business and wanting the business to be about the business, we didn't necessarily know how to tell a story or be a face in the way we do now," Case said. "I think over time as the business grew, it became easier to bring in all of this other stuff about who we are, such as my design background, being from L.A., being women, being a couple who is married, being ethnically diverse, whatever those identities are."
Powers also has a powerful life story as a woman who built her business against difficult odds. Four years ago she was homeless, but despite that economic insecurity she managed to share her vision of a bike shop on Treasure Island with the Treasure Island Development Authority and rent out space in a basement to get started. She didn't have next month's rent or the phone or internet hooked up yet, but after hanging up signs at bus stops, people began to come in.
"They were shocked there was a bike shop, shocked it was owned by a trans person and people warmed up to me. I'm a very friendly person and I love bicycles and so eventually people were like, 'Wow, there really is a bike shop on this island,'" Powers said. "It has almost become an advantage to me that I'm trans. Once you pick up the ball and start running with it it's like, 'Holy cow, look at this person who is running with the ball and wow they happen to be trans and they've overcome all these things," she said.
An investor recently reached out to her and loaned her $5,000 after hearing about her life story and her businesses. Powers hopes to expand her business and open another bike shop on the island.
Visibility as an LGBTQ business owner can also help grow a business. For example, the National Gay & Lesbian Chamber of Commerce helps LGBTQ business owners get their businesses certified as an LGBT-owned business. This certification allows business owners to connect with corporate supply chains since corporations have diversity initiatives and look for these businesses in a database of LGBTQ-certified businesses.
Several states have been including LGBTQ business owners in diversity initiatives that include people of color and women. California's utility supplier diversity program, which certifies woman- and minority-owned businesses to bid on business from large corporations that mandate supplier diversity, now certifies LGBT business owners as well. Similar programs are underway in other states: Last fall, Massachusetts Governor Charlie Baker issued an executive order to include LGBT-owned businesses in its supplier diversity program, and New York state senator Brad Hoylman has introduced comparable legislation, though it hasn't been enacted.
This friendlier business climate, despite continued challenges, is encouraging owners like Powers, who looks forward to employing people and treating them fairly, in contrast to the way she has often been treated during her career. Through the success of LGBTQ business owners, there may be more opportunities for LGBTQ employees to thrive.
"They'll say, 'I work for Tammy Powers. She takes care of me. I have a good coverage. I go on vacation, and she pays for it," Powers said. "I want people to work hard for me and then I want to pay them and provide them a good living. That would be so satisfying."