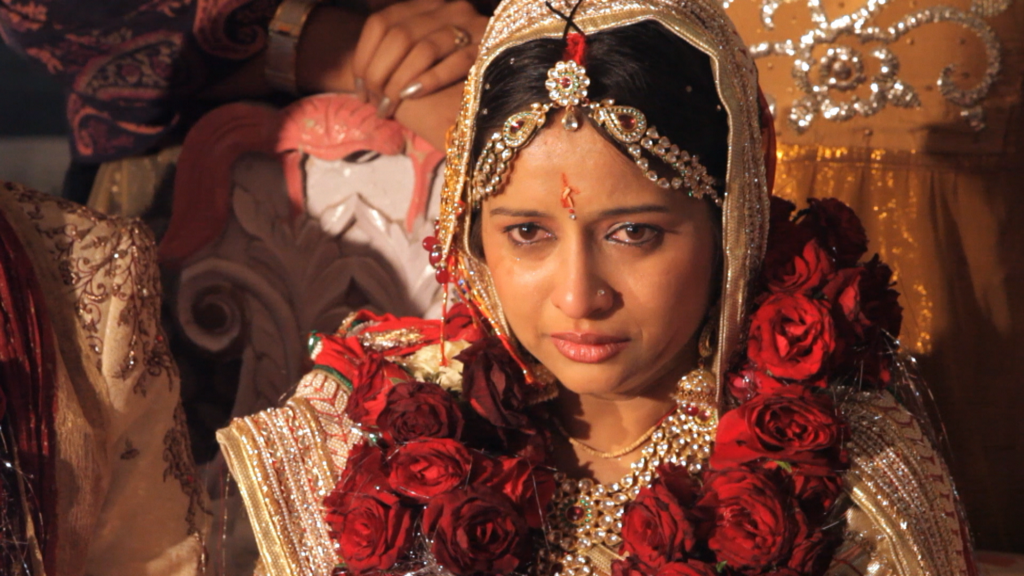 Meet The Filmmakers Highlighting The Complexity Of Modern Marriage For Women In India
In 'A Suitable Girl,' an all-women-of-color team shines a light on the invisible lives of women in India.
It t took me a great deal to explain that this is not under pressure; this is what I have chosen," Amrita emphasizes while trying on her wedding shoes. She's a cosmopolitan woman based in Delhi, India who is speaking to the camera about having to reassure her friends that she is happy about getting married. She just introduced herself to the audience as someone who has "complete freedom."
She does, however, declare that her parents started looking for a groom for her and insisted on her giving up her career, as soon as she completed her MBA.
The contradiction comes to full focus on Amrita's wedding day, when her expression darkens amidst the bright colors, music, and noise of the festivities, spilling into silent tears.
The moment is just one of many that reveal the complexity of marriage in A Suitable Girl, a documentary that debuted at the Tribeca film festival and was just brought to the masses on Amazon Prime.
The film, made by a creative team entirely comprised of women of color, follows the fate of three women as they search for a groom and ready themselves to leave their parent's homes to get married, across two metropolitan cities in India.
"Having women shoot the film, especially in certain situations, was really critical because we were dealing with a very sensitive, very vulnerable time in these women's lives," says Smriti Mundhra, who co-directed the film with Sarita Khurana.
Both directors are South Asian, but were raised in the United States, which meant they could instantly build a rapport with their subjects. As such, the protagonists did not have to worry about being judged, or having to be presentational. At the same time, the directors were able to observe from a slightly outsider perspective, not having lived in India themselves.
What emerges is an intimate, nuanced look at the invisible lives of women.
Explains Mundhra:
"There are so few opportunities, for women of color especially, to fully explore the breadth of our experience without interjection from either patriarchal culture, even as that manifests in the film industry, or Western culture, so it was really important to us to tell this story and do this work on our terms."
Being able to tell the story through the lens of women directors has immense consequences on the storyline. Oscar-winning The Big Sick and Meet the Patels are two recent documentaries showcasing arranged marriages in South Asian communities; both, and others like it, have been criticized for presenting women of color as caricatures. In multiple films on the topic, women of color are an afterthought to be pitied — far from being the protagonists.
A Suitable Girl eschews this narrative, choosing to explore the modern arranged marriage process for educated, working women, without going in with preconceived ideas or trying to manufacture a story to suit Western misconceptions.
Instead, the filmmakers embedded themselves in the lives of Amrita (described above), who gives up her career and cosmopolitan Delhi lifestyle to live with her husband's family in a small town 400 miles away; Dipti, a Mumbai schoolteacher in her early thirties who is struggling to find a husband; and Ritu, an economist who works for Ernst & Young in Mumbai and has no interest in getting married, but is visibly pressured by her mother Seema, who happens to be a matchmaker.
The result? Over 700 hours of footage, shot over the period of four years.
What sets the film apart from most other documentaries: It has a particular emotional, if subtle, form of storytelling.
The process continued for another three years of editing:
"Our editor would find moments that might not have been evident for a man, such as a look, a feeling — something — that showed what was going on within. We left a lot of big, sensational stuff on the cutting room floor, because this film is about the inner lives of women, so we used those moments to tell the story."
This makes sense when portraying a culture where women are expected to be "softly spoken" and accommodating — their individual needs and wants often silenced. It's also what sets the film apart from most other documentaries; it has a particular emotional, if subtle, form of storytelling.
The audience is devastated to see Dipti lying on her parent's sofa in silence, deflated by the match-making process, frustrated when Amrita looks up at her Western clothes packed away on a shelf out of reach in her new closet full of saris ––because that's how her father-in-law prefers it––and pained along with Ritu when she is standing in the kitchen learning to cook from her domestic helper instead of joining her family who are enjoying practicing a dance to perform at her wedding. It is perhaps she, the economist, who has the most clear-sighted and astute understanding of marriage — it is, underneath the music, romance, and festivities, a social arrangement that will require her to play a certain role within its structure.
The documentary provides a fascinating portrait of modern India, where old and new clash. Dipti, the most shy of the trio, turns to internet matchmaking sites, while Ritu's mother Seema consults a face-reader to determine the eligibility of matches for her daughter, by showing him photos of prospective grooms on her smartphone. Professional photo shoots go hand in hand with special religious ceremonies and blessings to aid in the search for a partner. The women we expect to choose their life partners themselves are matched by their parents, and those we don't fall in love through their own choosing.
Unlike many other films in the genre, A Suitable Girl does a stellar job in presenting nuance on a topic that has long been misunderstood and misrepresented in the West.
The documentary provides a fascinating portrait of modern India, where old and new clash.
However, despite the surface of modernity, old, patriarchal structures remain strong, and these are reminiscent of similar structures in the West. For example, the way Dipti is judged by other men to be "too heavy" reminds us of how women's bodies are objectified and judged everywhere. Countless other echoes between India and the West follow — the commodification of women, their invisible work and emotional labor in society, the curbing of their freedom and economic potential — which makes the documentary a thought-provoking watch for people of all cultures.
As Mundhra explains:
"I think that this type of coming-of-age experience — this idea of trying to find space for your own voice, and your own life and identity in a society that has decided that for you — is something that a lot of women can relate to."
That is what makes the documentary so effective. As we follow these women, we get to know them as people and become invested in their stories.
Each woman is an individual and each of their experiences is different, despite the film's common theme of portraying the marriage process in India. Perhaps the most heartbreaking story is Amrita's, who feels like she has lost her identity since getting married.
As the documentary ends, we see the reality of her new life––a world's away from the party-loving, self-described shopaholic Amrita we first met.
She talks about never wanting to lose her identity after getting married. But now, more than 80% of people she regularly encounters only refer to her in relation to her husband, likely never knowing her name, she tells the camera. "I do have a name," she says. "You can call me Amrita."
By bringing the invisible to light, A Suitable Girl ensures we never forget.
Looking For A Comments Section? We Don't Have One.