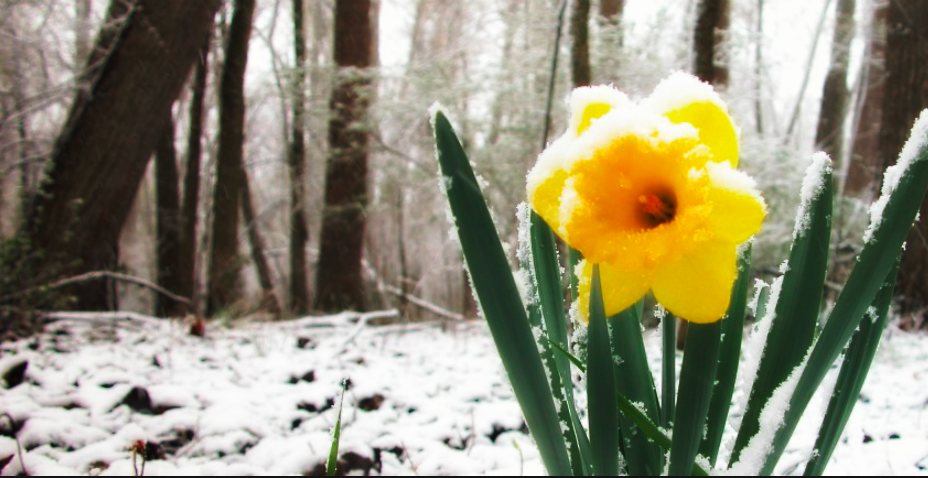 It's the time of year when the weather acts like a Philip Glass score. The body can't get enough of the mikva of hot water, and we turn inwards.
"What day is it?" one of my students asked in class last week, twirling his pencil.
"The 87th of January," another quipped back, without looking up. Exactly, I thought. What other month does time slog its snowshoes through, leaving long slashes of slow footprints, like em dashes running through us?
This feeling of slog, of internal snow, is further compounded if you are grieving. If you have death anniversaries that lift their bone-sharp faces and resonate throughout winter, through the naked birch and dead ivy, the live oak and wild fennel. The totemizing nature of my love of planting tulips has never escaped me; with bulbs, you sit with the secret knowledge that a fully-formed, beautiful thing is under the soil, a little bastion of Better And Warmer times ahead.
The tulips in my yard are starting to poke through. Only one more month.
It has been years since I've intentionally born witness to the largess of January — as previously mentioned, I often go away, to some hotter clime, some place with friends who are good at the stick-shift of levity, a place where a cold glass sweats with your want of it.
Every January, I feel the full breadth and severity of a prolonged moonmoon state—the full terror and beauty of knowing that I'll eventually disperse.
Click To Tweet
But here I am. Sitting in the thoughtful shadow period that comes after losing loved ones. If you think losing grandmothers, especially both at the same time, is a kinder grief because of their longevity then you're mistaken. Rather—and especially because I am a person who has also lost a mother (the Januaryist of all January anniversaries)—it feels like loss in triplicate, a kind of loss that secretly underscores and seeps; it becomes more compositional and embodied as the world continues its overwhelming ballet.

I am a person who obsesses; this has always been true. Rather than suffering from depression, I suffer from manic hyper-focusing, wherein I zoom in on something and fixate wholly. Right now, it's embroidery and textile art, a revelation that is hardly a revelation, considering that both of my grandmothers and my mother, respectively, loved to craft. One year, when my grandma Sagert was first diagnosed with Alzheimer's, she spent an entire year embroidering hummingbirds.
Everyone she knew received at least one ornament, made from scrap fabric, embroidered all over its small and powerful body. I even received a thick white quilt, covered in needle-pointed birds, too beautiful to use everyday.
When she died, my friend Michelle sent me an article about hummingbirds and their incredible hearts. I asked her how she knew and she hugged me. It's the powerful language of matrilineage. It's the powerful language of our own collective inwardness, an eternal January.

Did you know that moons have moons themselves? That little submoons orbit the larger moons, pulled in and taxonomized as just another satellite in the gravitational pull of that celestial body. These submoons are called moonmoons (Incidentally, I'm working on a chapbook with the same name, forthcoming).
Moonmoons don't have a long shelf life; they become engrossed in the larger bodies, or they drift off eventually and break apart. More often than not, they turn to energy that surrounds the larger moon itself.
Another thing: the (moonmoons) cannot stay in orbit around the Moon indefinitely because of tides.
Last week, I received an envelope of photographs that once belonged to one of my grandmothers. When I opened it I discovered that it was full of photos of me as a baby, sometimes with my grandparents, but often with my mother.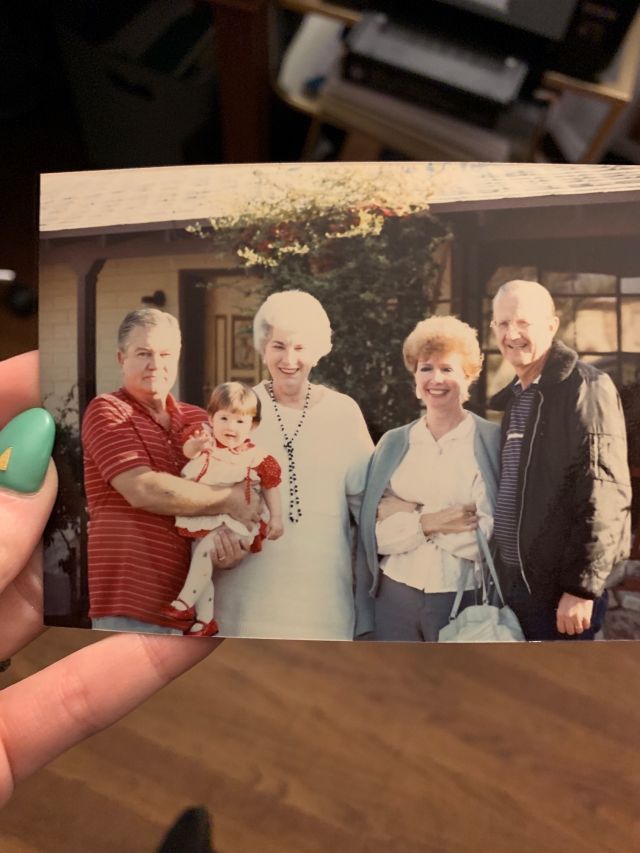 My mom died in a January in 1992, and the date has always been a hard one. This year felt particularly brutal, because of the legacy of archemom-types who had just died the month before—those who had been connections to this elusive woman I have loved, and known in the hazy aftermath of death more than in life. I spent the day sending care packages to friends, reading and rereading Meghan O'Rourke's The Night Where You No Longer Live, and being quietly alone.
The thing about moonmoons is that they never get to be big moons. They eventually lose the groove of their orbit, the speed of their path in a predetermined direction. They fade away, become something larger than themselves. And perhaps that's a better metaphor for childhood than simply saying that a human child eventually becomes an adult human. Children themselves don't become moons anymore than adults are fully-conceived moons. Those bodies and ways of moving are temporary, but resonant.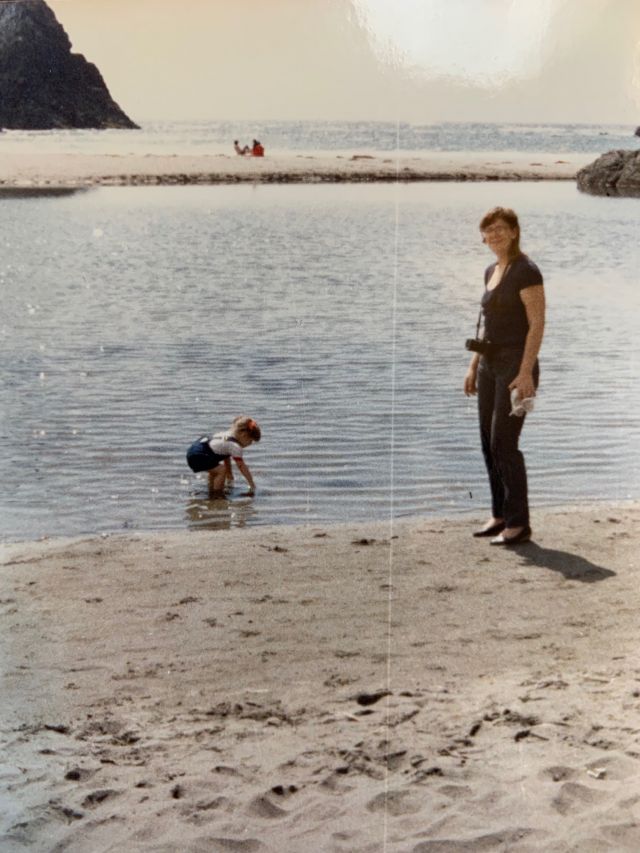 When I look at these photos, I see the largeness of the adults around me—their outward shyness and joy, the way they tilt and move with grace, and observe a kind of order that butts against the senseless things they have, are currently, or will have to navigate outside of the space of these photographs. It's hard to believe that I am now one of them, and that nearly all of the adults in that photo have fallen from orbit, become absorbed by the darkness of a universe we know very little about.
Every January, I feel the full breadth and severity of a kind of prolonged moonmoon state—the maddening circling of an elusively larger entity, the full terror and beauty of knowing that I'll eventually disperse. That's the kind of heavenly torture of grief, the slog and winter of it, the bulb before the tulip. There is, admittedly, something lovely about it—after all, we are rarely graceful at sitting in the same space as mortality and staying quiet.
Do you intend to come back
Do you hear the world's keening
Will you stay the night
— Meghan O'Rourke