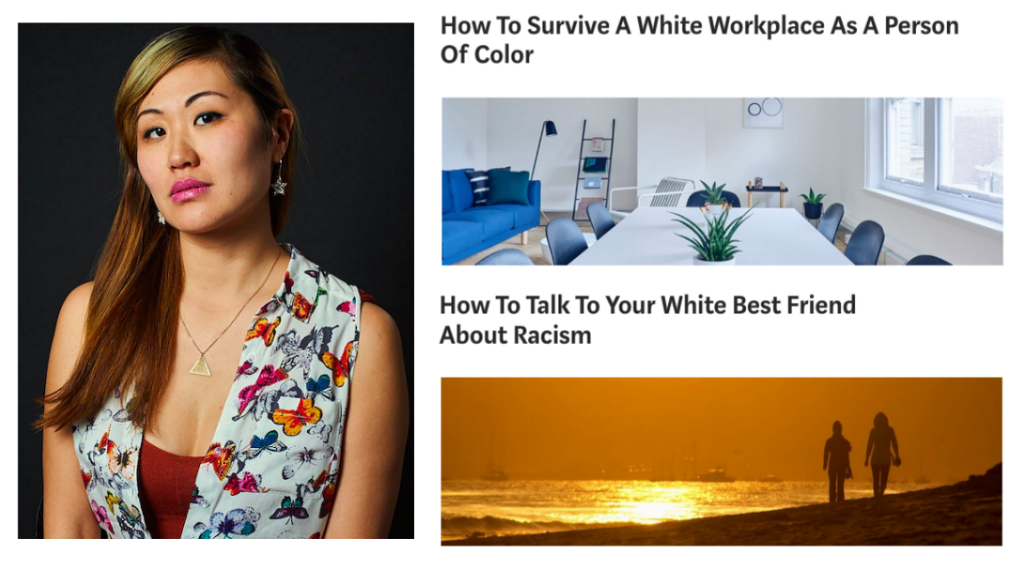 Writing to me is a lifestyle, not a profession.
Among the grotesque glut of online clickbait, "how to" stories have come to adopt something of a bad rap. And it's easy to see why: Often, these pieces are superficial, fluffy, and not actually conducive to helping someone do or be better, which is kind of the entire point.
Dakota Kim's "how to" stories are the exact opposite of such drivel.
At once searingly personal, thoughtfully nuanced, and productively challenging, Dakota's pieces for The Establishment — "How To Survive A White Workplace As A Person Of Color" and "How To Talk To Your White Best Friend About Racism" —are "how to" stories at their absolute finest.
Driven by compelling anecdotes and hard-earned acumen, these stories invite readers to live a better life rooted in the principles of intersectional feminism. Consider, for example, this essential insight:
"Readers of color, it's better to have extremely difficult talks in a real friendship than to ignore the issues and pretend they don't exist — all the while feeling alone, unhappy, and confused privately. You are actually doing your interracial friendship — and, IMO, the world — a disservice by shielding it from reality."
Or ponder for a moment this crucial knowledge-drop:
"You owe no one your 'extracurricular' self, unless you feel comfortable sharing and want to do so. This Onion article may assist you in faking a really boring weekend watching Scandal when what you really did was stage your own radical musical, attend an anti-ICE protest, party with your favorite band, and throw a food pop-up."
Dakota, far from adding to a heaping pile of useless nonsense, is making shit better through the power of her wisdom. And when it comes to, well, every type of writing, that's kind of the entire point.
Read below for Dakota's thoughts on kimchi, The High Priest of Pop, and writing as a lifestyle.
You can generally find me writing in Hello Kitty pajamas on an Airbnb boat/treehouse/futon while listening to chillwave and house.
The writers that have most influenced my life are Anne Carson, Theresa Hak Kyung Cha, Chimamanda Ngozi Adichie, Octavia Butler, Paul Auster, Rebecca Solnit, and Thich Naht Hanh.
The TV character I most identify with is "Bong-soon" in Strong Woman Do Bong-Soon.
I think paying writers in "exposure" ensures an entry on Who Pays Writers?.
The coolest thing I've bought from money made writing is a trip to Korea and Japan for me and my mother.
My most listened to song of all time is "Purple Rain" by Prince.
My 18-year-old self would feel tickled about where I am today.
I like writing for The Establishment because the editors are supportive and smart, and the community is loud, thoughtful, and critical.
If I could give the amazing people who sponsor stories anything in the world to express my gratitude, it would be jars of my homemade kimchi served by baby kittens on Jeju Island.
If I could share one of my stories by yelling it into a megaphone in the middle of Times Square, it would be "How To Talk To Your White Best Friend About Racism."
How To Talk To Your White Best Friend About Racism
If I could have one type of food for the rest of the my life, it would be Korean homestyle food.
The story I'm working on now is about native Hawaiians learning leadership and sustainability on an organic farm.
The story I want to write next is an essay about how rollerskating kept me out of teen mischief.
Writing means this to me: a lifestyle, not a profession.
If I could summarize writing in a series of three photos, they would be: