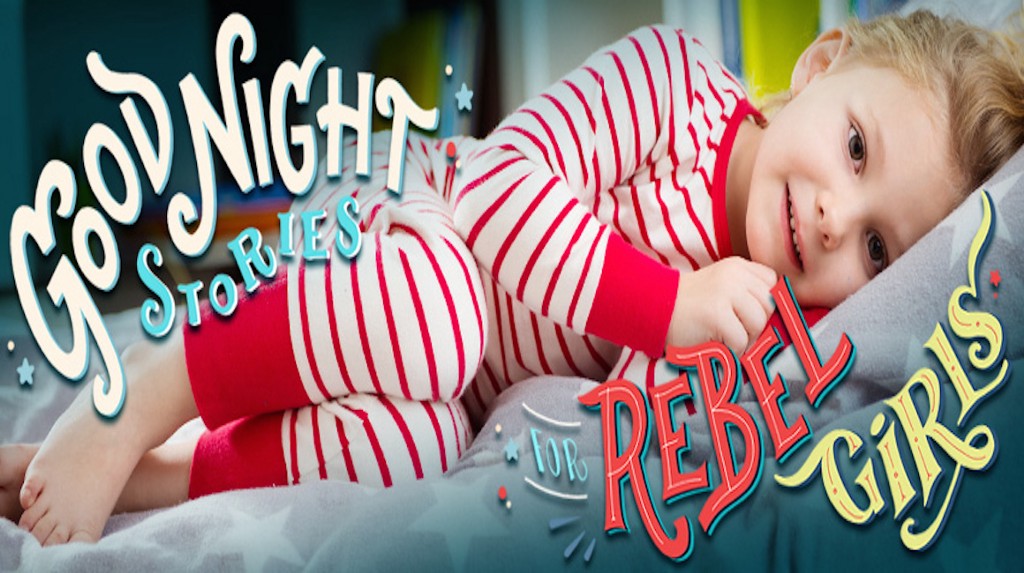 "I simply shared the many sexist situations in which I had found myself, and how you're supposed to not complain about them if you want to be considered successful. Soon after the article was published, I received a death threat via Twitter. Then many other abusive comments came through the comment section of the article itself. I decided that my next project would be something designed to empower young women. We're troublemakers!"
The nighttime routine of most kids in America looks something like this: Take a bath, (get forced to) brush your teeth, get cozy in bed with a parent, and read story after story of adventure and discovery. The problem? The vast majority of those stories are about male characters. And while parents may want to read books to their kids that feature girl protagonists, they're faced with extremely limited options.
A study of around 6,000 children's books released between 1900 and 2000 found that no more than 33% of books published in any given year contained an adult woman or female animal character, while nearly 100% of books contained a male character. And just 17.5% of books published in a given year had titles that contained a girl or woman, compared to 36.5% of titles that included a boy or man.
Here's the good news — a new children's book, Good Night Stories for Rebel Girls, is flipping the script and offering up 100 stories of incredible women, from chefs to tennis champs to astronauts. Set to be released in November, the book is chock-full of real-life superwomen, including Serena Williams, Frida Kahlo, and the Brontë sisters.
The brainchild of Italian entrepreneurs Elena Favilli and Francesca Cavallo, Good Night Stories grew out of the pair's frustration with the way gender stereotypes permeate children's literature and impact kids' development.
"Research shows that by the time girls reach middle school, they already have less confidence in themselves than boys. That is why changing the narrative early on is so important," says Favilli. "Kids begin to notice gender differences in preschool. And between 3 and 5, the consciousness of gender transforms into solidified opinions, informed by the culture around them. That's why we decided to make this book."
Each story is written like a fairy tale, making the tone and structure of the book accessible and familiar — but none of the women featured need a prince to rescue them. The creators, who are writing the stories, chose women from past and present and from different parts of the world. Many are from countries underrepresented in children's media, and who faced challenges in childhood. Favilli cites Frida Kahlo, who contracted polio as a child and had a terrible accident at age 18 that led her to begin painting from her bed.
"Another great story that we recently discovered and that we would like to include is the story of Yusra Mardini, the Syrian swimmer who dragged her sinking boat to the Greek shore and is now training for the Olympics in Rio de Janeiro," Favilli explains.
Accompanying the stories will be illustrations by women artists from around the world — one artist for each story in the book. Among the illustrators already on board are Helena Morais Soares from Portugal, who drew Frida Kahlo; American artist Erin Marlow, who drew Serena Williams; and Spanish comic artist/illustrator Ana Galvañ, who drew Elizabeth I.
Good Night Stories for Rebel Girls is currently raising money through Kickstarter — the campaign ends May 25 — and is on track to become the most-funded children's book in the site's history, raising nearly $380,000 in a matter of weeks. Interestingly, the top two books are also about feisty girls and at least eight of the top 10 books feature female characters.
A book similar to Good Night Stories was released last year, Rad American Women A-Z — though it focuses exclusively on U.S. women who made history (trailblazers include activist Angela Davis, pioneering journalist Nellie Bly, and Supreme Court Justice Sonia Sotomayor) — and it quickly scaled the New York Times bestseller list. The recent flood of successful books about heroic girls and women indicates that audiences are hungry for these types of stories. Publishers should take note.
Favilli and Cavallo themselves are rebel girls — they co-founded Timbuktu Labs, a children's media company, in the Bay Area in 2012, receiving major funding from startup investors despite working in a male-dominated world. They've since created Timbuktu Magazine, the first iPad magazine for children, and designed Timbuktu Playground, an architectural marvel that pairs real-life play with mobile app technology. Both grew up in small Italian towns: Favilli is from Tuscany, where she read books and went for adventures with her hunting dog as a child, and Cavallo is from Lizzano, where she was a rebel from a young age, drawing maps to hidden treasure and reading her favorite books, Little Women, The Call of The Wild, and a biography about scientist Marie Curie.
Favilli says she was motivated to start the Good Night Stories project after she received negative feedback on an op-ed she wrote for The Guardian about being a woman in Silicon Valley:
Check out the Good Night Stories Kickstarter campaign for more information and to back the book.