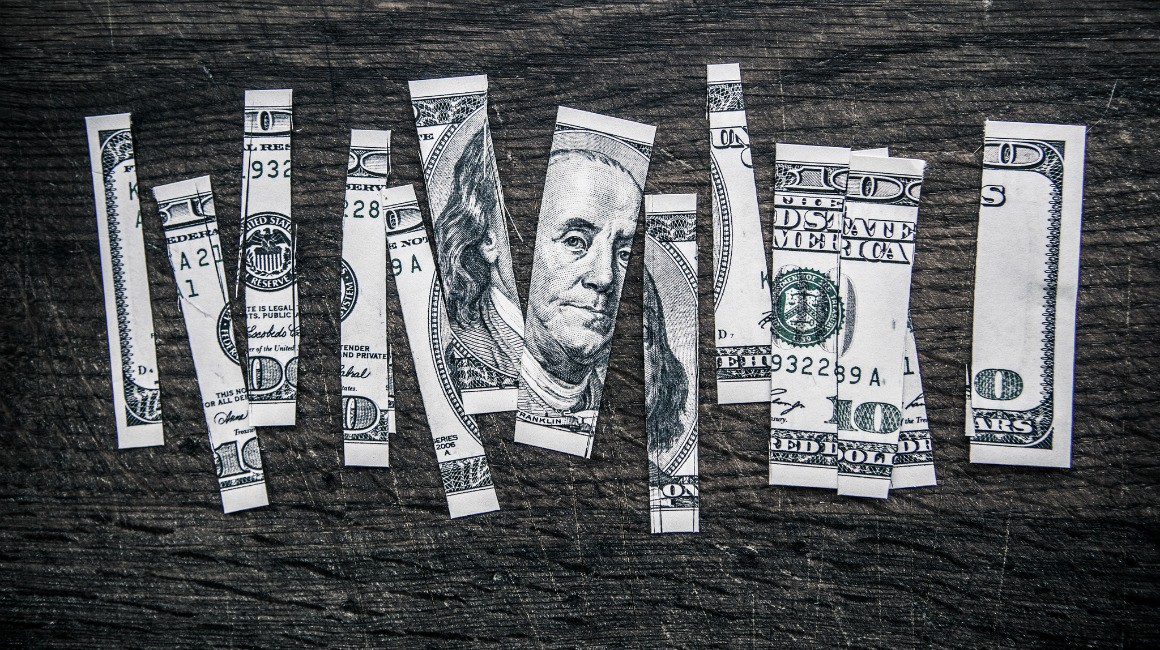 How an organization ostensibly dedicated to helping women is ripping them off to profit men.
"Did you want to put that on Visa, Mastercard, or American Express today?"
The question was posed about 15 minutes into my phone call with a saleswoman from the National Association of Professional Women, who was doggedly trying to sign me up for a "standard" $489 yearly membership plan.
The plan would, she promised, provide me the opportunity to be profiled on their website and in their newsletter "among some of the most influential women in the country!" I'd already rebuffed offers for a $989 "Elite" plan and $789 "Preferred" plan — and this, she assured me, was the most cost-effective option yet.
What the saleswoman didn't address is why the price remained so steep — or why, if membership cost hundreds of dollars, the collateral I'd received in the mail explicitly stated that there would be "no cost" to join.
It was a call first set in motion months earlier, when I received a packet in the mail inviting me to join the association. At the time, NAPW sounded commendable, presenting itself as a preeminent resource for professional women who — no surprise here — are at a systemic disadvantage in the workplace.
Yet in talking on the phone to this salesperson, I became only more convinced of something I'd spent the previous few months discovering via a lengthy investigation process: the NAPW, far from empowering women, profits off conning them.
NAPW dates back to 2007 and touts itself as "America's largest, most-recognized networking organization for women," with the empowering tagline, "THE POWER TO BE YOU." Citing more than 700,000 members nationwide and upwards of 200 local chapters, the organization promises online and in-person networking, educational tools, career opportunities, news, and more.
In addition to its impressive membership numbers, NAPW boasts a high-profile president and national spokeswoman — Star Jones, the lawyer and journalist best known for her stints on The View and Celebrity Apprentice. According to the NAPW website, Jones' role is to promote "the organization's message, brand, and image worldwide."
In September, speaking to Forbes, Jones had positive words to share about her involvement with the association:
"I never want to take for granted how rare it is to wake up each morning and know for certain that each day I will play a part in changing a woman's life for the better by providing her with employment, opportunity and access."
Yet despite NAPW's impressive-sounding pedigree, and Jones' inspirational soundbites, hundreds of women have not only shared negative experiences about the organization, but in some cases, gone so far as to call it a scam.
Currently, the Better Business Bureau has 340 open complaints on file about NAPW, enough to saddle it with a D consumer rating. On Yelp, it has an average rating of 1 star out of 5, based on 305 reviews. And fired-up blogs about its deceptive practices contain headlines like "Don't get suckered" and "Businesswomen Beware."
Women describe high premiums for membership, hidden fees, relentless upselling, and automatic re-subscriptions that are purposely misleading and nearly impossible to get out of. They also say they glean little to no value out of the organization. Despite touting itself as a premier networking service, actual NAPW offerings include e-newsletters peddling weight loss products and eyelash extensions, and "opportunities" to pay for plaques and VIP recognition.
(After repeatedly calling and emailing NAPW for this story, they declined to answer my questions.)
Meanwhile, according to SEC filings, the organization — following a merger last year with the Professional Diversity Network — raked in more than $13.8 million in revenue in the first six months of this year alone. And the people profiting off this fiscal success aren't professional women at all — but, according to the company's own financial records, Jones and male executives who earn high-six-figure salaries, multimillion-dollar payouts, and perks like company-funded personal drivers.
The Hard Sell
The Better Business Bureau's D rating of the NAPW is largely based on criticisms about its sales and billing practices. Of the 340 complaints on file, 153 are filed under "advertising/sales issues," and another 134 under "billing/collection issues."
On its website, the Better Business Bureau notes:
"BBB files indicate a pattern concerning issues with the advertising and customer service representatives of the National Association of Professional Women (NAPW). Many consumers tell BBB that they are misled regarding membership prices, membership levels, and additional fees for processing and set-up. For example, consumers reported seeing an ad for free membership for NAPW on LinkedIn. However, these consumers claim that when they contact NAPW to take advantage of that offer, they find out that joining is not free. Some consumers also allege that they were subjected to high pressure sales tactics by company representatives to join the organization even before they understood the costs or benefits. Other consumers that originally agreed to join the organization but opted afterward to cancel the membership say that they have difficulty reaching any company representatives to seek a refund."
A few weeks after incorporating The Establishment (as Empress Media), I received solicitation documents from NAPW which twice stated explicitly that membership would be free. The organization's advertising on LinkedIn also makes no mention of a cost to join.
Yet in reality, if you want to take advantage of any of the organization's services — including its networking events, conferences, educational tools, or newsletters — it costs anywhere from $99 to thousands of dollars annually. On my call with the salesperson, I was told that the free membership was "mainly for those who are unemployed."
In addition to the bait and switch on cost, women often complain about pushy salespeople who rely on disingenuous tactics to solicit money. Sabrina Delgado, an L.A.-based business unit manager in the aerospace industry, was working at her desk last August when she received a call from a NAPW sales rep. After "really stroking my ego," Delgado said the rep finally shared that it would cost somewhere between $1,500 and $2,000 for annual membership. When Delgado balked — "I wasn't expecting anything that egregious," she told me — the salesperson kept bumping down the price to lower-tier levels of membership. Finally, after being promised networking opportunities including free local chapter events, Delgado caved and paid between $700 and $800.
The exchange, she said, felt like a "time-share experience."
Jane Smith, an animal science education program coordinator based in Austin, Texas, whose name has been changed for professional reasons upon request, shared a similar exchange. "The initial experience was quite rough, and the woman who had called me to tell me that I had been nominated and fit the organization well would almost not let me get off of the phone unless I had paid for a subscription," she said. "She was initially very polite and answered my questions; however, when I let her know that the $899 subscription was far too expensive, she let me know that I could try an initial, first-year subscription for $199." She accepted — a decision she says she later came to regret — but not before being asked to recommend someone else, a co-worker who subsequently endured "the same rude conversation and eventually just told the woman no."
Barbara Johnson, who works in higher education within the University of Maryland system, and also wishes to protect her name for professional reasons, spoke to a sales rep earlier this year. She, too, described a lengthy phone interview process infused with ego-stroking and trumped-up claims about the benefits of membership. "The saleswoman was going on and on and telling me about all these connections I'd make and perks I'd get and the happiness the organization would bring me," Johnson recalled. "And then she says, 'All this can be yours for $999, and will that be debit or credit?'" When Johnson balked ("I said, 'stop the party: $9.95 or $995?,'" she recalled), the salesperson kept bumping down the price, until they agreed on an "introductory" $199 package.
Johnson also emphasized that the person she spoke with used a practice common to deceptive upselling: talking so fast, it seemed she was being "tricked" into purchase. Anna Chan, a development and special events manager in New York City, similarly described the salesperson she talked with "speaking very fast" in her efforts to close the deal.
On Yelp, stories about fishy sales techniques are ubiquitous, with many specifically questioning the organization's practice of starting with an exorbitant fee, then reducing it incrementally. And the selling doesn't stop with the hefty membership charge.
Delgado recalled how, during her initial conversation, the salesperson went on to pitch her a special glass plaque that she could use to display her association with the "prestigious group." "After five minutes of talking about this," Delgado recalled, "[the salesperson] goes, it'll be a fee of $89.99 or whatever the fee was. I was thinking, Oh great, at least I get this perk, then all of a sudden she drops this price on me."
Johnson, meanwhile, was charged for a plaque despite insisting that she did not want to purchase it. "Lady, you're charging me for things I said no to; I just wanted the introductory fee," she remembers telling the salesperson.
Also coming at a cost? Special "VIP" recognition. On Yelp in July, "Jaime E." recounted:
"They just called again to congratulate me on being selected for their VIP circle, for outstanding commitment to my profession and advancing professional women. I would get press releases, a mahogany frame with a certificate inside, and superpowers . . . Here I am thinking 'Sweet, this is legitimate, and I rock!' Just like when I signed up, she went on and on about the benefits before finally pitching (once again) the $999 cost. I hate how nonchalant they do it. They just slip it in and move right on, confirming your card on file, and buttering me up with more benefits. I had to stop her and say, 'Wait, $999 today?'"
Women recount other hidden fees as well; Johnson said she was charged $100 for a "profile fee" that she was never informed of, while Wendy C. Hart, a regional marketing director in Iowa, said she was charged $99 for a "set-up fee" to enter her name into the system.
Not only are NAPW's fees frequently hidden, they're also ongoing. Once members sign in to the NAPW website, they lock themselves into an annual re-charge on their credit card. And the organization's refund policy makes it very difficult to recoup the money lost.
Delgado, for her part, was shocked when she discovered, one year after first signing up, that her credit card had again been charged another $750 or so. The organization claimed it mailed her warning notices, but Delgado had moved; and anyway, she said, "they have my e-mail, and I never got an e-mail that said I was up for re-subscription." When Delgado called the organization to complain, all they were able to offer was a 50% refund, which she was forced to accept. "I had no warning and no window to act appropriately had I wanted to," Delgado recalled of the re-subscription. "To me, this is pretty damn unfair."
When Johnson decided to cancel her membership just three days in, she was also denied a refund. The best they were able to offer was her money back on the unauthorized $100 "profile charge" and half of the $199 annual membership fee. Johnson considers herself one of the lucky ones; "they only got $100 out of me," she said.
Chan noted a couple other red flags as well, including the fact that the only way to purchase NAPW membership is via phone call (many organizations allow you to sign up online). The association, she said, also listed her name, company, and position on its website without her authorization, and despite the fact that she didn't agree to a membership. "I have no control over my profile and assume I would have to pay for a membership to be able to edit my own profile" Chan said, before echoing a familiar lament: "I have emailed them to ask if they can remove my listing, but no one has responded yet."
In 2013, the Better Business Bureau reached out to NAPW to inform them of mounting consumer complaints. Its response?
" . . . much of the trend is caused not by actual user experience but by comments which follow from negative PR found online, which is then repeated without basis to BBB. In nearly every case, we have telephone recordings and transactional documents supporting our interactions with consumers, but we never submit those in our response. Rather, we simply acquiesce and credit the consumer."
All of this — the deflection of consumer criticisms, the pushy sales tactics, the relentless up-selling, the high rates, the automatic re-subscription — would perhaps be palatable if the money went toward a valuable service. Indeed, in my own call with NAPW, I was promised "business contacts," "seminars," "regional and national events," and "endless networking opportunities."
Instead, many women who pay for membership recount getting little more than newsletters filled with partner product discounts, sub-par webinars, chapter meetings that require still more money, and, perhaps most troublingly, the dogged peddling of beauty and diet products.
NAPW Helps Women . . . Lose Weight And Lengthen Their Lashes
The NAPW website, in addition to flaunting its hundreds of thousands of members, is rife with discounts and promotions offered to members through its extensive corporate partnerships.
The online marketplace CareXtend, for example, maintains its own portal on NAPW, selling products in the categories of "fitness, weight loss, nutrition, personal care, vitamins/supplements, beauty and spa, vision, dental, and much more to help you stay healthier for less." The marketplace shills everything from diet pills and detox packs to exercise equipment like flex pads.
The organization also promotes products in blog posts like "The Beauty Trend That's Here To Stay," which extols the benefits of "dark, long eyelashes" and pitches Rush O Lash, a $99 serum that "allows you to reach an 80% increase in eyelash density in just four weeks with no side effects!"
Newsletters sent to members similarly focus on diet, beauty, and domestic products. A July newsletter titled "Take Control Of Your Own Health," shown in part below, included details on a "flex belt" for an ab workout and Crystal Wash laundry detergent:
In August, a newsletter titled "Eat Right, Look Good" promoted a personalized weight loss program and discounts on a five-day body cleanse and a healthy snack delivery service:
Also in August, the newsletter "Achieve Bold, Thick, Fuller Lashes Now" promoted not only Rush O Lash, but an eye serum, moisturizer, and, again, the ab-toning flex belt.
The July newsletter "Your Member Perks," meanwhile, didn't peddle beauty products, but focused exclusively on discounts for companies like Sam's Club, Six Flags, and T-Mobile — with virtually no additional information to help professional women.
"Half of [the newsletters] have what I feel are inappropriate ads and the other portion sometimes are useful announcements," said Smith, the former member. "Announcements tend to be covered in what I consider to be all sorts of odd information and advertisements for being from a professional organization."
The website, too, is focused heavily on its paid partners; the "Benefits" page features a shipping company contact form and a special discount on GEICO auto insurance, while the "Perks" page offers discounts on companies including Target, Disney World, and Best Buy.
"Basically, the discounts [offered by NAPW] are the same or less of a discount than I would get by joining a simple loyalty program, purchasing an entertainment book, or looking through mobile coupon sites," Hart said.
Another of the organization's promoted perks — professional trainings — has also come under scrutiny. Smith noted that:
"A good majority of the free trainings are short, less than 10 minutes, and look like they were made in the '80s. They were not useful to me at all, and a few felt pretty antiquated . . . I can push through a lot of presentations and trainings, but I could not sit through the slow speech, the odd graphics, and there was not any additional information or way to follow along."
Quality trainings, she noted, were available — but for an additional fee of anywhere between $100 and $200, and sometimes more. "Since the yearly, automatic renewal would be $899, I did not feel like this was really what I had been promised as far as access to hundreds of free professional development trainings," she said.
As for the organization's promised events, its signature annual networking conference does tout an impressive pedigree. Last year's event, held at the Marriott Marquis in New York City, drew 1,500 attendees to catch speakers including Good Morning America host Robin Roberts, plus-size model Emme, and Shark Tank judge Barbara Corcoran. According to Delgado, though, this conference is only accessible to members who pay for the top tiers of membership.
This year, the organization hosted a three-city National Networking Summit Series of events, with stops in Chicago, Los Angeles, and New York. Registration cost a relatively reasonable $100, plus $75 for a Foundation Luncheon featuring Jones, with "discounted or free admission based on [membership] tier."
Much of the organization's services fall to its network of local chapters, which host events ranging from panel discussions and networking luncheons to get-togethers like "Girls Nite Out" (for "facials and fun") and "What Does Your Dress Say About You? IMPRESS OR DISTRESS?"
These events, though — even for those who have paid hundreds or thousands of dollars to be a member — often require an additional fee. Delgado details how a sales rep assured her that local chapter events would be free. But when she connected with the leader of her nearest chapter in Los Angeles, she was told that their meetings were held at restaurants, and would require payment of around $40. When Delgado called the organization to complain about the bait and switch on cost, she was told that meetings are indeed free, but that the restaurant requires additional money. She never tried to attend an event again.
Yelp includes similar tales about extra money required to attend chapter meetings. "I tried convincing one [chapter] group to meet at a more reasonably priced location, and was chastised for nagging and being negative," wrote "Jessica M" in June. "So sorry for pointing out that restaurants requiring $25/plate might deter women who actually need help."
Others have complained about the chapter meetings actually serving as vehicles for promotion. "I often found that the women in the room [at chapter meetings] were running their own small services like real estate, massage, acupuncture, etc. so there was no chance for me to network with them because they were really only trying to just promote their business," wrote "K.C." in May.
Chan, too, noted that when she checked out her local NYC Chapter website, it "looked like a commercial and exclusive 'network' of women who join for self-glorification and self-advertisement," with lots of indirect marketing for outside companies. She was not interested, she said, in "attending social events that involve spas, products, or buying tickets to a gala."
Still more women online have complained about chapter meetings being canceled for three months straight, chapter officers being unresponsive, and no chapter meetings held nearby. Hart, for instance, was told by her representative that she could find local chapters in the Des Moines area. But, she says, "when I looked it up online, there were none."
Some, though, have shared positive experiences with chapter meetings. Last May, "Alyssa R." wrote that after reaching out to a local chapter president, "it stepped up my business to a higher level." Also last May, "Ruth G." shared that "I joined the Los Angeles chapter many years ago, many of us have become best friends and we gain from each other a bast [sic] knowledge and experiences that help us in our daily jobs."
Still, overwhelmingly among the online reviews and women I interviewed, members seem highly dissatisfied with NAPW's services, especially considering how much they cost. Which raises the question: just who isbenefiting from NAPW?
Men At The Top
Since its inception, men have helmed NAPW.
In 2007, the organization was founded by Matthew Proman, who also served as its CEO until his resignation in July of this year. Prior to launching NAPW, Proman was involved with Who's Who publications, the biographical directories that have often been cited as predatory scams.
In 2005, Proman filed the trademark for Cambridge Who's Who at an address next door to the current NAPW national headquarters. Just one year after the filing, Cambridge Who's Who was facing so much consumer criticism that it sued Ripoff Report over documented complaints. Additionally, between 2007 and 2010, the Better Business Bureau reported 387 complaints against the organization. (After Proman left Cambridge Who's Who, its reputation improved, and it now has an A- rating with the BBB.)
The marketing tactics used by Cambridge Who's Who closely echo those now used by the NAPW, with ads on LinkedIn trumpeting free inclusion to an exclusive network that subjects later discover requires a fee. People targeted online by Cambridge Who's Who have reported initially receiving an invitation specifying "no cost" to membership, then being asked to pay anywhere from a couple hundred to upwards of $1,000 to be a part of the registry and receive a copy of the directory. (Interestingly, in April 2010, Cambridge Who's Who welcomed one Donald Trump Jr., scion of the business mogul-cum-presidential candidate, as its executive director of global branding and networking.)
Complaints against Cambridge Who's Who weren't the first time Proman came under fire for his professional ethics. In 1997, the National Association of Securities Dealers, Inc. filed a complaint against Proman alleging that he hired an imposter to take his Series 7 Qualification Exam. He was subsequently censured, fined $50,000, and barred from association with any NASD member. (Nine years later, he filed a request with NASD seeking to vacate the bar, on the grounds that it had a continuing adverse affect on him.)
In the wake of mounting complaints, Proman left Cambridge Who's Who in 2007 to found a new organization: the National Association of Professional Women. By all accounts, it was a lucrative business move: when Proman resigned from NAPW to "pursue other ventures" in July of this year, he walked with $3.8 million, plus $445,000 to be paid over time.
With Proman gone, NAPW is now being led by another man, James Kirsch, the white male CEO of the Professional Diversity Network (PDN), which NAPW merged with in September of last year.
Like NAPW, PDN has a track record of exploiting consumers. Only in their case, the targets aren't just women.
A Powerful Merger
The Professional Diversity Network is a publicly traded company that presents itself as a premier diversity recruitment and networking organization, operating diversity career fairs and websites devoted to the black, Asian, Hispanic, disabled, military veterans, and LGBTQ communities.
In October 2014 — just one month after PDN merged with NAPW — one of PDN's primary clients voluntarily terminated its agreement with the organization. That client? The Apollo Education Group, the parent company of the University of Phoenix, which has come under fire for financially exploiting two of PDN's key demographics — people of color and military veterans.
Specifically, the University of Phoenix and similar for-profit institutions have been called out for profiting off the federal loans of low-income people who don't have the means to pay them back. In return, these students often get a subpar education that they either don't complete or can't leverage into careers. The Education Trust has accused the University of Phoenix of delivering "crippling debt" to its students, and its predatory admission sales practices made it liable for $242 million in regulatory fines and whistleblower judgments between 1999 and 2013.
Despite these legal issues, PDN accepted millions of dollars from the Apollo Group between January 2011 and September 2014 to promote the University of Phoenix to its members (many of whom, incidentally, don't appear to have credible LinkedIn accounts). Per an agreement entered into in 2012, Apollo paid PDN a fixed monthly fee of $116,667 to provide "recruitment solutions for the University of Phoenix student and alumni career services." PDN was also paid to help with "lead generation" for the university.
In 2012, 35% of PDN's revenue came from Apollo; in 2013, 36% did. (Most of PDN's additional revenue has come from LinkedIn and Monster, both of which have cut ties with the organization in the past few years.)
As noted, PDN ended its official relationship with the University of Phoenix at the time of its merger with NAPW. Yet just this year, Apollo Group and the University of Phoenix were listed as sponsors at NAPW's National Networking Summit events.
Kirsch in particular has profited handsomely off PDN's "strategic partnership" with the University of Phoenix. In 2012, the same year PDN began helping the university with "recruitment solutions," Kirsch was paid $1.3 million as "additional compensation." (This was in addition to a $200,000 salary in 2012 and 2013, and a $256,250 salary, plus $50,000 bonus, in 2014.)
Back in 2010, PDN additionally paid nearly half a million dollars to help Kisch purchase a Miami condo. And in 2013 and 2014, the organization paid a total of $145,950 to lease two cars to Kirsch, plus $18,978 in those same years for a "car allowance." (In its paperwork, the company lists the condo and cars as being used for "business purposes.")
On the employer-review site Glassdoor, former PDN employees have complained that "many products and services offered are a scam." And — curiously for an organization that recently merged with a women's association — PDN employees have lamented the organization's lack of females in leadership roles, "boy's club culture," and tendency to be "dismissive of issues with sexism and sexual harassment."
Glassdoor also includes complaints about Kirsch. One former employer describes the executive as "rather abrasive," while another says he "is not very professional and he enjoys trying to intimidate employees that he perceives to be weak."
These complaints about PDN's workplace culture are echoed at NAPW, where the actual professional women it employs have complained of low wages, a toxic work environment — and even, in one case, sexual abuse.
Working At NAPW
To recruit its members, NAPW employs a healthy roster of mostly female salespeople — and they, unlike the organization's executives, earn well less than the industry standard. According to Glassdoor, wages range from $2,000 a month for a membership coordinator, account manager, and sales rep, to $39,000 annually for a membership specialist and administrative assistant. The job site Indeed.com reports an average salary of $30,000, 47% lower than average salaries for all job postings worldwide.
Jennifer Avicolli, who worked as a senior membership coordinator at NAPW between August 2010 and February 2012, said, "As with any sales company, you have greedy people and people who genuinely care about the needs and lifestyle of the prospective member and [are willing to work with them to] find something that is financially comfortable."
Still, she said, "as the company progressed I believe greed set in on every level," leading the environment to "become like a sales factory." Specifically, Avicolli pegs the shift to about six months to a year after she started, when the organization added more employees, opened a new office in California, and hired Jones as its spokesperson.
The sales office environment she described is like something out of Glengarry Glen Ross, with leads distributed into employee "bins," and the biggest sellers garnering the best leads. As with most sales jobs, income is commission-based; when Avicolli was there, only those who reached a total of $3,500 in sales started receiving any commission.
To make the sales, Avicolli said, management "want you to close on that first phone call you have with the prospective member."
"The women who work for these organizations are hard-working women," she emphasized. "The pressure to get the sale makes them crazy sometimes and the pressure the managers get makes them get crazier, then the greed gets the best of some owners and it's a vicious cycle."
On Glassdoor, complaints about the work environment have landed the organization a rating of 2.5 stars out of 5 stars based on 51 reviews, with workers singling out low wages, unethical marketing practices, and an HR department that regularly fires employees. Reviews include snippets like:
"star jones does not give a crap about the NAPW or anyone in it. It's just a $300,000 yearly salary plus more money for her. She treats employees like crap."
And:
"we are supposed to be about empowerment of women and we are a office of all women and upper management could care less about us."
In a post titled "this place is sick," an employee questioned the site's handful of positive reviews, writing:
"notice several recently are nearly identical, that's management trying to con women (oh EEOC is there a problem not one male out of 100 sales reps?) into this mentally draining mill. They are trying to bury the reviews don't let it work."
There have been legal woes for the company, too; in October 2013, four female former employees sued NAPW and three of its executives on account of a female manager who regularly pinched and grabbed their butts and called them vulgar names. In a separate lawsuit, another former employee documented the same manager approaching her from behind and grabbing, squeezing, or rubbing her neck, then dropping her hands "to touch, rub and/or feel the top" of her breasts.
The four women in the first suit claimed they were fired or forced to resign as a result of complaining about the sexual harassment.
The Future Of NAPW
Despite the consumer complaints and lawsuits, NAPW seems to be doing better than ever. In a financial news release from this August, PDN (which, in addition to merging with NAPW, also acquired Noble Voice, a career consultation services company) announced that its revenues increased 907% compared to the same period last year.
Of the $21.1 million PDN made in the first six months of 2015, $13.8 million came directly from NAPW: $13.5 million from "membership fees and related services" (including money from the hidden fees and automatic re-subscription charges) and another $300,429 from "products sales and others."
This revenue boon is partly attributable to a rather remarkable boost in paid membership; in July of this year, the organization announced it had garnered1.5 million new registered users in the previous six months, and 530,251 in July alone.
In addition to Proman and Kirsch, another person who has been profiting off this boon is Star Jones. The former View host assumed her role as president of NAPW in June 2014, making $80,769 for the remainder of that year, plus an additional $20,754 to pay for a personal driver. Post-merger, she assumed her new role as president and director of PDN, earning $5.4 million worth of restricted stock. (Delgado, when I spoke with her, was surprised to learn Jones was paid at all, as she is often touted as a high-profile "member" and "spokesperson" for the organization, not as a well-paid employee.)
In her recent interview with Forbes, Jones expressed the promise of the organization she stands to earn millions off of:
"Women need to help women. Bottom line: Rising tides lift all boats! When women help one another professionally — especially women at the top — everyone benefits, from the men and women in the mailroom or on the loading docks to the Board of Directors."
Ironically, it's this very sentiment that underscores the problem so many women have with NAPW. In June, Hart wrote an email to an NAPW sales rep that captured the disappointment of many of the women I spoke with.
Below is a snippet cited exactly from Hart's email that was forwarded to me:
"I am in sales too and I know how rough it can be. You are pressured to make money, are terrified you can't pay your bills if you don't sell to some stupid person TODAY and probably don't feel good about what you do. I am speaking to you from Woman to Woman so please read . . . I am asking you from the bottom of my heart to please cancel the pending charge on my credit card for the 'Introductory' version of the membership.
As you know, the NAPW is not reputable (Unfortunately, I learned after the fact) and has taken advantage of many Women like you and Me that are trying to get by and do the right thing day after day. I have very limited funds and took a chance on the NAPW instead of spending money on something else that can be truely [sic] useful in marketing my business. Even $199.00 + $99.00 introductory fee is a lot of money for me.
I am so hurt and disappointed that the NAPW is doing business by scamming other Women."
As for my own phone call with NAPW, the salesperson — who, I must note, was perfectly nice and professional, even as she kept asking if I'd prefer debit or credit — eventually let me go with the free membership plan offering essentially no benefits.
As I neared the end of my call, I tried to ask how the organization even found me.
"That's not any information that I even have access to. I don't know," the saleswoman replied, then quickly added, "But anyway, enjoy your free membership and enjoy your day."
I never received any information on my free membership.
And just like that, she was on to the next call.