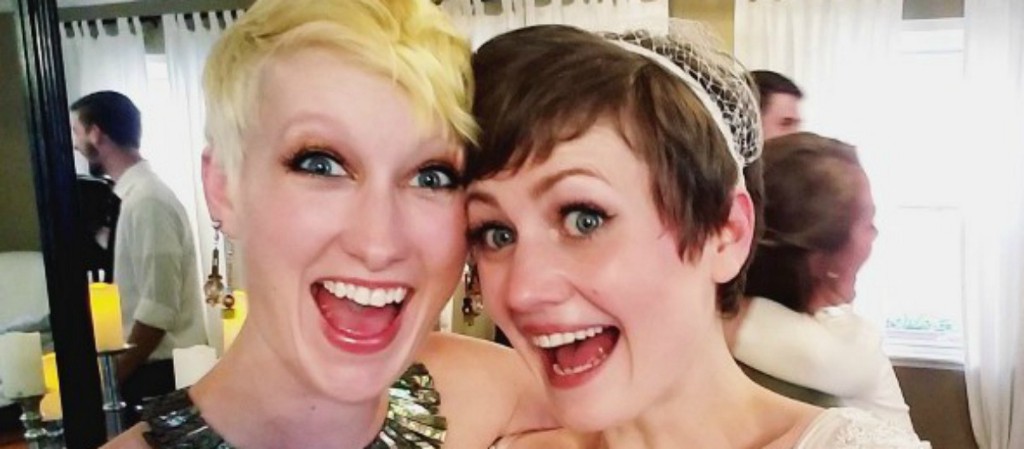 Beauty Is A Preposterous, Frivolous, Amazing Gift We Give To One Another
The experience of beauty I share with my friends is a bulwark in a world full of bullshit, a bastion against very real everyday horrors.
Five years ago today, I walked into a crowded room and everyone stared at me. "She looks BEAUTIFUL," gasped some blessedly effusive person seated to my left.
Now look dudes, I've seen my share of rom-coms and I've been to a hell of a lot of weddings based on them. I know the narrative in a traditional-ish Man + Woman tale of matrimony is supposed to go…
and then her nerves vanished when she looked deeply into the eyes of her groom, waiting for her at the end of the aisle. She floated on an ebullient cloud of true love to join hands with her new husband, blissfully unaware of the eyes of the onlookers dazzled by her passage . . .
or something like that.
There's some truth to the cliche, I think: catching and holding my now-husband's gaze did make me feel a bit steadier, helped me walk through the sensation of leaping, clawing nerves to meet him in the center of that ballroom to take our vows, but still! The voice from the left, that exclamation from a woman who just couldn't or wouldn't withhold verbal appreciation of my wedding day aesthetic, swept me into the center of the room with head high as if my heart weren't pounding out of my chest.
I don't know which of my friends or family said it, but I love her. I'll never think of that moment without feeling the sharp, pleasant pang of sincere compliment, and I still believe that her pronouncement *made* me beautiful in that moment. Perhaps I already glowed from the vantage of outward eyes — I better have looked good, given all the time I spent on my makeup that morning — but it was in that instant that I felt it. "Beautiful." It echoed in my brain, and that warm, lovely feeling stayed with me throughout the night.
After my brother's recent wedding ceremony, my dad wrote a little Facebook post that made everybody (or at least definitely me) cry. In it, he made a salient point that, being extremely lucky in the lottery of in-laws, I hadn't much considered: the legal and sentimental bond of matrimony goes far beyond the two people in the dress(es), tux(es)…or whatever the amazingly Offbeat Bride ensemble(s) they choose to wear for their commitment ceremony.
Marrying somebody is marrying his/her/their entire network of love and acquaintanceship. On a familial level, this becomes pretty apparent as a marriage progresses: your spouse's family can become, quite literally, your family — you gotta coordinate holidays, you gotta take on pain and part in interfamilial conflict, you gotta go to all the parties. You're one of the crew now, for better or worse, in sickness and in health.
My Hot-Pink-Loving Santa Claus Father Taught Me What Beauty Is
But when it comes to the wedding day itself, your literal and metaphysical family functions more as a (much-beloved) background, a surrounding tableau of smiles and well-wishes that renders individuals near-anonymous en masse. The people who help you battle anxiety and withstand the enormous pressure of that metaphorical multi-person embrace to survive your "special day" and provide a ceremony worthy of memory are a select group of trusted confidantes: your ride-or-dies, your chosen family, your friends. And especially, if you're a woman (the woman writing this essay, anyhow): your female friends.
I looked beautiful at my wedding five years ago because Jane taught me how to style my hair in finger waves. I looked beautiful at my wedding because, on the morning of, Lauren said "Jenn, get the hell out of the kitchen. Go do your makeup and I'll wash the dishes." I looked beautiful because Hannah, bless her most noble of hearts, attended to my excited, nervous mother all day prior to the ceremony, fetching wine as needed and refusing to allow her to call me about anything potentially anxious-making until the vows had safely been said.
I looked beautiful because Beka offered to make the run to pick up the photo collage that was to-be-displayed by the guest book; I looked beautiful because Lindy literally slapped my father-in-law's fingers when he attempted to snatch a surplus of hand-made favors from the limited amount available.
When it comes to the wedding day itself, your family functions more as a (much-beloved) background, a surrounding tableau of smiles and well-wishes that renders individuals near-anonymous en masse.
I looked beautiful because I'd received bachelorette night hugs from Bethany, Jen, and Lindsey, who'd all traveled from out of town to be there, because I could hear Kaylan's laugh ringing before I even walked into the ballroom, because Chenoa wore cowboy boots and Jaime accidentally wore a transparent dress to attend my nuptials.
I looked beautiful because I myself, my own super-best friend, spent a lot of time and effort in consultation with all of the above-mentioned women choosing a dress, making my own jewelry to wear for the ceremony, styling my hair, designing and applying my makeup. I looked beautiful because of the effort and influence of a lot of women, and I felt beautiful because of some woman's exclamation upon observing the fruits of my enterprise. I mean, damn, I know I've repeated the word 78 times in this paragraph alone, but it's just apropos: what a beautiful, beautiful group of women I know. What a beautiful night!
Recently I've been thinking about this form of feminine labor, the way my friends and I utilize our bonds of trust to uplift one another during times of celebration or difficulty. It looks a bit different from the models of adult female friendship I observed growing up, but functions so similarly! I have never made a dish to bring to a church potluck or a loved one in bereavement, but I have packed up every mascara I own and sprinted for the faces of friends who are enjoying accomplishment or suffering heartbreak, eager to provide them with the loveliest self-image I can assist in creating. When Hannah married, I spent more time perfecting the makeup of the mother of the groom than decorating my own face (myself, as a sister, being not nearly as important a figure in the resulting photos).
When Lauren, who typically doesn't wear makeup, was wed last month, I went to painstaking effort to give her the natural-but-OOMPHED aesthetic she envisioned for the day. When Beka received some bad news that rattled her self-esteem, all I could think to do (besides make dumb jokes and help her through a bottle of champagne) was to whip out some shiny shadow and take a photo that, in its gorgeousness, would make plain the absolute ridiculousness of her rejection. Beauty is my gift to them all, a process-based undertaking that serves to offer both me and my friends reassurance and joy.
How To Make Your Face Look Superb For Your Soulmate's Seoul Wedding
It's frivolous, I know. Do any of us need to look or feel pretty? We shouldn't really, I guess. Not like we need to eat. Do any of us need to be married? Discounting depressingly legit reasons like religion-enforced patriarchal tradition and financial dependence, and good ol' HEY YOU ANCIENT SPINSTER-style societal pressure—of course not!
Nonetheless, I celebrate both on June 30: my marriage, and the experience of beauty I share with my friends. Both are, for me, bulwarks in a world full of bullshit, bastions against very real everyday horrors that would sap my spirit unto death. I need strong bonds with other humans in order to survive, and those I share with my husband and closest women friends sustain me.
"Beauty," as a process, is not meaningful to me as a dreary prescribed practice of daily maintenance, but functions as more of a spiritual ritual by which I create and reify the relationships that give my life meaning.
Would my wedding day have been as significant if Lauren hadn't offered to clean my kitchen so I could spend more time on my makeup? Would hers have been as meaningful if she'd been married in her usual bare face, minus my cosmetic wizardry? Well…of course, in the sense that we would both still now be legally bound in commitments to spouses we trust and adore. But would the ceremonies have been *quite* as special, as perfectly personal in lasting memory? I think not.
The last words I heard from another person besides my husband on my wedding night came from the mouth of another friend, a slightly different tone than whoever'd gasped "She looks BEAUTIFUL!" Justin and I had just retreated to our honeymoon suite and slammed the door. We stood leaning against it, grinning stupidly at each other, when we heard the elevator outside DING!, disgorging a load of women who'd closed out the dancing following our wedding.
Do any of us need to be married? Discounting depressingly legit reasons like religion-enforced patriarchal tradition and financial dependence, and good ol' HEY YOU ANCIENT SPINSTER-style societal pressure — of course not!
"But," issued an appreciative voice from the elevator, bellowing down the quiet hallway, "did you see Lauren's boobs?" (Reader, I did. On that particular night and always, they looked excellent.) "Did you SEE THEM?!" My newly minted husband and I both lost it, cackling until we couldn't breathe, laughing until the clamor of other voices faded into the still of night. I knew again then that I'd made a perfect choice of partner: someone who would never begrudge me the feminine frivolity I cherish in my friendships, someone who delights in myself, my body, my family, my friends, and the absurd ways in which we express our affection for one another.
On June 30 it feels right not only to celebrate my love and ever-increasing appreciation for my partner-in-life, but also the women whose blurted words definitively punctuated our ceremony, the friends who saw us to the point of marriage and beyond. Beauty (and boobs, apparently) have bound us all in a broader web than I was even capable of conceiving when I said "I do" on that swelteringly hot evening in 2012, and five years later? All of those loves shine more brightly than ever. How beautiful is that?!