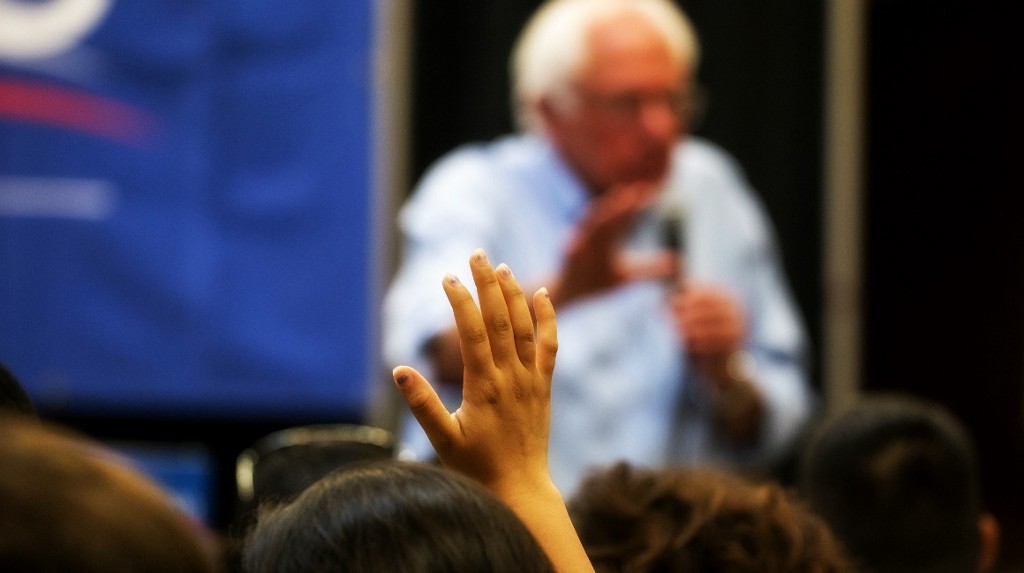 People care a lot more about whether or not Bernie Sanders might have said something mildly sexist 35 years ago than they do about whether sex workers live or die.
For years, I have been writing on Twitter about the impact of legislation on sex workers, which is to say, on my community. Sometimes people pay attention, sometimes strangers write to me about it, sometimes I get threats and name-calling.
But never have I faced on the internet the kind of vitriol or the kind of frighteningly zealous support as I have since I told a family story online last week about Bernie Sanders behaving less-than-perfectly-progressive toward my mother some time in the early '80s:
My whole life, my mother has told this story: she went to a democratic socialists' convention when I was about a year and a half old where they had promised there would be childcare. She showed up, with me. They said,
Sorry, we didn't get the money we thought we'd get, so we cut the childcare." So she was like, okay, taking my kid to these talks then. She went to hear the keynote speaker. We were in the back of the room. I was playing with a toy and making some toddler noises.
The keynote speaker stopped what he was saying and said, "could someone tell that child to be quiet.
My mother has never been a patient woman. She lost it. She stood up and started to shout. "How dare you," she said. "How dare you pretend to support families and working women when the first thing you cut during a budgeting failure is childcare.
She definitely said it with more swearing.
Folks, that keynote speaker she stood up and swore at was Bernie Sanders.
The response to the tweet was overwhelming. As it turns out, people care a lot more about whether or not Bernie Sanders might have said something mildly sexist 35 years ago to a "porn star's mom" — as a Newsweek story about my tweet put it — than they do about whether sex workers live or die.
Even after many years of living in the world as a sex worker, after the deaths of so many friends and coworkers — some of them uninvestigated and unreported, others followed by online comments like "good thing she's dead" — the passion with which people will apply themselves to protecting (or destroying) the reputation of a politician, while ignoring the impact of legislation he supports, still surprises me.
Sanders, along with 96 other Senators, passed H.R. 1865, also known as FOSTA-SESTA (or just SESTA) on March 21. On April 11, Trump signed the bill into law. SESTA removes protections in section 230 of the Communications Decency Act to create new civil and criminal liability for "anyone who owns, manages, or operates" a website "with the intent to promote or facilitate the prostitution of another person." The law does not clarify what this means. Is warning other sex workers about dangerous clients (as workers have done online for many years) facilitating prostitution? What about sharing safety and health information with sex working people? How many harm-reduction tactics are now against federal law? How will the owners, managers, and operators of social media and other communications websites respond to this, and what impact will that have on already-marginalized people?
The Legislation That Would Harm Sex Workers—In The Name Of Their Own Protection
For months before this law passed, my friends and I wrote to reporters, we tweeted and posted to Instagram and called our representatives and made as much noise as we could. It seemed obvious that this legislation would be devastating to the safety of our loved ones, and had the potential to cut all of us off from each other by making us a liability to websites that facilitate the everyday online forms of communication everyone has come to rely on. When the bill passed the Senate, our predictions came immediately true.
Websites that sex workers relied on to screen clients shut down. Google Play and Microsoft changed their terms of service. Skype and Microsoft Office have banned "offensive language" and "inappropriate content," to go into effect on May 1. Google Drive began to delete sex workers' content and lock out users. Sex workers started an alternative social media site called "Switter," to ensure we would have a place to communicate with each other if we were summarily kicked off of social media. This week, Switter was kicked off of its content delivery network.
There has been other impact as well: reports of an increase in sex workers working outdoors, and stories about friends who have gone missing or harmed themselves. A friend had her bank account frozen. Another friend said that though she'd had plans to leave the adult industry, the hostility of the current climate had convinced her she would not be able to do any other kind of work. This impact is widespread and has hit folks whose work was criminalized as well as those doing legal forms of sex work such as stripping and working in adult film.
Since the law passed, my friends and I have been holding meetings, gathering donations for sex worker emergency funds, sharing information with each other as quickly and as widely as we can. All of us are frightened. All of us are angry. I've posted continuously about this impact on social media. I've criticized celebrities and politicians who supported these policies. Yes, to all of you writing to me, I'm angry at Kamala Harris too.
But my mom never yelled at Kamala Harris, as far as I know.
The story I wrote on Twitter has never been, in my family, a story about Bernie Sanders. It has always been a story about my mother. It's a story about her standing up to authority, as she frequently has done, when she believed that what they were doing was wrong. Prior to his presidential bid, Sanders was incidental to the story's telling. It is a family story. When he began to campaign in 2016, the funny part of the story became the fact that the politician mom once yelled at was now famous. Incidentally, most of us supported Sanders in the primaries. I even gave an interview in 2016 in which I said that I believed his policies would be better for sex workers than the policies of the other candidates. In my house, we had no trouble reconciling someone's once less-than-perfect behavior with a larger question of who might implement the best overall policies.
I did not fact-check the story before I posted it. I've criticized many politicians on my social media, and I've shared many personal stories. I have never before had something I posted retweeted thousands of times and then reported as news. Perhaps I should have been more savvy. It's easy to say, in retrospect, that I should have known how the internet can take hold of something and make it symbolic of one hundred other things. That I should have foreseen, with the recent attention paid to Stormy Daniels, the temptation for online publications to write anything with a headline referencing a "porn star" and a political figure. I did not foresee these things.
Among the hundreds of messages I received were:
"Better disrespect your mom than grab her pussy"
"she raised a porn star so she probably deserved it"
"Porn actresses are just whores with contracts"
"Couldn't they use that whore who took down Al Franken again?"
"I think you're a Russian bot middle aged white women trump supporter go home to Moscow traitor"
"Why do white women have to lie?"
"HAHA that's right, you better fucking hide you liar."
"You scared?"
Strip Club Raids And Closures Are Weapons Of Gentrification
There were some people who seemed to have spent hours researching the details of my tweets — in order to "debunk" them. They wanted "the truth." I did some googling with the scant additional information I have about the incident. My family members disagree about the exact details of time and place, and I couldn't determine with certainty whether the story was true or not. My family believes that it is. I did not, initially, question its truth. In part because I grew up with it, but also because the details about Sanders himself seem utterly banal. That a man might have told a woman to keep her child quiet while he talks seemed to me utterly unsurprising. The only part of the story that I find remarkable is that the woman stood up and shouted rather than leave the room. But my mother has always been that kind of remarkable.
The internet commenters who were the most vicious seemed to believe that I had been paid to write these tweets, that they were part of a calculated political "smear." They seemed to believe (perhaps accurately) that this kind of anecdote holds more political power than any kind of substantive analysis ever could. I will tell you, I did not post this story with the intention of doing even minimal harm to Sanders, or with the hubris that I might be capable of doing such harm. Despite my rage at the impact of H.R. 1865 on my community, I do not wish harm on anyone who voted for it. What I wish for them is only knowledge.
The story I wrote on Twitter has never been, in my family, a story about Bernie Sanders.
I wrote that story down because I am inspired by my mother. Because I know her to be a woman who has never once kept her mouth shut. Whether or not this story is true about Bernie Sanders, I know it is a true story about my mother. Whether she shouted at Bernie Sanders at a democratic socialists convention ("I think it was actually a democratic socialists conference," she texted me) or at (as another family member remembers it) a rally about a housing bill, or at some other less-famous, equally-imperfect politician at some other kind of early '80s leftist political event, the most important part of the story is not where she was or even who she said it to. The most important part is that she refused to cower. That she has always refused to live quietly.
Of course, I want it to be a story about Sanders. I want to know that my fierce and rageful and impolite mother stood up in a crowded room and shouted at one of the 97 people who would, 35 years later, vote to harm her daughter. I want this even though it is petty to want it, even though it does nothing to change the circumstances in which we now live.
On April 18, Sanders wrote:
Cardi B is right. If we are really going to make America great we need to strengthen Social Security so that seniors are able to retire with the dignity they deserve. https://t.co/B8cOkoOdLc

???@SenSanders
I do not disagree with this statement. Former stripper and current genius Cardi B has said many true things. However, what Sanders is doing with this tweet is a move that is as old as sex work. Anyone who has been a sex worker has seen this behavior a million times before. Powerful people are happy to associate with sex workers when they think we are just "edgy" enough to gain them something by association, and quick to distance themselves when confronted by the systemic stigma in our actual lives.
Bernie Sanders praising Cardi B after voting for SESTA is every ex I've had who brought me to a few parties, but wouldn't let me even be seen in the vicinity of their parents or their boss. Every sex worker I know has exes like this.
Once You Have Made Pornography
At marches and demonstrations, my friends and I have spent so much time shouting. We've spent so much time writing letters, calling legislative staff, talking to journalists, showing up at administrative and legislative hearings. We've spent so much time being unheard by anyone, from any political party. Equally vehement in the messages I've received in the last 48 hours are ones from folks who think my story demonstrates some allegiance to Hillary Clinton or the DNC. Apparently there is a thing called donut twitter and something else called rose twitter, and the 2016 democratic primary is still alive on the internet as though all of this were about gaining and losing points in some ongoing adversarial sport.
Sex work, however, is not a partisan issue. Sex workers are equally hated by the right and the left. Conservatives and liberals and socialists alike have supported policies that have led to the deaths of sex workers. Nonetheless, sex workers hold beliefs across the political spectrum. We continue to vote for people who are demonstrably flawed. We vote for people who we know do not like us. We vote for people who are imperfect, and then we call them on the phone, we show up at their rallies and at their offices and demand that they become the representatives that we need them to be.
We know that they are flawed and we believe, still, that one day they will hear us.
Looking For A Comments Section? We Don't Have One.