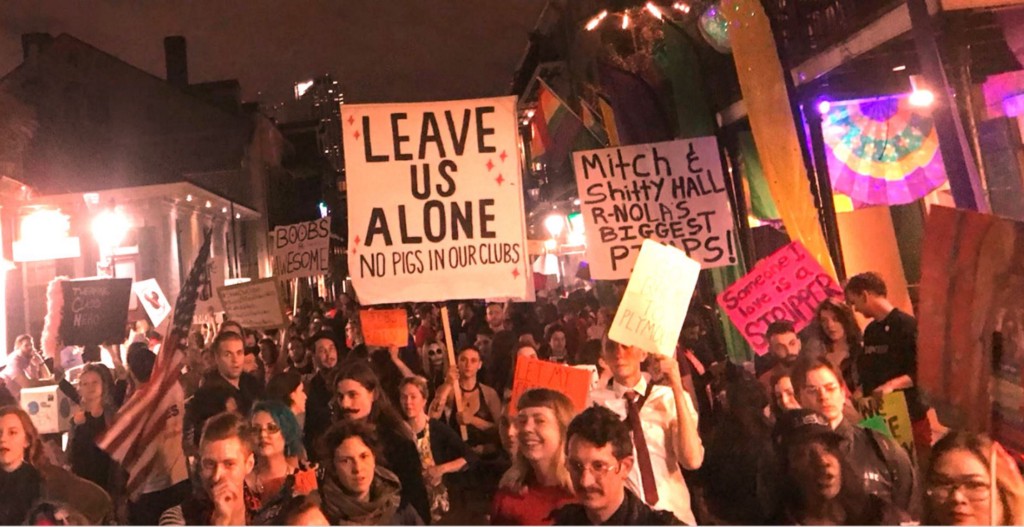 By Reese Piper
This is not about worker safety and public welfare. This is about paving the way for politicians and the elite to gentrify cities.
T he year was 1995. Deity Delgado was about to take the stage at the Blue Angel Cabaret — an underground strip joint tucked away in a basement in Tribeca. The club was packed to the brim. Sweating from the heat of the room, she sauntered on the small platform to dance for a buzzing crowd.
Worn down from the midtown gentlemen's clubs, Delgado started working at the Blue Angel to express herself more freely and comfortably while still earning a living. There, she performed cabaret and lap dances in a communal room in the back which she remembers as safe, fun, and lucrative. She was making an average of $600 a night.
She appreciated the diverse hiring practices not commonly found in upscale clubs in Manhattan. The stripper-owned club hired queer, punk, tattooed people of all shapes and sizes and colors. "I could show up to work without shaving my legs," Delgado said. "Many of the upscale clubs are set on one look, but at the Blue Angel you worked with what you had."
Located off Walker Street, the Blue Angel was weaved into the fabric of early '90s Manhattan — a place where queers, sex workers, artists, minorities, and outcasts once lived, worked, and thrived.
The club, however, became one of the 170 clubs targeted by Mayor Giuliani's iron fist against the commercial sex trade. Two years after the club opened, he signed into law a new zoning ordinance that prevented adult businesses from operating within residential areas and near each other (as well as schools, places of worship, and cemeteries).
In response, police amped up surveillance of the sex industry, eventually stamping an eviction notice on the Blue Angel's door due to the club's illegal mixture of alcohol, lap dances, and nudity. Delgado mournfully had to say goodbye to her beloved club.
Gentrification is often seen as an organic process that cities undergo. Jeremiah Moss, the author of the book and blog Vanishing New York — a detailed analysis of how New York City lost its soul to corporations — says, "Gentrification was originally defined as the process by which working-class neighborhoods are changed into middle-class neighborhoods by the middle-class who buy homes there."
Moss explains, however, "Now we're dealing with something much larger and more destructive — what I refer to as hyper gentrification which is not an organic process. It's the government stepping in with policies and zoning to remake the city for the upper classes. In order to that, outlaws have to be removed, including sexual outlaws. So adult businesses have to go."
"The hyper-gentrified city must be safe, friendly, and welcoming for tourist families and major corporations," Moss says.
Shutting down adult businesses was on the top of Mayor Giuliani's list throughout his terms. Giuliani claimed strip clubs, peep shows, and x-rated video stores were "corrosive institutions" that contaminated neighborhoods and prevented "legitimate businesses" from prospering.
The relentless spreading of disgust with and fear of adult businesses was fueled by the real-estate recession in the early '90s. Prior to that, corporations like Disney with a vested interest in attracting family-friendly tourists had little interest in devoting capital to parts of the city lined with street workers, x-rated stores, and strip clubs. The low-socioeconomic and "sleazy" stigma attached to sex work (of which stripping is a form) stood in stark contrast to Mickey and Goofy. But the market collapse opened a window for investors to turn a keen eye to urban real estate and its possibilities for profit.
Lower property values provided real-estate developers an opportunity to attract newcomers with visions of a "cleaner city." Jayne Swift is a doctoral candidate in Feminist Studies at the University of Minnesota who examines how gentrification played a role in the closing of the Lusty Lady, the only worker-owned unionized peepshow, in Seattle and San Francisco. She explains that visible sex work can stand in the way of developers trying to attract certain groups of people with an upscale image. "Sex work is seen as lower class and dirty in the imaginary," she says.
Twenty years after the Blue Angel closed, I stood in the basement of a corporate-chain strip club in Midtown with three other dancers, each awaiting the verdict on whether we would get hired. I had just auditioned in front of three unimpressed male managers, feeling self-conscious about the small layer of fat on my slim 5'2" frame.
After working in one of the few Times Square clubs that took 70% of my earnings in the private rooms, I was desperate to get hired elsewhere. The house mom came back. "The managers said okay…but they want you to lose weight." I sighed a breath of relief. I had a job and that's all that mattered. Afterward, though, I realized the other two dancers didn't get hired, one older than me and the other more tatted. My heart sank. How many people did they turn away a day?
The low-socioeconomic and 'sleazy' stigma attached to sex work stood in stark contrast to Mickey and Goofy.
I have never known Delgado's New York — a sex industry booming among artists, minorities, queers, and working-class people. I have only known $12 beers, $2,000+ monthly studio apartments, and pricey artisan cafes. My experiences dancing in New York were dampened by rigid hiring practices, poor security, and steep commissions.
I was lucky that day. My blonde hair, white skin, and youth got me through the door, but unless I'd glam up and slim down my employment was precarious. And after a year of doing exactly that, I was worn down to the point of quitting.
Instead, I left for New Orleans and found an accepting, accessible, and much friendlier and safer work environment. Not quite the Blue Angel, but I felt at home dancing in the creative city of grit and soul.
But then, two weeks before I was due to fly into New Orleans to work my second Carnival season, I heard the news that four strip clubs were raided along Bourbon Street. Sickened, I researched more and discovered the City Planning Commission was pushing a strip club cap and limit per block-face, essentially de-clustering strip clubs along Bourbon Street. A week later, four more were raided.
I Ain't Saying She's A Gold Digger: Sex Work, Money, And Upward Mobility
On the surface, these crackdowns were stoked by a city's 2016 investigation into clubs' harmful effects on strippers and the community. But the reality is, just like New York 20 years ago, corporations and developers have a stake in eradicating the industry from tourist areas. The devastation of Katrina provided an opportunity for developers to lure white millennials and upper-class families to the city with lush condos and pedestrian walkways, as locals have bitterly watched as houses remain in despair, potholes unfixed. The officials at the cruise ship port of New Orleans have been trying to capitalize on this makeover and charm Disney with promises of a clean family-friendly destination.
As cities turn their backs on residents to attract the elite,"sex workers are not part of the economic vision," Swift explains.
Even though the targeted elite frequently patronize strip clubs, our visible presence must be sanitized and contained. "Sex workers are part of a city that is more open and less policed. But when a city is being forcibly hyper-gentrified by city and state governments, they have to be surveilled and controlled," Moss says.
After the raids, I lamented to a friend, "It feels like they're trying to clean up Bourbon Street." She chuckled, "People don't go to Bourbon Street for family fun."
But that's what people once thought of Times Square and Downtown Manhattan.
Stripping is protected by the First Amendment, but city councils have the power to curtail the industry through zoning if they can provide evidence of "secondary effects" that outweigh the right to self-expression.
The secondary effects doctrine is used to rob cities of strip clubs or push them out to the margins in gentrifying cities. And it doesn't take much. Cities rely on slapdash reporting that claim clubs decrease property value, heighten crime, and more recently contribute to human trafficking. At best, these claims paint a picture of correlation rather than causation; at worst, they convince the public that strippers inflict harm on the community (and themselves).
This doesn't just reshape the city, but changes who can be a stripper. Swift explains, "As cities try to limit the size and scope of the industry, they contribute to its monopolization." Stringent regulations and club closures allow corporate strip clubs with big lawyers to prosper. And since strippers face fewer options for work, clubs get choosier, which looks like capping people of color and shutting the door on the tattooed and bigger-bodies workers.
The Insidious Planning That Goes Into Gentrification
Like the Blue Angel, three clubs that welcomed diversity in New Orleans shuttered during this round of police crackdowns. As cities gentrify, so do our clubs.
"Were there protests against the zoning ordinance?" I asked Delgado.
"We didn't really have a voice," she responded.
On February 4, 2018, though, something changed. The silenced stormed the political conversation and demanded a voice. Hundreds of workers took the streets in New Orleans to march for our jobs. We chanted "No new Bourbon Street" and "Bourbon Street, not Sesame Street." I cried as allies joined — hopeful that maybe, for the first time, people will see that sex workers make valuable contributions to the city's economy and culture.
"The protest in New Orleans was a break of tradition. For the first time there was a collective voice of dancers saying 'No' to being shuffled around by the city and targeted by police," Swift says.
The protest reminded the city officials that there is a human cost to a sanitized city. And they heard — because on March 22nd they voted 4–3 against capping strip clubs. It was a landmark decision for the rights of strippers, but it's not over. The secondary effects doctrine is alive and well, still threatening New Orleans, and more recently, Reno and the Bronx.
As long strippers are feared and devalued members of society, our bodies will be seen as a deterrent in gentrifying cities. In order to mitigate our threat, officials and police will regulate, criminalize, and dispose of us without a care.