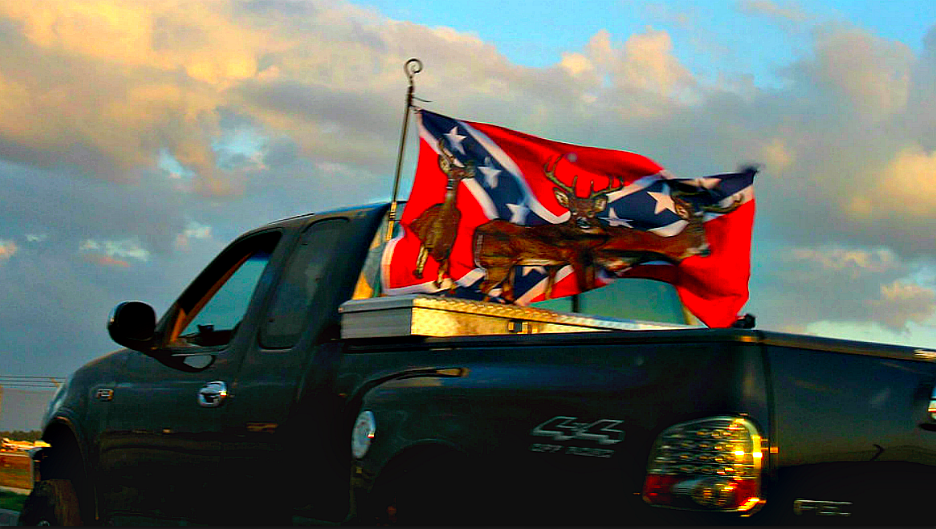 I'm darkly amused by the entitlement of the non-Southerner's racist belief that he has any right to define the South.
Growing up a white girl in small-town Tennessee, each week I watched Bo and Luke Duke's General Lee racing down country roads on The Dukes of Hazzard. The Confederate flag on its hood was as familiar to me as Daisy's bare midriff.
In high school, I worked as a waitress at a trucker joint off Interstate 24 between Chattanooga and Nashville, and the restaurant owner kept a large Confederate flag standing on a six-foot pole in the corner of the dining room. One morning a group of girls, just a bit older than me, came in off the Interstate—loud, unruly, and rude—and snarled at my ignorance when they asked for "iced coffee" and I brought them iced tea instead.
Cleaning their table after they left, I realized they'd taken down that big Confederate flag, wrapped it around its pole and shoved the whole contraption way up under the heavy oak table. It was perhaps the first time I realized what the Confederate flag meant—bigotry, hatred, slavery—in the world outside Hazzard County. As I watched my manager tug that huge flag from under the table and set it upright, she assured me that the flag had nothing to do with racism. "It's about pride in our heritage," she said, "Southern culture"—which I understood to mean that we ate a lot of fried okra and went to church on Wednesdays.
Later, to me, Southern culture came to mean additional things, like the Klan marching in nearby Pulaski, religious discrimination against my gay friends, or societal control of women's bodily autonomy. I decided to escape if I could, maybe to a paradise that I'd heard tell of' a godless place where the gays had busted out of their closets and women refused to wear panty hose and men helped with the housework! California, they called it, and I couldn't wait to go there and live happily ever after in harmony with all humanity.
But I got here to Southern California and realized that even in my left-coast fantasyland, police killed young Black women, white boys asked if I'd ever worn shoes before leaving the South, and an Asian-American grad student told me she "couldn't hear" my argument in a professional setting because my twang was coming out.
I heard of a place called Huntington Beach in Orange County, supposedly a hotbed of white supremacists, and soon enough, I decided the Californians might be just as screwed up as us Tennesseans.
A year or so ago, I was in a bar in Newport Beach (which is a very rare occurrence, Mama, if you're reading this) and began talking to another woman, a stranger I had just met. I mentioned something about being from the South, and she got all excited. She pulled a Confederate flag keychain from her bag and showed it to me, assuming I would share her enthusiasm for it.
"…why do you have that?" I asked. "Are you from the South?"
No, she said, she was from California. I gave her a sideways glance. Did she believe all Southerners held a deep love of the Confederacy? In my experience, it was as hard to say something about "all Southerners" as it was to say something about "all Americans." Even if you ask two Southern women about their favorite potato salad recipe, you'll get five answers.
When the girl didn't get the desired reaction from me, she muttered familiar words: "It's not racist. I just think that if you have a culture, you should keep that culture." What culture…? I wondered. Was she talking about my culture, or at least, my experience of the South —my hilly dirt roads and my hotwater cornbread and my endless weeknight Bible studies? No. This girl had likely never passed a piece of fried okra through her botoxed lips in the entirety of her life.
"But the South is not your culture," I said. My heritage, contradictory and confused as it was, did not belong to her. What "culture" was she talking about that she was somehow identifying with? Was she saying that white racist people should stick together and preserve their…white racist culture?
I wondered the same thing last year as I realized that most of the Nazis and wannabe Confederates marching in Charlottesville were not, it seemed, from Charlottesville. Aside from a few, like organizer Jason Kessler, the ones who were identified in the press were from places like California, New York, Nevada, Washington state, North Dakota, and of course, Maumee, Ohio. These non-Southerners had driven all the way across the country in their quest to "preserve Southern history," only to ride roughshod over the actual, real-life Southern people of Charlottesville, who had voted to remove a Confederate statue in their own public park.
This past Sunday, as Kessler organized his anniversary "Unite the Right Rally 2," one of his invited speakers (who, like the rest of the alt-right, it seems, simply didn't show up, there were only about 24 people there) was Patrick Little, a California Senate candidate originally from Maine who in his own words wants to "raise Jews as livestock."
Aside from being a disgusting anti-Semite, Little is a member of the League of the South, which as far as I can tell is an organization of a couple dozen old white guys from Alabama who want to re-establish the Confederacy and rule it by fiat. Now, why does a Maine-bred Californian like Patrick Little join the League of the South?
What exactly, does he think "the South" is?
By culture, was she saying that white racist people should stick together and preserve their...white racist culture?
Click To Tweet
My youthful misconceptions of California as a liberal paradise have given way to a realization that too many non-Southerners, like Little and the Newport girl, have crafted a competing fantasy of my home—of the South as a white nationalist paradise, where all the white men are strong, and all the white women are good-looking, a white-celebrating world where you can tell yourself you are the master race without being laughed out of the Super Wal-Mart. A land where people of color can be shipped "back" on a boat or burned in an oven. A white supremacist culture.
I'm darkly amused by the entitlement of the non-Southerner's racist belief that he has any right to define the South (which is much too big and diverse to be defined anyway)—like somehow he's entitled to identify with the South and claim it as his own and define what it is, simply because he's a racist. But I am also troubled by the way these folks, in places like California, associate their own white supremacy with my home, and of course, by default, with me.
Now, some will say if the South didn't want to be stereotyped as a racist paradise it should have behaved better historically, and I can't argue with that. But the South has always been more than just its long history of racism. The South has always included a heritage of resistance to white supremacist violence. After all, Dr. Martin Luther King, Jr. and Rosa Parks were Southerners, too, weren't they? At the same time, there are Southerners right now in places like Charlottesville and all over the South who are redefining it as a diverse, multicultural place.
Today, people of color make up about 38% of the state of Virginia, which in 2016 went for Hillary overall by a 5% margin. 80% of Charlottesville voters chose Hillary. Even in deep-South Georgia, people of color make up about 47% of the population (defining "people of color" as everybody but "non-Hispanic whites"), and although Trump won the state, Hillary garnered 45% of the vote, improving on Obama's 2012 performance there.
A red-painted map camouflages all the purple that today is the reality of the old Confederacy, and the Californian waving a Confederate flag wants to render all these real Southerners invisible.
The only way I know to counter this is to refuse to disappear. To say, no, if you are a racist from New York or Maine or Nevada or California, the South is not your culture—you don't get to define it, you don't get to define me. To make sure that any time a Confederate flag flies over a racist hate rally, whether it be in Charlottesville or the deceptively liberal bastion of Portland, there are the voices of actual Southerners (like Charlottesville's first female Black mayor). To make sure they rise up to prove that white supremacists' fantasy of a world devoid of people of color, LGBTQ folks, Jews, white liberals, and women who expect you to do your half of the house cleaning, is as futile as it is ugly, pathetic, and dangerous.