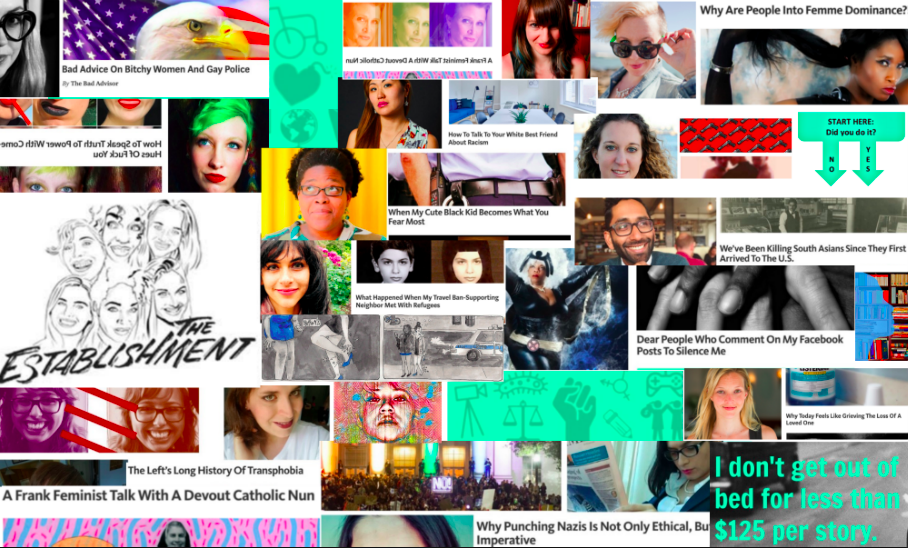 Today is the day we publish our very last article as The Establishment.
Today is the day we acknowledge everything we've accomplished — as a community, as a movement, as a collective of humans of every shade, size, and creed bellowing, "we can do better!" — in these last three and a half years.
In October of 2015, six of us — Nikki Gloudeman, Ruchika Tulshyan, Kelley Calkins, Ijeoma Oluo, Katie Tandy and Jessica Sutherland — set out, buoyed by a preposterously generous and believing angel investor, Shauna Stark. We took to the digital airwaves armed to the gills with the belief that there were too few publications on the whole of the goddamn internet that told stories as diverse as the world we live in.
Four year later it remains exceedingly rare to find publications that grant the marginalized, the silenced, the vulnerable — people of color, womxn, non-binary folks, the LGBTQIA community, the mentally ill, the poor, the disabled, and every intersection in between — the freedom to write about what they want. What their reality is. What threatens their sanity, safety, body, and mind. What turns their gears and gets them up in the morning.
We started The Establishment with the ambition of fundamentally shifting the narrative of
what an expert looks like, whose book gets quoted, and who gets to write the stories that shape media. Over the years our writers covered reproductive justice, the history of bell bottoms, the plight of trans youth, the power of vaginal bacteria, the impact of black nerdom, the socio-political underpinnings of the name Kevin, the economics of sex, and the danger of binge-watching television — not to mention pregnancy loss, menstruation, surviving sexual violence, neurodivergent art, hair and queer identity, and so, so, so much more. We published a kaleidoscopic rainbow of voices and stories and issues that were — and continue to be — deeply underrepresented then and now.
More than 4,000 stories by 990 writers, to be exact. (And we paid every single writer and creator.)
And people responded. More than a million people every month were reading our stories, and the conversations our content provoked were as nuanced and important as the words on the digital page.
During our time at Matter.VC — an incredible incubator focused on championing media and tech for social good — we also launched a Slack community where these conversations could continue in a safe space among the beautiful and brilliant humans supporting our mission.
We hope that in the past 1,090-odd days of The Establishment's existence, you read stories that made you feel less alone, lanced your psychological blisters, made you think, or made you confront some perspective or implicit bias or prejudice you'd never quite dared to look at. We hope that you found a writer whose words sang such a beguiling song that you promised to read everything they ever published. (And good grief there were so many that sang their siren song to us!)
We hope that, like us, your fear and rage and anger at the infinite ways we harm one another was eased when your eyes found our site, our community of humans who were all fighting the good fight.
Our writers and readers and supporters are the humans who've been instrumental in keeping this beautiful ship afloat and a thank you could never suffice, but thank you. Thank you from the bottom of our throbbing hearts, the glinting depths of our souls — thank you, thank you, a million times we holler till we're hoarse, thank you.
While we've tried just about everything — events, subscriptions, branded content, swag, gated content, and good ol' fashioned donations and desperate pleas to the Internet Gods — the headwinds facing media are intense, and finding a sustainable revenue model is a Sisyphean feat.
WOULD YOU BE BELIEVE IT'S DIFFICULT TO MONETIZE INTERSECTIONAL FEMINIST MEDIA?!
We had a feeling you might.
And while we are gutted to close The Establishment — we all feel as though a slice of ourselves has gone missing — we're also prouder than ever. Together we leave a legacy, a body of work that shows the world as it could be.
Times are dire, but know that you are part and parcel of pushing back. Whether you've read us, written for us, shared our articles, become a member, or donated your hard-earned moolah — maybe all of the above! — you have fundamentally helped transform our media landscape into something more inclusive, something bigger and better and brighter than the majority of the world thinks or allows to be possible.
Thank you for sharing that vision with us. We'll never forget that feeling and we hope you won't either. They say journalism is the first draft of history. Here's a legacy we're proud to help create.
Your comrades in combating the darkness,
The Establishment
PS: Please rest assured that all Establishment content will remain in the digital universe for perpetuity — we will be maintaining the site at theestablishment.co and medium.com/the-establishment, just without publishing new content, so you can continue to read and discuss the brilliant words of our extraordinary writers.