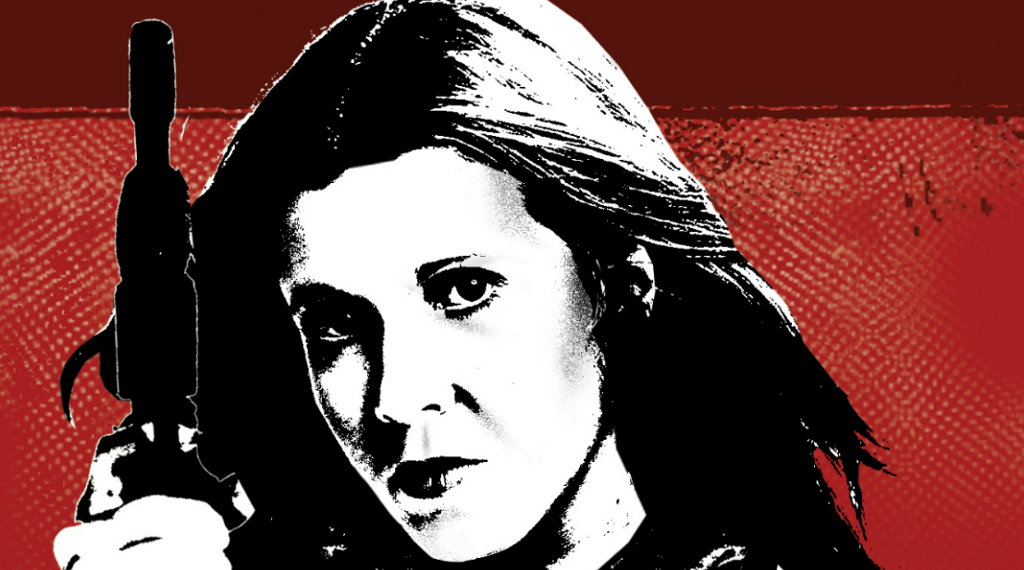 Carrie Fisher made Princess Leia into something so much greater.
The first Leia Organa that I knew and loved was a princess, although she wasn't like any of the other princesses I'd seen in movies. She was smart and funny and loud and strong, and she had a true gift for getting in savage digs against anybody who looked at her crosswise. She didn't need rescuing, and she had cool hair. For 9-year-old Anne, that Leia was basically perfect.
But in the wake of Carrie Fisher's death, I'm not thinking about Leia the princess. Right now all of my thoughts are of the woman she became in 2015's The Force Awakens: the older, wiser, battle-scarred leader of anti-Empire rebels. The Leia I need now is General Leia Organa.
General Organa doesn't have the same glamor she did when she went by the name Princess Leia. She's not young anymore, and she's traded in her snowy white robes for a more serviceable outfit in drab earth tones. She doesn't wear any insignia or other obvious indication of her rank. She's given up her fancy updos for a more matronly hairstyle. She could be any other middle-aged woman, except for the way that she carries herself: with the swagger of someone who has grown accustomed to being in command.
The Leia I need now is General Leia Organa. Click To Tweet
This Leia is not the smart-alecky ingenue of A New Hope. She's the brilliant strategist who has to make a split-second decision after learning that their star system is the Starkiller base's next target. She's the compassionate leader who is willing to break up a meeting with high-ranking resistance officers in order to thank and comfort Finn. She's the woman who senses that Han Solo — the only man that she has ever loved — has been killed, and after taking a moment to register that she swallows her grief and returns to her work.
She has done this over and over: swallowed her grief, returned to the work. At this point she has eaten decades of grief. This is a Leia who has lost almost every important person in her life: Her biological mother died shortly after her birth. Her biological father was a literal monster who barely knew she existed. Her home planet was destroyed when she was just a teenager, and her parents were killed in its destruction. Later, her son Ben was drawn to the dark side, and her brother Luke, who had been Ben's teacher, was driven by his grief and guilt to an unknown planet at the edge of the universe. It was this same grief that presumably led her erstwhile husband, Han Solo, to reassume his role as a wise-cracking criminal.
Leia could have run away too. It would have been both easy and forgivable. Instead, she did what so many women have done throughout history: she held it together. She kept going.
Watching the early Star Wars movies, it's clear that Leia was never meant to be the protagonist; she was meant to be the protagonist's sexual prize. The audience is supposed to root for Luke, the Chosen One with special Jedi powers (never mind that Leia is also sensitive to the Force and probably would have crushed Yoda's bootcamp), or else they're supposed to love the roguish Han Solo. Leia was never supposed to be anything other than someone's main squeeze. But something weird and magical happened in the story arc from A New Hope to The Force Awakens: Leia became the sleeper hero of the Star Wars franchise.
We have Carrie Fisher to thank for that, for bringing something to Leia that was deeper and more resonant than superficial specialness or charm. Leia was written as an empty vessel, and Fisher poured herself inside: her own pain, her own quiet struggle, her own resolve. With Fisher animating her, the princess who was supposed to be an object of romance became instead an engine of revolt. Leia is in it for the long haul. She fights and fights and fights, even when her family quits on her and the odds seem impossible. For Leia, doing whatever she can to bring down the fascist Empire is more important than her feelings or personal life. Without her steadfast presence, the rebellion would have been quashed long before Rey was born.
Like Fisher, Leia earned every tiny ounce of respect that came her way. She was given the title of princess because of who her parents were, but she earned the rank of general through hard and often miserable work. We love the mythos that heroes get where they are because they are special or chosen, and the people we hold up as icons reflect that. But the rebel army isn't made up of Jedis — for the most part it's just ordinary people united to fight for the same cause. And Leia, in spite of having once been royalty and maybe having some ability with the Force, is mostly as ordinary as any other soldier; she rose through the ranks not by manipulating the Force but by learning leadership skills and military tactics.
Simply put: Leia got to where she was by showing up and quietly learning to do the work.
In times like this steady fighters are needed, the ones who have seen the Chosen One come and go. Click To Tweet
Princess Leia was wonderful, but General Organa is the one I'm looking to these days for guidance. It's hard not to give in to a numb sort of nihilism. As the future grows darker and more uncertain, it's easy to believe that our individual actions are worth nothing compared to humanity's obvious and urgent desire for self-destruction. Like Luke, I'm sure we all feel the temptation to run away somewhere where no one can find us and nothing bad can reach us; since our leaders seem so intent on blowing us all up, we may as well go somewhere picturesque to live out our last days. It's also tempting to hope that the Chosen One is out there somewhere, ready to swoop in and fix everything. Both of those options absolve us of having to take any action. But it's in times like this that the steady, stubborn fighters are needed, the ones who have seen the Chosen One come and go and still refuse to give up. The ones who don't back down even when everything seems impossible. The ones determined to believe that there is a future in spite of the evidence to the contrary. The ones who would rather die for what they believe in than live to be complicit in a fascist regime.
I hope we can all find a way to be General Organa, for ourselves and each other. May we all be able to get up every day and, in spite of our pain and loss and fear, put on our boots and our earth-tone vests and plan to destroy the Empire.