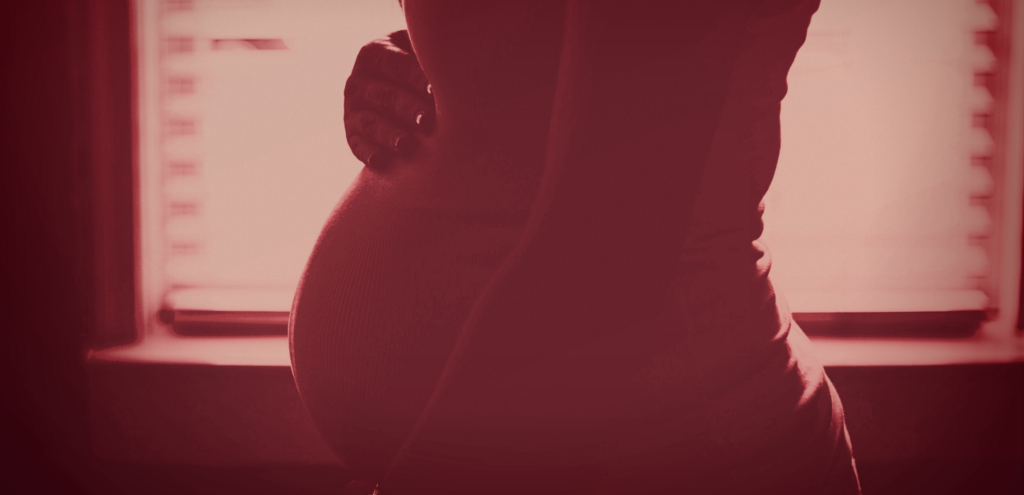 The Trump administration is engaged in an all-out war against abortion rights—and pregnant immigrants are on the front lines.
Since 1973, the Constitution has prohibited the government from imposing an "undue burden" on a person's right to choose what's best for their reproductive health. Immigrants to the United States, authorized or otherwise, have never been excluded from that constitutional right — until now.
Currently, the Trump administration is engaged in several simultaneous battles that constitute what is an all-out war against women and gender-nonconforming people's reproductive rights. Forty-five years after Roe v. Wade ensured the right to abortion, the Trump administration is trying its best to slowly chip away at the precedent set by the landmark Supreme Court ruling, and they're starting with a population that is one of the most vulnerable in Trump's America — pregnant undocumented immigrants.
"They come to our country and find themselves pregnant and under the control of the state in a way that is so profound it is hard to overstate," says Michelle Oberman, professor of law and author of Her Body, Our Laws.
"They're young and far away from caring adults, many have been victims of sexual violence, and now they find themselves pregnant and in custody. To watch these cases play out is to understand how fully a government might assert control over a person's reproductive autonomy."
Since last October, the Office of Refugee Resettlement (ORR), a subsidiary of the Department of Health and Human Services, has operated with complete disregard for Roe v. Wade protections, as well. Under the leadership of ORR Director Scott Lloyd, the federally funded office has attempted to block at least four undocumented minors — the Janes Doe, Poe, Roe and, most recently, Moe — from obtaining abortions, the most recent of which occurred in late January.
'To watch these cases play out is to understand how fully a government might assert control over a person's reproductive autonomy.'
The Constitution does not withhold any inalienable rights from immigrants. The Fourteenth Amendment, which ensures that no state entity can deprive a person of their life, liberty, or property without due process, or deny any person within its jurisdiction equal protection of the law, is particularly relevant—and oft-challenged—in immigration law proceedings. But with so many different government entities overseeing various aspects of the immigration process, pockets of grey area have emerged and allowed the Trump administration to show its hand with regard to their plans for longterm abortion rights reform.
"I just have not seen anything quite this brazen from a federal or state government before," says Brigitte Amiri, Senior Staff Attorney at the ACLU's Reproductive Freedom Project.
"They have, in each brief, doubled down on going further in their quest to coerce young women to carry their pregnancies to term by forcing them to go to religiously-affiliated crisis pregnancy centers, telling parents in their home countries about the abortion decisions—even if that means harm potentially to the minor or other family members—and that's all a coercion tactic to try to force the young woman to carry her pregnancy to term. And if those tactics fail, they basically say, 'We're not going to let you access abortion.' They hold them hostage to prevent them from accessing an abortion—just when I think it can't get any more extreme, it does."
In their initial filing concerning Jane Doe last October, the ACLU positioned their case as a class action lawsuit "on behalf of a class of similarly situated pregnant unaccompanied immigrant minors in the legal custody of the federal government."
I Had An Abortion Because I Love My Son
According to the ACLU's court documentation, the federal government reported that in Fiscal Year 2016, 59,692 unaccompanied minors were referred to the ORR. "The class is so numerous that joinder is impracticable," asserted the documentation, meaning that it is impossible to calculate exactly how many undocumented immigrant minors would be affected by the outcome of the class action lawsuit. "In any given year, there are hundreds of pregnant unaccompanied minors in defendants' custody."
And the Trump administration has not limited their attacks to solely undocumented minors, either.
In the appendix of Trump's 2019 budget request, which he sent to Congress in early February, there is language that would give any employee working under Immigration and Customs Enforcement (ICE) the right to refuse to facilitate the procurement of an abortion for any immigrant woman—whether the federal government is paying for the procedure or not.
ICE has never been allowed to use federal funds for abortion services unless the life of the person carrying is at risk, or the pregnancy is a result of rape and/or incest, but detainees who wanted an abortion outside those circumstances were still allowed to procure one if they came up with the funds themselves.
Now, under the proposed stipulations of Trump's 2019 budget recommendation, ICE officials and employees who are morally or philosophically opposed to abortion wouldn't have to aid in the facilitation of the services, a contentious caveat to Roe v. Wade eerily reminiscent of the birth control rollback mandate made late last year (which was ultimately blocked at the district court level in December).
In a vacuum, this proposed facilitative change wouldn't be quite such a cause for alarm — Trump's proposal is just that, a proposal — but this is not an isolated circumstance.
Between January and April of last year, ICE detained nearly 300 pregnant women, often in breach of the organization's own protocol for dealing with expectant immigrant mothers. This led the ACLU to filed an administrative complaint with the Department of Homeland Security's Office for Civil Rights and Civil Liberties and the Office of Inspector General in September 2017. They called upon the governing bodies to investigate ICE's treatment of pregnant people in its custody.
Then, as recently as Thursday, according to a report from The Daily Beast, the Trump administration released an executive order unequivocally ending an Obama-era policy that limited the detainment of pregnant women in ICE custody to only "extraordinary circumstances."
As for the Janes, the ACLU has thus far been successful at securing their abortions. U.S. district court judge Tanya S. Chutkan is the presiding judge who's ordered the Trump administration to allow the Janes to get their abortions on a case by case basis thus far. Yesterday, she ruled that the ACLU will be able to proceed with their class action suit, effectively blocking the ORR from preventing undocumented minors in their charge from seeking an abortion in the meantime.
But no permanent change or established protections for pregnant undocumented minors will occur until the courts determine whether the ORR has the jurisdiction to circumvent constitutional precedent on the basis of its leader's religious beliefs and questionably revised operational protocol.
How U.S. Policies Shape Abortion Rights Around The World
In March of last year, according to ACLU court documentation, the ORR quietly revised its policies not only in flagrant disregard of Roe v. Wade's constitutional precedent, but in conflict with its own ORR-specific protocol set forth in 1997 by the Flores v. Reno Settlement Agreement.
The Flores Agreement, more than 20 years old, legally obligates the ORR to provide care to the young people under its jurisdiction—specifically including family planning services and reproductive health care. The revisions to these provisions last March effectively prohibited all federally funded shelters from taking any action that facilitates abortion access for unaccompanied minors in their care without direction and approval from the ORR.
It bears noting that Lloyd, the current director of the ORR, is vehemently anti-choice. Under his jurisdiction, young people fleeing violent home lives in other countries are doubly suffering due to his unyieldingly "pro-life" stance.
Lloyd's personal beliefs, and the Trump administration's unveiled aversion to a person's right to determine their own reproductive future, have dually contributed to a cultural climate in which it is not unreasonable to fear a future in which Roe v. Wade has no constitutional tack at all.
According to the New York Times, "It was unclear late Friday whether the Trump administration would appeal the ruling."
Under Scott Lloyd's jurisdiction, young people fleeing violent home lives in other countries are doubly suffering due to his unyieldingly 'pro-life' stance.
The possibility that they will is quite plausible, seeing as the administration has challenged several rulings related to the Janes since the first case occurred last October.
As the Trump administration continues to operate with little regard for the constitutional precedent that should govern all of its subsidiaries, this outcome of this class action could be monumental.
"The unique time that we are in is where a federal appointee, a Trump appointee, is setting policy that is blocking young women from being able to obtain an abortion — shaming and stigmatizing them on top of everything they've already been through — and (is) being supported in his decision," says Amiri.
"This isn't a rogue government employee. This is a Trump appointee who has the backing of clearly much higher-ups. The Department of Justice is defending Scott Lloyd's action to the full degree. I think that's also what's surprising, is that there isn't anyone in federal government at the higher level saying, 'What you're doing is not only blatantly unconstitutional under well-established Supreme Court precedent, but it is also just downright cruel, the treatment of these young women.'
I think that's what's really scary to me. There is no check on Scott Lloyd's ideologically-driven attempts to coerce and block young women from accessing abortion despite the fact that it's blatantly unconstitutional. I think that signals what's going on in our federal government in general. We know we have a president who has vowed to appoint Supreme Court justices that would overturn Roe v. Wade."
So, what's next?
"We are relieved that the court issued an order preventing the administration from continuing this practice while our case proceeds," says Amiri. "With yesterday's rulings, we are one step closer to ending this extreme policy once and for all and securing justice for all of these young women."
Amiri says the ACLU will now push forward in the district court, seeking documents from the government and asking for depositions of Scott Lloyd and others. When that is completed in several months, the case will be decided finally with a trial or briefs—and, one hopes, the decision will align with justice.
Looking For A Comments Section? We Don't Have One.