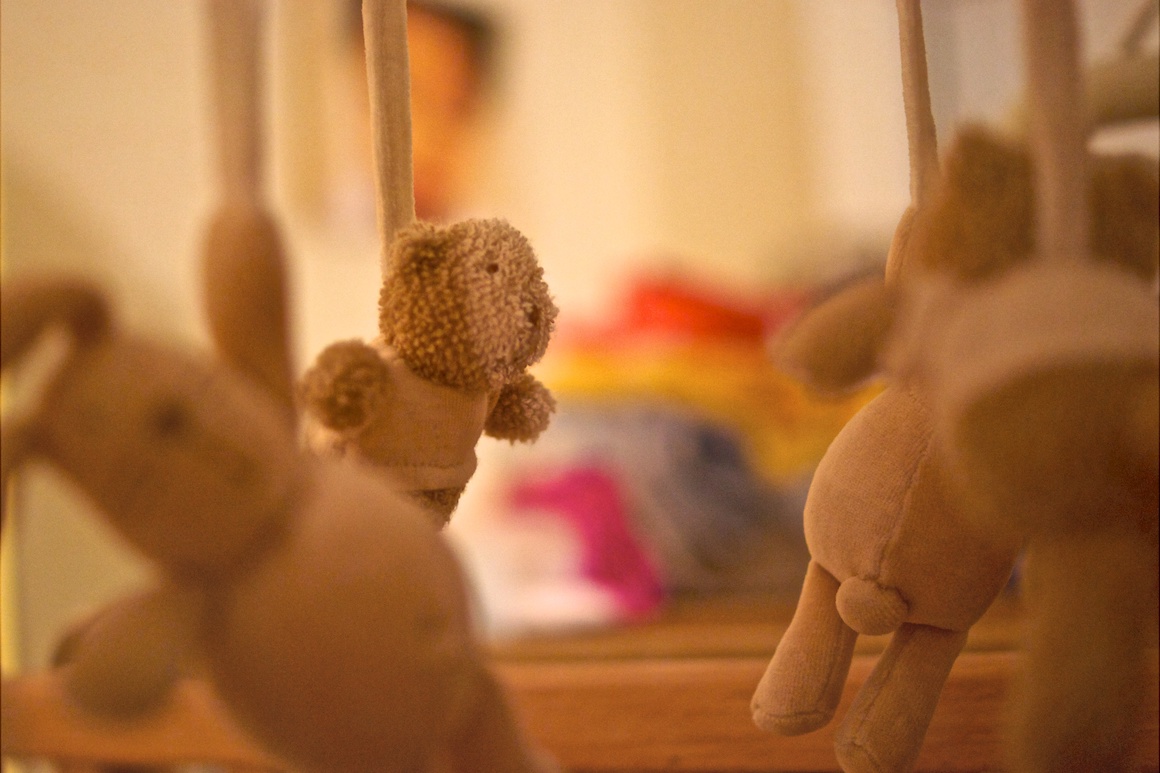 Being pregnant was amazing. But once the baby came, I began to worry I was doing it all wrong.
I used to go on long walks when I was pregnant. I'd lace up my snow boots and zip my barely-fitting winter coat over my belly and just walk for hours around the neighborhood. I loved it. I loved how I waddled, my hips expanding to accommodate the baby's drop. I loved how my stomach strained the zipper, pocket seams bursting, as if even my clothes were excited with anticipation about my daughter's arrival. I loved how strangers smiled and asked when I was due and told me, "Congratulations!"
I loved being a pregnant person.
It felt easy to be a "good" pregnant person. Yes, the details were hard – a screenshot of safe fish to eat lived on my phone, consulted before every sushi order that always ended in California rolls anyway; I sat on an inflatable birthing ball at work to try to encourage the baby to go into proper head-down position; I didn't sleep on my back; I learned infant CPR; we squirreled away money for future childcare.
But overall, I was lucky. For me, moving through the world as a pregnant woman was simple. I felt so sure of my choices, so sure I was doing it right. It was the first time in my whole life I felt truly at home with my identity, that I wholly embodied within what was being projected outwardly. It was the first time I felt confident in myself.
Motherhood is not like that. Motherhood has shaken my confidence to the core, chiseled away my decision-making skills, left me puddled and wobbly. Things that had once seemed stupidly obvious stop me in my tracks. I spend a ridiculous amount of time standing in the grocery store, paralyzed at the thought of choosing the wrong baby water. I agonize over what is the proper type of onesie to put her in (Fleece? Cotton? Flannel?). Old episodes of ER play in the background as she cluster feeds and my mind hums with screen time recommendations.
Everything, every choice, every decision, every moment, is heavy with consequence.

My daughter sleeps in her bassinet next to me. I lay in bed, having checked to make sure she's breathing. Once. Twice. Three times already. I close my eyes, satisfied.
She shifts.
Don't do it, I reprimand myself in my head. She's fine. Don't do it. She just moved a little. Don't do it. Embarrassingly, she has not one but two life-detecting monitors (a motion sensor pad under her mattress that came with the video monitor, and a Snuza clipped on her diaper that is supposed to beep should she stop breathing.) Don't do it. Neither is going off. Don't do it. She's fine, she's fine, she's fine…
I lift my head, scootch to the side of the bed, peer over. I check on her. I watch her diaphragm move up and down. I make sure her nose and mouth are clear of anything that has the minuscule chance of blocking her airway (the sleeve of her onesie positioned in a one in a million chance in the throes of her sleep, the fitted sheet somehow coming up from the secure hugging of the mattress corner and tangled over her face in her tossing…) She is fine. I pull the covers up, I close my eyes, I wait for sleep.
She shifts again.
Motherhood has shaken my confidence to the core, chiseled away my decision-making skills, left me puddled and wobbly.
Click To Tweet
I don't want to be this mother. Double-checking, triple-checking that the car seat is clicked in properly (did I hear two clicks? I don't know. Do it again). Nerves frayed after a bad night of sleep (why did I rock her to sleep, she will never learn to sleep on her own, I've ruined her sleep habits forever and committed my husband and me to a lifetime of interrupted nights, 2 a.m. wake ups). Thoughts from long ago, news stories of dangers lurking in every corner fill my head (infants accidentally left in hot cars, dead after their first day at daycare, stabbed by the nanny…).
I'm sorry, I didn't get it, I want to say to the mothers of eons past. I used to think, "Why is it so hard? Why are you so worried? If your baby is hungry, she will eat. Tired, she will sleep. What are you fretting, obsessing, agonizing about?" I'm sorry I didn't understand until now.

The love for my daughter took time to come in. We don't talk about that much, but maybe we should, the assurance offered to new moms that their breast milk may take time to come alongside a "don't worry, that love everyone talks about, it will come too." It snuck up on me, weeks after she arrived, but when it came it was enough to stop the world. I would lay in bed after a middle of the night feeding and listen to her shallow breaths, listen to my husband's deep slumber beside me, everyone at peace, and I would think if the world had to end, please God let it be now because there would never be anything more perfect than this moment.
I'm sorry, I didn't understand how your child is everything and nothing all at once. Like Sandra Cisneros describes in her short story Eleven, how when you're eleven you're not just eleven, you're also ten, and nine, and eight, and seven, and six, and five, and four, and three, and two, and one. My daughter is everything right now in the moment, but she is also nothing but potential, events yet experienced, lessons yet learned, a life yet lived.
It's here where the anxiety nestles itself, feeds off itself, this crux of past and future.
The heat rattles to life and fills my New York City apartment with an oppressive warmth. Is she too hot in her swaddle? "Cold babies cry, hot babies die." Pinterest notifications illuminate my phone during nighttime feedings, alerting me to pins I might like: "5 Hidden SIDS Risks" and "Newborn Safety Checklist." Clickbait promising to make me a better mother lures me in.
"It's because you click on them," my husband says as I show him the ad for the weighted sleep sack that promises three more hours of sleep in just three nights, the gripe water that cures colic and stops crying, the teas and bars and cookies that will boost my dwindling supply of milk. "It's targeting you because it wants you to buy things."
But it doesn't feel that way. I don't feel targeted; I feel like I'm being sent clues to a puzzle. That writhing, wailing newborn you can't figure out? We know how to fix it–here's why your baby isn't sleeping; here's why your baby isn't eating; here's why your baby won't stop crying, here's what you're doing wrong. You're doing it wrong. Wrong. Wrong. Wrong.
I feel like a good mom only when I'm not responsible for her. When she is with Grandma or Dad I wash and change her crib sheets. I scrub her clothes free of spit-up stains. I sanitize her bottles and pacifiers. I organize her toys. I buy more formula. I tick off all the things she needs, stay on top of the concrete, hard details of keeping her alive and happy. But she always comes back, and with her the unknowns.
But are they unknowns, or are they just things I haven't learned? How could I live with myself knowing the information was out there that could've saved us both and I was too lazy to click it? That the research existed but I was too tired to read and evaluate it thoroughly? That I was too overwhelmed, it was four in the morning, I'd been up half the night, I knew the recommendations of flat on her back in her own space but I just needed to sleep so I put her in the swing, in the bed, in my arms, as I rocked her, rocked her, rocked her, my eyes snapping open in panic after dozing off, dawn light teasing the corners of the window.
The model of motherhood is there, it's right there, I shout in my own head. In millions of mothers doing it right, doing it better.
My daughter raised the stakes too high in a game I don't have the constitution to play. Thoughts of being younger, begging and begging to watch a scary movie and then huddling by a nightlight, every night for weeks, both terrified and ashamed, in equal measure, of the fear I'd brought on myself.

You wanted this, prayed and pleaded and cried each month when one line appeared instead of two.
Now she's here. You protect her. You keep her safe.
She would never exist again. This soul made of stardust. It would never form again.
It's maddening, it's exhausting, it feels viscerally unfair, being forced to exist like this: repeating the same mundane steps of caring for a newborn over and over, the numbing repetitiveness sliced sharp with the knowledge that if you don't do the steps right, if you let your guard down for a moment, if you lose focus on the task at hand, if you take your eye off the ball…like the bright yellow posters in factories warning workers of the dangers on the assembly line that do nothing to break through the haze of monotony until an accident shocks everyone awake again.
We know how to fix it–here's why your baby isn't sleeping; here's why your baby isn't eating; here's why your baby won't stop crying, here's what you're doing wrong.
Click To Tweet
My daughter grows. She reaches developmental milestones. At five months she scoots forward on her knees and elbows in a combat crawl and I lay out circus-colored safety mats to cushion the hardwood. At seven months, I turn around to see she's pulled herself up on the side of her crib — that night we drop her mattress to the lowest setting. Now, at nine months, the mats have been replaced with carpet because she cruises along any furniture she can reach, legs shaking when she lets go to test her limits. She gobbles down the food we put on her highchair tray, bits of cheese and mashed banana and bread balled as small as my fingers can make it.
The old fears lessen their grip around my heart but instead settle like a cold in my bones, and are replaced with new fears that cause the blood to rush in my ears each time she stumbles while she learns to walk or chokes as she learns to eat. I doubt they'll ever go away completely. This is parenting, I think, your breath always one moment away from being knocked out of you.  
A grape not cut small enough. A dresser not properly secured.
My mind remembers, listening to a news brief when I was so young I was standing on a chair to reach something in the kitchen cabinets. The grandmother had wanted to surprise her infant grandchild with a stuffed bunny for Easter. She put it in the crib next to the girl while she slept. The tape holding the wrapping paper somehow came unstuck, the paper somehow covered her mouth and nose in the night.
Everything would be nothing.
I raise my head, peak over the side of the crib. Check to make sure my daughter is still breathing.