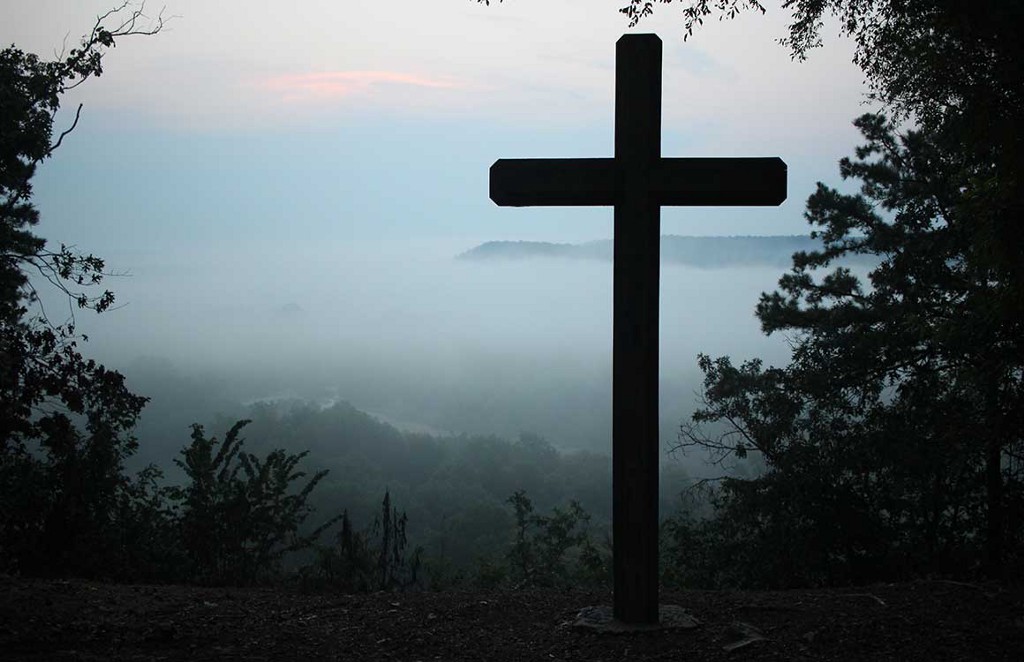 At a therapeutic farm in Georgia, troubled teens are possessed by demons, depressed because of technology—and allegedly mistreated by their caretakers.
This is the first in a two-part series examining the therapeutic Christian boarding school Shepherd's Hill Academy. Read the second part here.
O n August 22, 2014, Trace Embry, executive director and founder of the therapeutic Christian boarding school Shepherd's Hill Academy (SHA), wrote in the school's monthly newsletter:
"It's been awhile since we've dealt with anything overtly demonic here at SHA, but it appears 'Old Dark Eyes' has paid us another visit."
Embry was referring to two boys arriving to SHA on the same day who, he said, brought with them "baggage from the dark side." He solicited prayers so the team at SHA could properly minister to these boys, as "mere counseling and psychology will fall short."
Little did they likely know that in coming to SHA, those boys would be relinquishing their basic human rights — and that no one would be around to defend them.
SHA, formerly known as Shepherd's Hill Farm, provides year-long residential care for kids grades 7-12 on an 86-acre farm in Martin, Georgia. According to a December 2016 episode of SHA's weekly podcast License to Parent (L2P), which is co-hosted by Embry, tuition is $88,900 per student per year. Licensed for a capacity of no more than 36 students, SHA is intended for teens who are "troubled," the word the academy uses to describe those with ADD, ADHD, oppositional defiant disorder, reactive attachment disorder, post-traumatic stress disorder (PTSD), bipolar disorder, anxiety disorders, Asperger's syndrome, anger management, and generally rebellious behavior.
Embry believes the demonic forces operating within contemporary video games and pop music, and in the media at large, are the root cause of many of the mental and behavioral health issues affecting today's teenagers. Students at the academy are intentionally isolated from society and undergo a mandatory media and technology fast. They begin their first 10 months in the Outdoor Therapy Program, where they live in "structurally sound rustic cabins" without any electricity or running water. They are only allowed access to shower facilities, a cafeteria, and classrooms on the main campus. As Embry told Katherine Albrecht last November, when participating in this outdoor therapy program, the teens "don't have access to technology. No electricity whatsoever except in the classroom from 8 a.m. to 3 p.m."
Students at Shepherd's Hill Academy are intentionally isolated from society and undergo a mandatory media and technology fast.
Click To Tweet
The boys and girls remain separated and under constant staff supervision throughout their stay, even after the intensive 10-month wilderness program. During this time, the boys "contribute to the maintenance, repair, and/or construction of" the campsites, while the girls cultivate a garden, learn beekeeping, sewing and quilting, and take care of the academy's barn. Each student also takes part in the Equine Therapy Program. After the period of rustic living is over, the students graduate into the Next Step Program, where they live in houses on the main campus, designed to mimic the environment they will return to when they go home.
Established in 1994 by Trace and his wife Beth, Shepherd's Hill didn't begin enrolling teens in crisis until 2001, and it operated unlicensed for 10 years. It was not until September 2010 that Georgia's Department of Human Services was made aware of the wilderness camp's existence, when a social worker filed a complaint concerning SHA's illegal operation. It took another 15 months for the school to become officially licensed; it stayed open and operating that entire time.
SHA is now fully licensed by the state of Georgia, but it has surfaced several ethical concerns, including the lack of appropriate care for teens with mental health issues, abusive treatment, and anti-LGBTQ practices similar to those practiced at conversion camps.
The Devil In The Details
Like many schools that specialize in care for troubled teens, SHA provides a checklist on its website for parents to consider while searching for help for their child. Among the more credible warning signs mentioned — like threats to self or others, drug addiction, and violent tendencies — are attributes of typical adolescent behavior, like opposition to the belief system of the family, not wanting to participate in family activities, defending peers, and general disobedience.
The Alliance for the Safe, Therapeutic and Appropriate Use of Residential Treatment (ASTART) — a volunteer organization that works to protect children from abuse and neglect in residential programs—warns parents against relying on checklists like this. The organization also stresses the importance of considering all possible factors that may be contributing to a child's change in behavior.
"If you are very worried, frustrated, angry, confused, or emotional in other ways, you may see behaviors as more extreme than they really are," the alliance writes. Removing a child from their home environment and sending them away can amplify "strong resentments in your child," and impair an already capricious parent-child relationship.
SHA's vaguely defined parameters for removal from the home also enable parents to punish their children for religious disobedience. If a teen no longer wishes to participate in church activities, or begins to openly question their faith and their family's biblical principles, a parent or guardian could label that behavior as rebellion and subsequently send their child to a place like SHA. If the teen also began spending more time with friends who don't share their parents' belief system and started to act out at home in response to the unyielding and volatile environment, a parent could be convinced after consulting SHA's website that their child needs a Christian wilderness atmosphere to return them to the path God has chosen for them.
If any of this sounds like an overreach, consider Embry's own words.
During a three-part series on L2P, Embry and his podcast co-host Rich Roszel said that reading the Bible is foundational to healing the students at Shepherd's Hill. When asked about the most important and effective method of therapy used at the farm, Embry said, "It's the knowledge of, and a healthy submitted and committed relationship with the God who created them, through Jesus Christ." He then boasted that the pastor from the pulpit of his church "said the best kids on the planet would do well having a year at SHA. It's really a discipleship clinic."
In its reliance on religion and technology-fasting to treat "troubled kids," SHA has advanced dangerous ideas about mental health.
Embry has specifically written and spoken often about anhedonia, the inability to feel pleasure that's a common symptom of many mental illnesses — most notably, depression. According to Embry, most students who come to SHA, whether they were formally diagnosed beforehand or not, are struggling with anhedonia due to being overly dependent on modern technology, and the medication their doctor prescribed is, as he's put it, "making it worse."
Embry focuses on technology as a cause for mental health issues in teens, and Bible study as a treatment, despite scientific evidence contradicting his stance.
Click To Tweet
In August 2013, Embry stated in his podcast, "Anhedonia is not ADD, ADHD, or even depression, although the symptoms are very similar. Anhedonia is a destruction of the pleasure center in the brain, which comes from unbridled multitasking on today's popular electronic gadgets."
The source for Embry's views on anhedonia is Dr. Archibald Hart, former dean of Fuller Theological Seminary's School of Psychology. In an appearance on L2P in July 2010, Embry asked Dr. Hart what he thought of anhedonia being misdiagnosed by doctors. Dr. Hart replied, "Oh, 100 percent. They might call it depression, put you on an antidepressant, which is the last thing you should do." Hart added, "There is no medication for anhedonia. It's a lifestyle change."
Unsurprisingly, the science doesn't support Embry or Dr. Hart.
Dr. Jean Kim, a clinical assistant professor of psychiatry at George Washington University (GWU), confirms that anhedonia "isn't anything accepted or recognized by the general medical community as an official illness. [Embry] seems to be misappropriating aspects of neuroscience that are partly accurate to serve his own pitch." Dr. Ronald Pies, professor of psychiatry at SUNY Upstate Medical University, seconds this: "We know that serious psychiatric illnesses, such as bipolar disorder and schizophrenia, have existed for hundreds, if not thousands, of years, long before 'technology' came about."
Embry's views on anhedonia, though discredited by science, are fundamental to how SHA operates. In 2010, he wrote, "We at [Shepherd's Hill] understand that if an anhedonic troubled teen cannot think critically, constructively, or creatively . . . God becomes an abstract too difficult and boring for the anhedonic brain to conceive or desire." He earnestly believes the effects of anhedonia are preventing today's youth from comprehending Christianity, and is the primary reason these teens are put under his care in the first place, because "culturally-induced (i.e. technology) stimuli is affecting our teens through anhedonia."
This is why Embry has also openly advocated for religion as a substitute for professional mental health treatment. He proudly advertised on his blog that 70% of the students at Shepherd's Hill are weaned off their medication. In 2010, he wrote:
"Stimulating a kid with the love, training, nurture, discipline, and truth of God's Word, will, over time, transform a troubled teen far more efficiently and effectively than medications . . . This is why so many kids who come to Shepherd's Hill Farm on bushel loads of medication can leave medication-free at the end of a year."
Again, Embry's assertions contradict scientific evidence. According to the National Institute of Mental Health (NIMH), "the results of a comprehensive review of pediatric trials conducted between 1988 and 2006 suggested that the benefits of antidepressant medications likely outweigh their risks to children and adolescents with major depression and anxiety disorders." The experts at NIMH go on to stress that once a medication treatment is started, it "should not be abruptly stopped. Although they are not habit-forming or addictive, abruptly ending an antidepressant can cause withdrawal symptoms or lead to a relapse."
Dr. Kim at GWU also warned of the potential harm that can occur from the methods used at Shepherd's Hill:
"[Embry's] advice/methods seem potentially harmful insofar as they don't seem based in any sort of formal scientific or clinical evidence, or known medical-psychiatric neuroscience. Some general aspects of his treatment may still be helpful for some, but if it isn't grounded in evidence-based research or scientific knowledge, it will be easy for him to veer into pseudoscience and even dangerous or harmful practices (like not giving someone with a serious psychiatric disorder who actually needs medication an appropriate diagnosis or treatment)."
While these views on mental health treatment are dangerous, Dr. Kim notes, "if [Embry] had a licensed professional screen clients and triage them for appropriateness into his program, that would be less worrisome."
It's troubling, then, that there are no clinical psychologists or psychiatrists on staff at Shepherd's Hill; all personnel listed on the website under the Therapeutic Team are counselors, and it wasn't until late last year that they all held a professional license by the state of Georgia.
Staff members oversee children with behavioral and mental health problems deemed severe enough to warrant year-round residential treatment with 24/7 supervision, but of the 21 members on the residential teams, according to their bios on the SHA website, fewer than one-quarter of them have completed educational programs related to mental or behavioral health.
More troubling than this lack of qualification, though, is SHA's record of abusing its students.
Abuse Allegations
As part of its treatment plan, SHA has been accused of engaging in multiple forms of abuse. Kids who "act out" or defy God may be subject to physical punishment, humiliation, food restrictions, and more.
Angela Smith is the national coordinator for HEAL, an organization that works to expose abusive facilities designed to treat teenagers with behavioral problems. She confirmed via email that, "HEAL received a signed, under penalty of perjury document from a survivor of Shepherd's Hill Farm." The author of the statement has not returned our request for comment, but the full account is published anonymously on HEAL's site. Within the testimony of the former student are specific allegations of abuse, the use of which Trace Embry has justified repeatedly, on his radio program, in newsletters to SHA's community, and on the school's website. All parents or guardians are required to sign a power of attorney document, essentially giving up their own rights as parents, upon enrolling their child at SHA.
Here are some of the abuses allegedly suffered by those who have attended the academy.
Corporal Punishment
In the statement, the survivor alleges that he was hit with a paddle by Trace Embry in front of other classmates for being disrespectful, an act of discipline for which Embry has openly advocated.
On L2P, Embry repeatedly dives into the topic of corporal punishment. For instance, on an episode dated September 18, 2012, he said parents should urge their local school boards to bring back paddling: "The [paddle] applied to the [posterior] of a disruptive and rebellious few, occasionally, might just make a better learning environment for the majority."
A month later, Embry said, "I don't feel it's healthy, or wise, that a teen should feel that [corporal punishment] is ever out of the realm of possibility . . . There may be a circumstance that requires a parent to physically intervene in order to bring justice to a situation at home."
Then, in April 2014, Embry stated, "Nowhere in Scripture is spanking, at any age when appropriately administered by a loving parent, ever condemned." And in June 2015, he and his co-host Roszel interviewed psychologist and author John Rosemond on the topic of spanking; all three men advised parents to spank their children in private, where no one else can see them, so they do not have to worry about the Department of Human Services accusing them of abuse.
On February 6, 2016, Embry declared spanking "an effective tool against foolishness and rebellion." A week later, he argued that not considering corporal punishment as a form discipline is abusive, and because of Proverbs 23:13-14, punishing a child with a rod will save their soul from death. (Corporal punishment is technically legal in Georgia schools with parental consent, but it is in violation of the state's Outdoor Child Caring Program [OCCP] licensure rules.)
Indoctrination
The survivor also claims in his statement to have interrupted a Bible lesson taught by Embry. "[He] raised [his] hand and said, 'You are brainwashing us.' Embry smiled and replied, 'Yes we are! We are brainwashing you in the blood of the lamb!'"
In February 2014, Embry exclaimed, "It's not uncommon for Christian parents to be accused of indoctrinating their own kids with dangerous ideologies and beliefs." He then boasted that if training your children with biblical principles is considered brainwashing, "then I'm all for it." On the December 29, 2014 episode of L2P, co-host Rich Roszel said, "[Shepherd's Hill Academy] is a place where you can have kids' brains reset to their original factory setting." Embry replied, "I like that statement, too."
On July 15, 2015, Trace Embry was a guest on Dr. Michael Brown's radio program, The Line of Fire with Dr. Brown, where he said, "We brainwash [our students] with Jesus."
Escort Service
During a school break at home, the survivor declared to his father that he did not want to go back to the farm; the next morning, "two very large men" came into his room. According to his account, they said, "We are bounty hunters to take you back to Shepherds [sic] Hill Farm."
SHA advertises the use of a transport service to bring teens to the farm, using SafePassage Adolescent Services. The company writes on its website, "It is our experience at SafePassage that it is always better to wait until our Professional Transport Team is with you at your home to deliver the news through intervention that you have chosen to add a therapeutic component to their education." To make sure the child remains unaware, the company advises parents to password protect their email and computer access, delete all cache history, and provide a phone number where a voicemail can be left without the child hearing.
Using these private "escort" or "transport" services is considered a warning sign for future abuse by the residential program by ASTART, which explains:
"The company typically sends two or more physically intimidating bodyguards to wake the child in the middle of the night, and force them from their bed into a waiting SUV — often in pajamas and handcuffs — while the parents look on…This is how the child learns [they] will be leaving home…This is a scene filled with tears and pleading and promises and begging. This is what many residential programs consider the first step in 'healing family relationships.'"
This is "trauma, not therapy," ASTART insists. This is harm, not healing. ASTART goes on to describe the trauma of those who have been escorted to a residential program:
"They experience years of nightmares, flashbacks, emotional 'numbing,' inability to concentrate, angry outbursts, difficulty sleeping or other symptoms — primarily, survivors say, because of the trauma of being forcibly taken against their will, by strangers, to a completely unfamiliar place, and kidnapped with the knowledge and permission of their parents — parents who are supposed to be the child's trusted protectors."
Special Meals And Clothing
On October 6, 2015, Embry released a video in which he argues, "One of the consequences we've found at Shepherd's Hill Academy to be quite effective when a major offense takes place — is what we call a 'special meal.'" He goes onto say it consists of unseasoned beans and greens and stresses, "There's nothing mandating your child's right to a gourmet meal every time he comes to the table." He used the same script in a daily feature from May 2014 and then again, in December 2015.
In his statement, the survivor said he was put on "'special meals' for a month and a half." These meals consisted of a can of beans or a can of vegetables, bread, a piece of fruit, and water.
Nobody Told Me My Son's Camp Counselor Was Accused Of A Sex Offense
Dr. Kim expressed concern for this form of punishment, saying, "any sort of punitive or aversive conditioning isn't a good thing for children or teens. And any sort of controlled meddling with dietary behaviors (other than something obviously medical, like a food allergy) can potentially exacerbate or worsen eating disorders."
Over the years, a handful of former students have spoken out about abusive practices at SHA on various comment threads and blogs, most of which are no longer maintained. A young man by the name of K. Hicks told a similar story in 2010. (I reached out to Hicks, but he has not replied.) He claims to have enrolled in SHA in May 2005, during which time he and another student ran away. The local police department and Embry caught them and returned them to the farm. They were punished with "three weeks of orange jumpsuits, two weeks of sandals, and a week and a half of shackles." They were also given "two weeks of special meals."
Forcing students to wear these special clothes, rather than their own, is another form of punishment. In a newsletter from October 2015, Embry recounted an incident concerning a student who had run away while at home visiting his parents over a weekend. The local police department picked up the boy at a "restaurant after hours of hiding in a wooded area. He was then promptly returned to SHA, where he is now donning a bright orange jumpsuit."
Physical Restraints
In June 2014, Embry wrote of a student in the SHA newsletter who "went berserk when the student couldn't convince the parents that going home was the best option." As a consequence of this episode, he said, some of the counselors were punched and scratched, and, "The wavering parents were a tick away from taking Junior home; but, were strongly advised to buck up and stand their ground."
After the parents were encouraged to not allow the student to return home with them, Embry wrote, "An insightful parent understands that rebellion like this is a carnal desire fueled by succumbing to a spiritual battle — albeit an unholy spiritual victory." He went onto say, "This student had to be physically restrained. It wasn't comfortable; but, knowing that outbursts like this weren't going to be tolerated, it sent a message of love to this student's spirit that, in due time, is likely to be articulated in the flesh." He later writes, "The real problem in most cases is not that parents take things too far; but that, often, they don't take them far enough…"
In November 2015, Embry recounted an incident that occurred a month prior. During a chapel service, a boy who had only been in the program a few days was "triggered by something." A counselor then escorted the student out, where Embry joined them.
"After the three of us exited the chapel, that's when the boy began to shout a litany of profanities and other scary threats. When it looked like the boy was going to get physical, Frank was quick to secure everyone's safety. That's when the intensity and the volume of the boy's displeasure increased…After talking the young man down, I put my hands on him and prayed for him as other staff arrived. Though I had already told him that we would meet him at every turn — and for as long as we needed to — I could feel his body go soft as I was praying."
Embry has, not surprisingly, refuted claims of abuse; on SHA's website, he states that the school is accountable to God, SHA's board directors, and to state and federal regulators, and says allegations of abuse are false.
Conversion Therapy
SHA doesn't just seek to mistreat kids with mental illnesses and non-religious beliefs; it has also targeted those who are LGBTQ via conversion therapy practices. On SHA's application for admission, administrators specifically ask parents to, "Select the sexual orientation your child claims." Included in the list among homosexual, bisexual, and heterosexual are the options of "transgender" and "currently sexually active."
The term "conversion therapy" often conjures stark images of forced institutionalization, castration, and electroconvulsive shock treatments being administered to helpless individuals. While these methods were more prevalent in the past than they are today, all forms of reparative therapies are incredibly harmful.
According to Just the Facts about Sexual Orientation and Youth: A Primer for Principals, Educators, and School Personnel—a publication endorsed by the American Psychological Association (APA), American Counseling Association (ACA), American Federation of Teachers (AFT), and 10 other prominent organizations — "reparative therapy and sexual orientation conversion therapy refer to counseling and psychotherapy aimed at eliminating or suppressing homosexuality. The most important fact about these 'therapies' is that they are based on a view of homosexuality that has been rejected by all the major mental health professions."
According to guidelines from the National Association for Research and Therapy of Homosexuality (NARTH), methods of reparative therapies deemed favorable in these conversion programs include medication, hypnosis, sex therapies, and behavior and cognitive therapies. But these methods can produce dangerous effects — especially on adolescents who face rejection from their families. As noted by the National Center for Lesbian Rights (NCLR), "Research shows that lesbian, gay, and bisexual young adults who reported higher levels of family rejection during adolescence were more than eight times more likely to report having attempted suicide, [and] more than five times more likely to report high levels of depression…"
Despite the evidence to the contrary, Embry regularly discusses the immorality and sinfulness of LGBTQ people on License to Parent, often interviewing "doctors" who rely on pseudoscience to make their case against any sexuality and gender identity that rejects a cisgender, heterosexual criterion. Oregon, California, Illinois, and New Jersey have laws that ban conversion therapy for LGBTQ minors. In 2016, Embry interviewed David Pickup, a supporter and practitioner of conversion therapy and the lead plaintiff in a lawsuit that sought to overturn California's ban on conversion therapy for minors. In 2015, he talked with Christopher Doyle, director of the International Healing Foundation, a non-profit that's "dedicated to helping people in their struggles with sexual orientation," who Embry called a "key figure in the conversion therapy movement."
Embry invites these anti-LGBTQ activists to the school as well, such as in May 2016, when he invited Ciara Leilani to speak to the students at Shepherd's Hill. Leilani says on her blog that she "lived as a lesbian in a homosexual lifestyle for 20 years. A lifestyle of choices that kept [her] further from [God's] truth." Now she is a Christian blogger and founder of the religious non-profit Kingdom Asylum Ministries.
On an episode of L2P that aired after she spoke to SHA students, Leilani said that not long after she promised she would abstain from sex with a man outside of marriage, a "lesbian encounter" took her by surprise. She discussed her "radical deliverance" when she turned 34 and explained she "knew [God] was tangibly in the room" with her. When asked about the supernatural deliverance she referenced, she recalled, "I know I had many demonic spirits that occupied my body, my soul, and I had no control. I was set free from lust and perversion immediately."
This isn't the first time students were exposed to sexual orientation fear-mongering—and exposure to the extreme views of guest speakers is the least of it. Embry has, on more than one occasion, publicly stated that he practices a form of conversion therapy at Shepherd's Hill.
In a newsletter from August 2015, Embry wrote about a three-week series he did with SHA students on homosexuality. After this series, he wrote, three students approached him. "The result was that all three kids, two girls and one boy, renounced any future plans to pursue that lifestyle!" He stressed that despite what "liberal-minded people may imagine," all he did was "share the truth in love" about the topic. "I never coerced or used shame or fear tactics to invoke these renunciations," he continues. "There's so much confusion about this topic; unfortunately, much of it comes from those who would call themselves 'trained professionals' and now unfortunately, from our own American lawmakers."
He then writes about mental and behavioral health conferences he attended, where, according to his views, political correctness, lack of common sense, junk science, and the "spirit of the enemy" confound LGBTQ issues. He proudly deadnames and misgenders Caitlyn Jenner, writing, "After [Caitlyn] Jenner was hailed as a hero, I finally had to speak up. The Emperor's New Clothes was exposed by little ole me. I asked why a conference full of well-educated people are now defining heroes and taking their mental health cues from an individual who is emotionally disturbed and on suicide-watch as I spoke?"
Ending the newsletter, he insists that the Supreme Court ruling that brought marriage equality to all 50 states has made it harder for SHA to do the work that they're doing. "Already, secular associations are strong-arming SHA to agree to unbiblical policies in this area." Finally, while referencing a now-debunked 23-year-old study that falsely predicted a shorter lifespan for gay Americans, Embry fears, "Without some drastic and immediate action, SHA may never be allowed to steer another kid out of a lifestyle" that is "proven" to be more detrimental to a person's life expectancy than cigarettes.
Students have been exposed to sexual orientation fear-mongering, and Embry has publicly stated that he practices a form of reparative therapy at Shepherd's Hill.
Click To Tweet
A month after writing about his three-week series that convinced three students to renounce their queer identity, Embry raved about another student making the same commitment, writing, "[A]nother SHA student renounced any further pursuit of that lifestyle, making her the fourth student in two months to do so." Two months later, Embry wrote, "While several students have renounced their homosexuality in recent months, yet another did so in October. This same student, along with many others, have come to Christ also."
Students at SHA are persistently encouraged to renounce any part of themselves that does not align with a cisgender heteronormative identity. Current technology, the media at large, and the ways in which teenagers interact with their peers in the 21st-century are seen as demonically influenced and the root cause of the "troubled" students at the farm. Pseudoscience and the "experts" that propagate these dangerous concepts are exalted due to their claimed biblical origins, and religious indoctrination is seen as the most important and effective method of therapy. Meanwhile, allegations of abuse mount.
Most distressingly, all of this has been given the stamp of approval by the state of Georgia — and SHA is, in having its dangerous practices sanctioned, far from an anomaly.