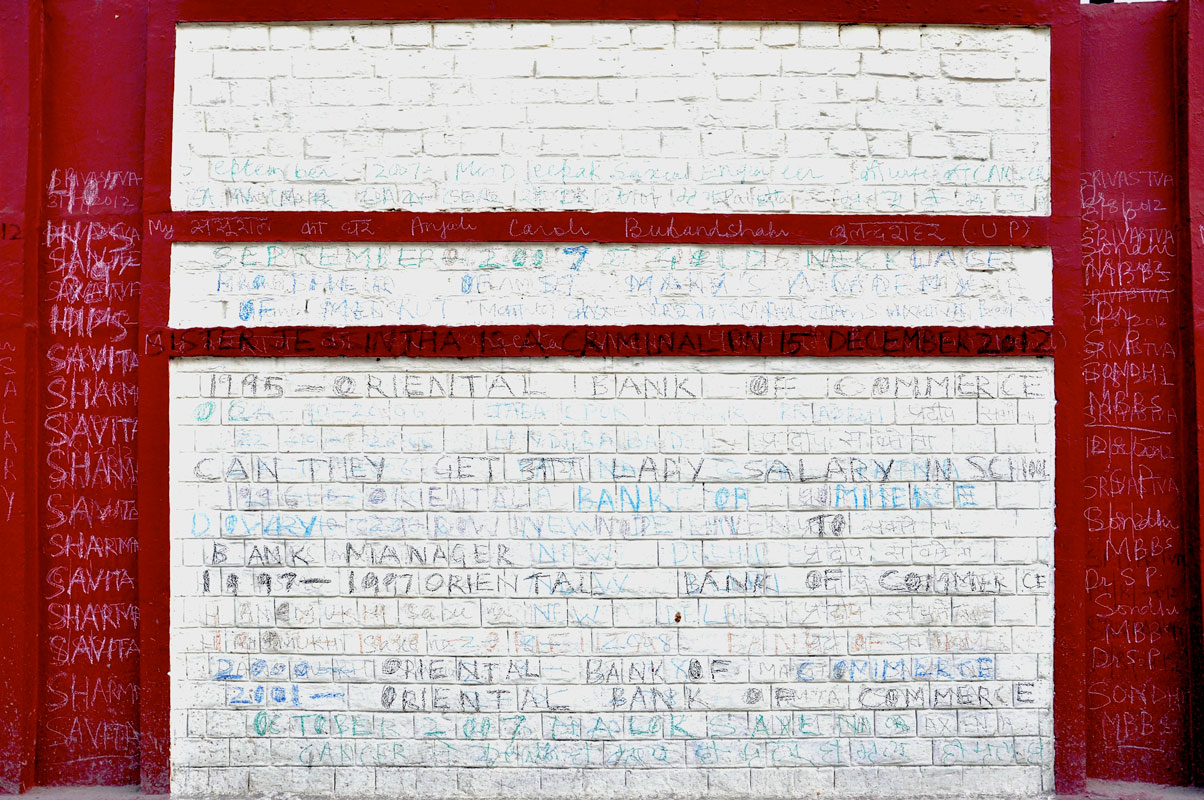 Deepa Saxena wrote her thoughts on the walls of her small town for years. Photographer Palak Mittal thought they deserved a second look.
A middle-aged woman roamed the streets with a bag of colorful wax crayons. She stopped at public walls and gates, filling them with what seemed like incoherent sentences, insignificant dates, and fragments of a geography lesson. When the walls were painted to cover her marks, she returned. Scribbling, re-writing, and overwriting on them again and again.
This the story of Deepa Saxena, a former teacher who, for the past ten years, has been inscribing her words on the walls of Meerut; a small town in Northern India. When asked why she continued to do so, Saxena, who was diagnosed with schizophrenia, told the Times Of India in 2014, "I write on the walls for I've no one to talk to, nobody wants to listen to my story. I need some way to express my thoughts, which is why I pen them down on the walls."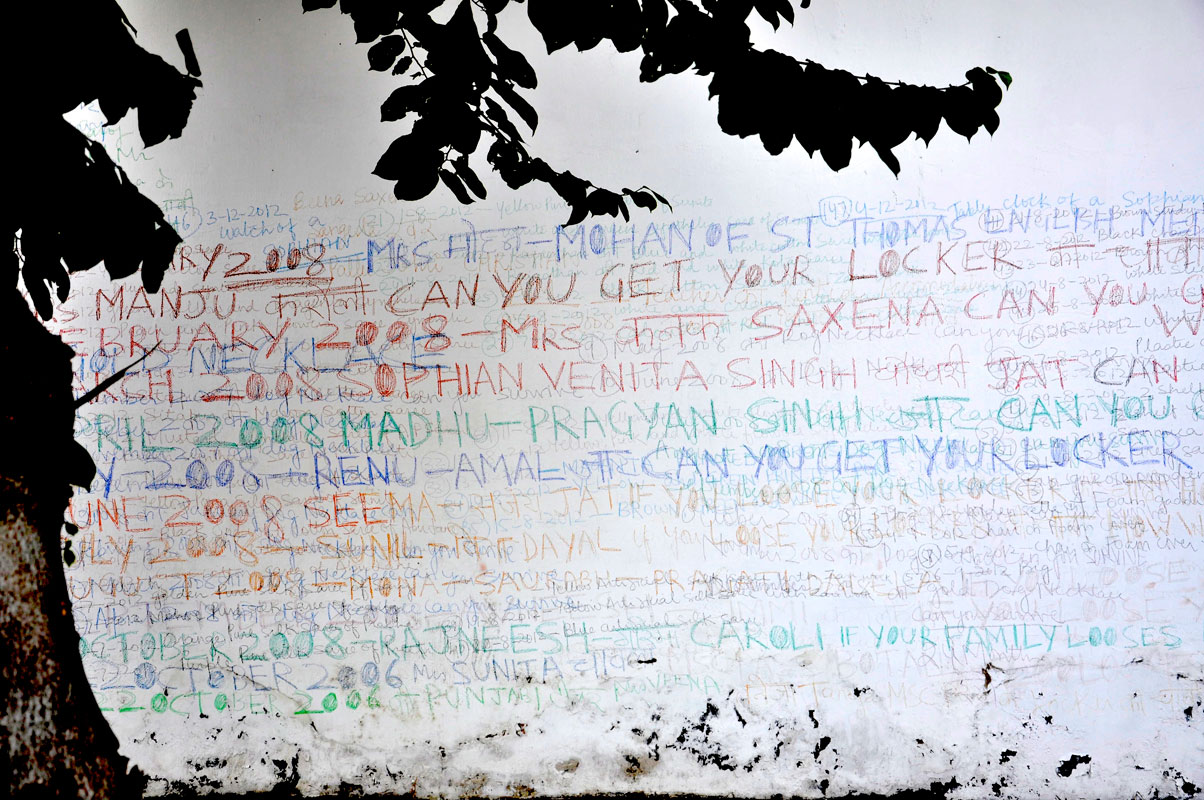 A year later, Palak Mittal, a Delhi-based photographer, would decide to listen and tell this narrative of mental anguish through her haunting photo series —The Woman Who Conquered Town. Mital was visiting Meerut, her hometown, for the summer holidays when she first noticed  
Saxena's writings on almost every street wall in the town's cantonment area; at times as far as a 5km radius. She found it odd that nobody talked about these writings, and when she asked around the answer was curt if not unconvincing; it's by the crazy lady in town.  
While the common consensus seemed that Saxena's mental illness was a result of being abandoned by her husband, Mittal later found that she was never married. As Mittal sifted through urban legends and facts, some part of the truth began to reveal itself. "Her parents were very selfish and dependent on her. She never really invested in her own personal life. When everyone she knew went away or died she became lonely," says 23-year-old Mittal, who was in touch with Saxena's family friend. "Though I have never really spoken to her personally because  I don't think it's fair for me to bring back her trauma." She prefers to refer to Saxena as 'the lady.'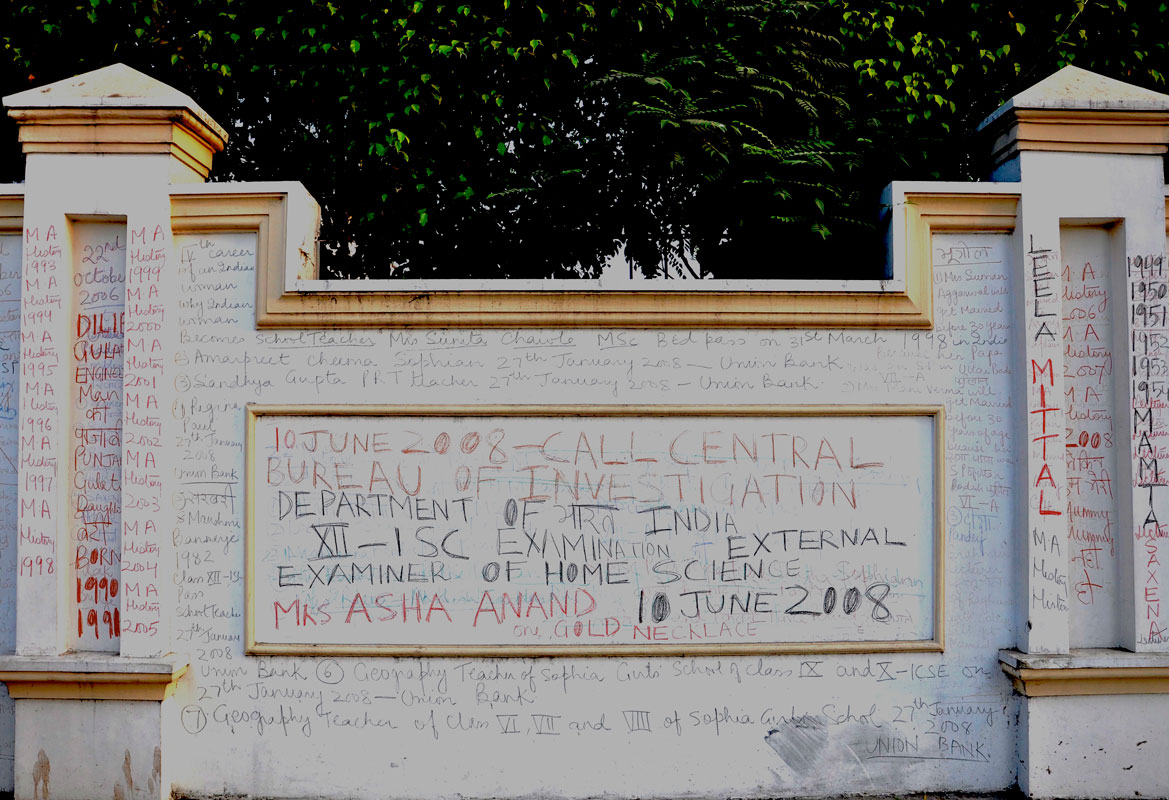 Mittal's photo series is a heartbreaking revelation of apathy not only towards Saxena but to most people who seek mental health care in India. An estimated 150 million people across India — that is larger than the entire population of Japan— are in need of mental health care interventions, both short and long-term, according to India's latest National Mental Health Survey 2015-16. The survey also found that, depending on the state, between 70% and 92% of those in need of mental health care failed to receive any treatment. Which further accounts for the reason why in India one student commits suicide every hour.
However, Mittal has stayed away from statistics in her work. "Mental health has always been something that has been going on in somebody's head and you really cannot see it," she says. "That is why I think photography is the best medium for this story. Here the suffering is tangible."
I caught up with Mittal to chat about her experience of capturing these wounded walls of Meerut, the stories she uncovered through them and India's relationship with mental health conversations.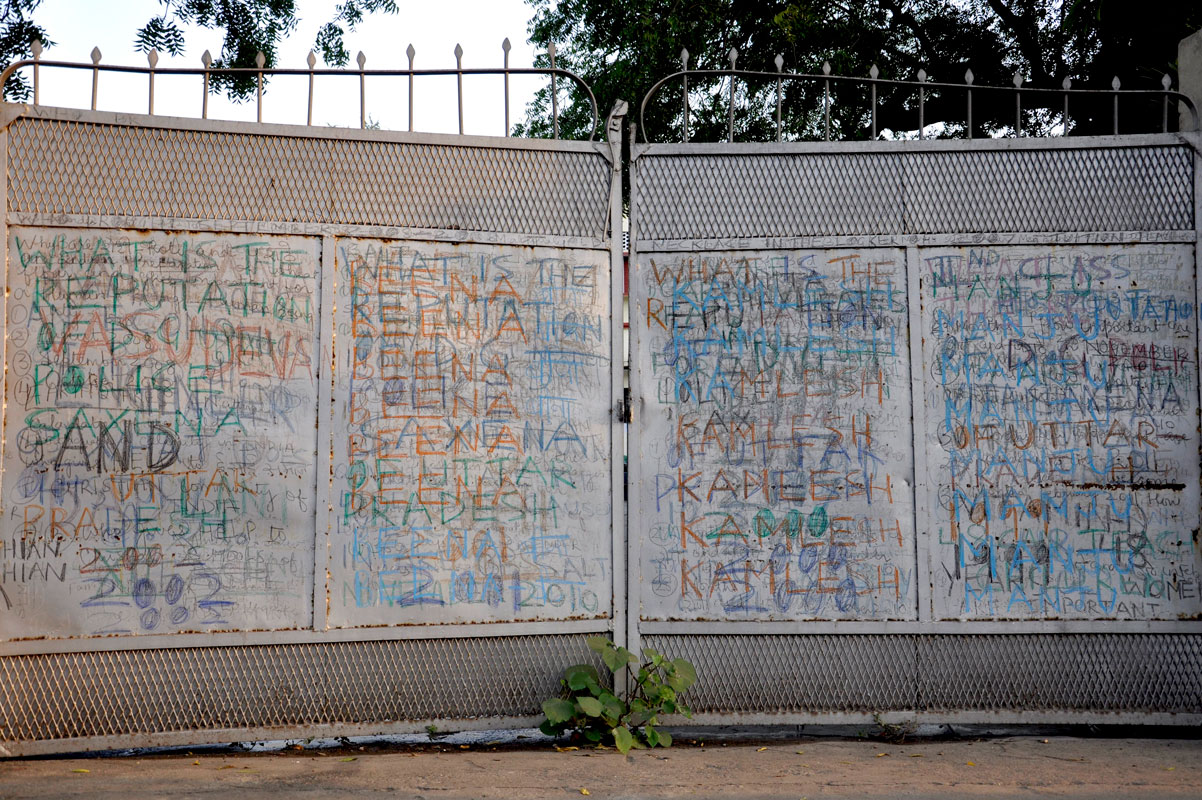 Payal Mohta: Did you find that that Saxena's writings were able to tell her story?
Palak Mittal: The writings on the walls might seem hazy but if you study them closely they are very precise. They state clear bank details, dates and people's names, in both English and Hindi. The lady is calling those people out who refused to help her and even financially cheated or deserted her. Another theme that recurs is of marriage and divorce. There is this one phrase that she wrote that keeps coming back to me —'Why Indian Girl Must Marry.' It's so relatable because women across different sections of Indian society find that marriage becomes more of a regulation that comes with age rather than choice.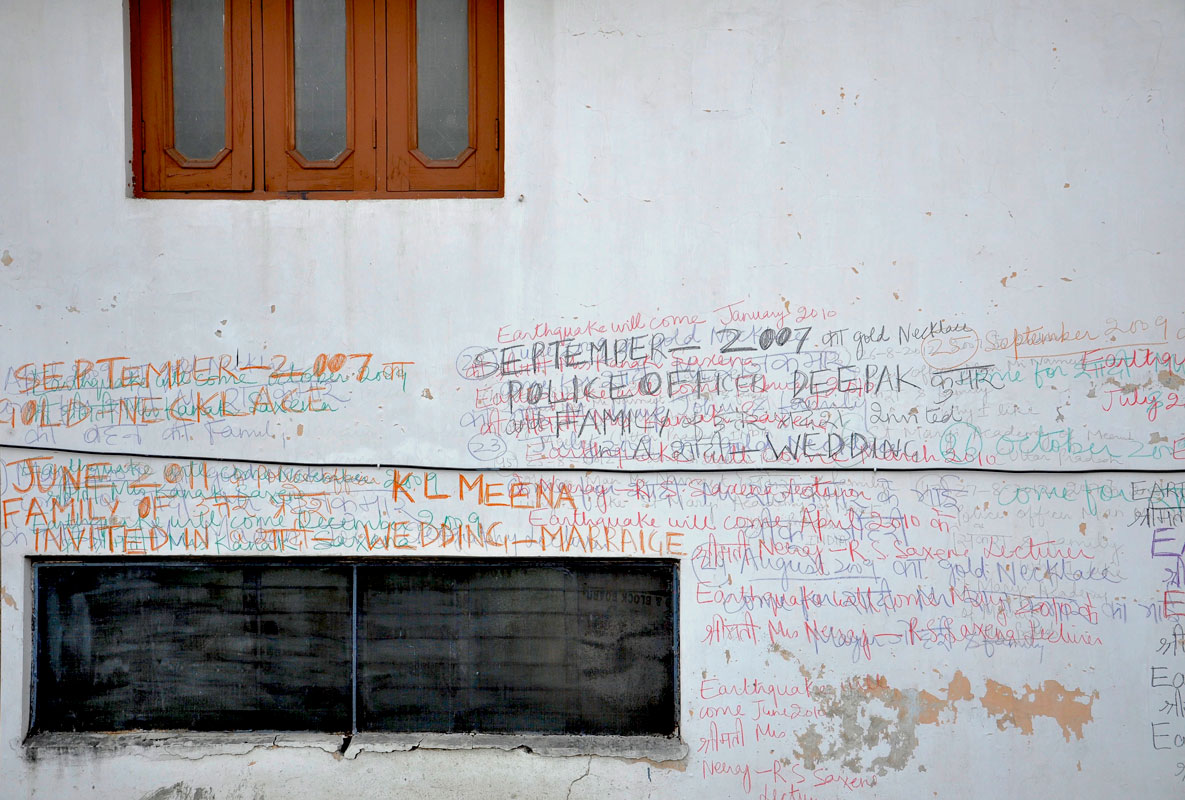 What was the most challenging part of shooting the story?
The biggest challenge of this project was to be able to capture and allow the viewers to know the magnitude of it. The lady has written all over town, sometimes as much as through a 500 meter stretch of walls. To show this scale with my camera took a bit of strategizing. I finally decided to do a few panoramic photographs where a wider area can be captured in a single frame.
Did you find yourself drawn to any one particular wall?
Yes, I did. There are these set of walls belonging to a convent school around my home which has verses from the Bible inscribed on it. These phrases are written in English and then translated into Hindi. It is on these walls that the lady has written and rewritten. As a photographer, this was visually very interesting for me because it reflected an ironic juxtaposition; messages from God on selflessness and kindness existing with the lady's unanswered calls for help.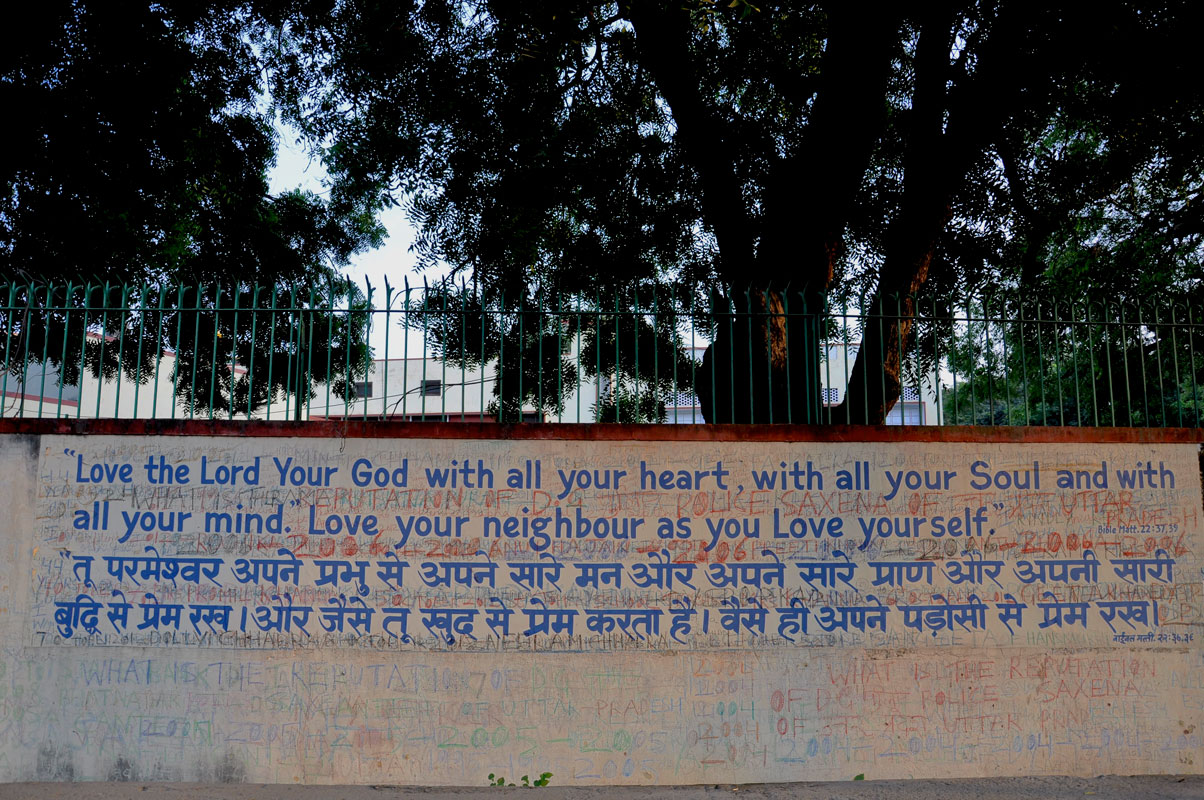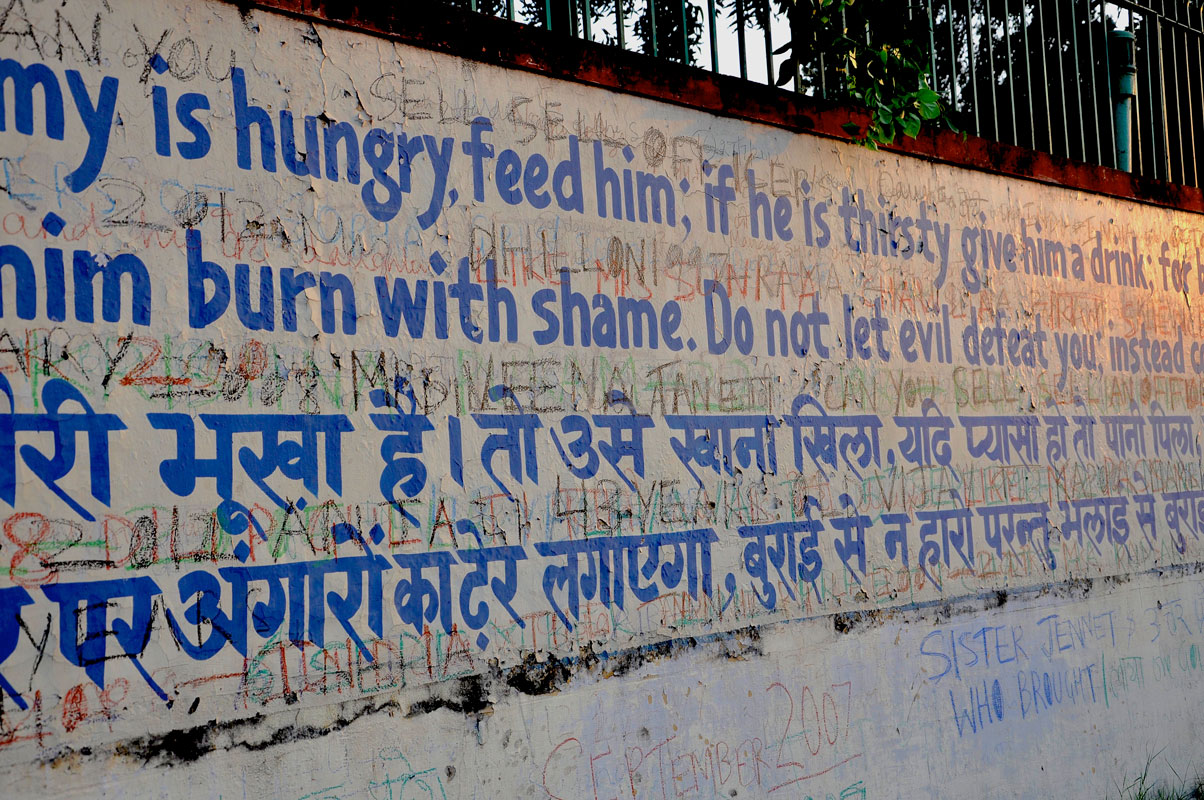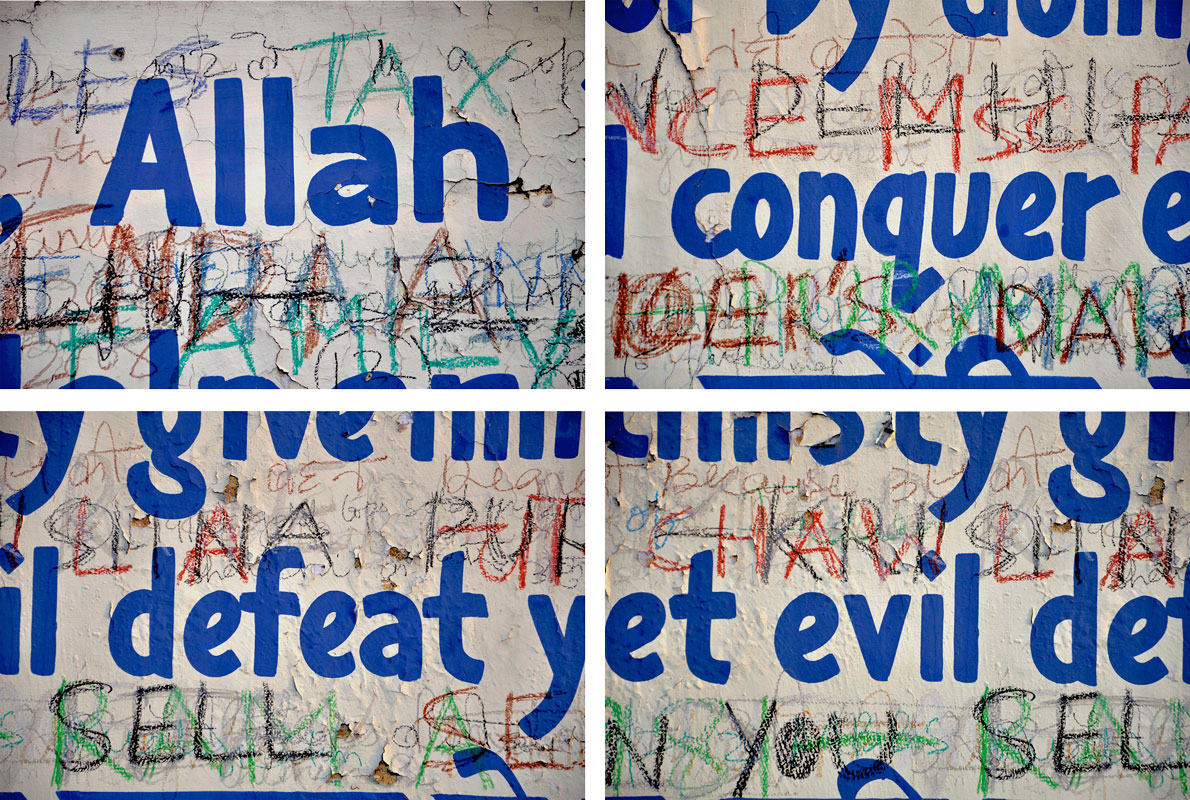 What did you find most tragic about the story?
The people of Meerut knew that there is this lady who roams the street and writes on walls for years. They treated it like a monotonous activity. Nobody cared or bothered to know more about what troubled her or rather did not want to take any responsibility for it. That is for me the most tragic part of the story.  
Every time I broached the topic of why nobody had tried to help her in the past in Meerut, people had a standard excuse—she didn't want help herself or nothing seemed to work for her. My town's mentality became evident; everyone was just so consumed in their lives they didn't want to genuinely reach out to her. This, of course, represents in many ways the larger perspective of Indian society on mental health — it's not looked upon like a disease that can be treated with counseling and medicine. The dominant belief remains that people just go mad.
How did the people of Meerut react to your photo series?
Thankfully, I never received any backlash. It was more positive feedback than I ever expected. I became sort of popular in town which made me really happy because that meant that finally people were addressing and talking about mental health, one way or another. So many people from Meerut, including friends, family, acquaintances and complete strangers reached out to me and appreciated my work. Though what was common in all these interactions was a sense of guilt in the locals, of having ignored a story of suffering in their own backyard.
I think why people reacted to my story in this way was also because of its digital reach. Suddenly it was in their newsfeeds and insta stories and as we are on our phones most of the day, people just could not ignore it anymore. For better or for worse at least in this way mental health was addressed and talked about. That was all that was needed.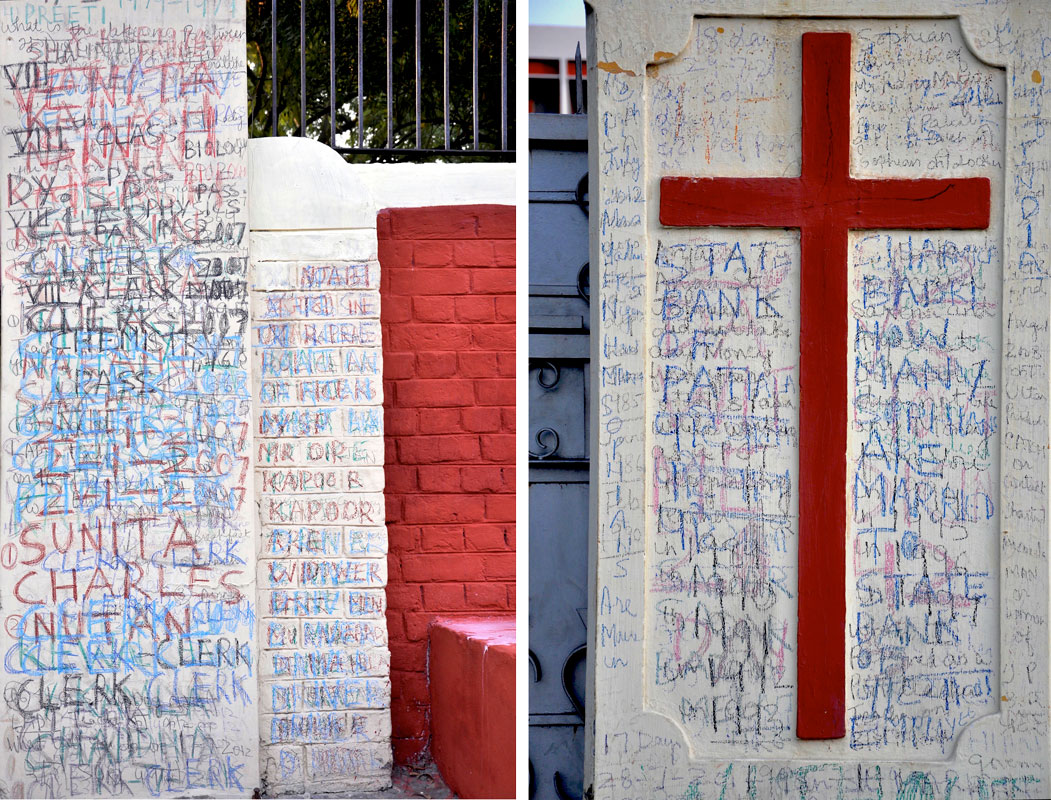 Do you continue to photograph Saxena's writings?
The lady doesn't write anymore. It's been a few years since she has recovered and now is completely stable. But if you turn around a corner in Meerut, at times you will still find her writing. It tends to live on.