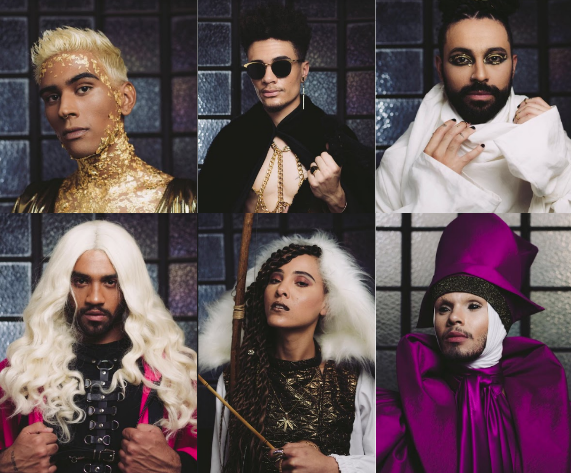 "Maybe it's time for us to scare those who are afraid of losing their power."
Brazil holds the world's highest LGBTQI murder rate. Here, a LGBTQI person is brutally murdered or commits suicide every 19 hours. Every. 19. hours.
Among such crushing hostility, it would appear there should be little room for LGBTQI artists to exist at all. The reality, however, is quite the opposite: the queer music scene of Brazil is exploding.
The current aural landscape is comprised of incredibly diverse performers whose work ranges from rap, rock and R&B to soul, indie music, Brazilian funk and even K-pop.
Together, artists like Gloria Groove, Linn da Quebrada, and Pabllo Vittar have founded a brand new paradigm in Brazil's music scene. The moment they dared to go up on the stage, a revolution began. And there's no turning back.
"You Either Resist Or Die"
Refusing the second option, five rappers from the edges of São Paulo decided to found Quebrada Queer; they self-describe as the first LGBTQI cypher in Latin America.
Cyphers — singing as a group — have become very popular in Brazil's music scene. For Quebrada Queer members, rapping as a cypher is their weapon against invisibility and prejudice.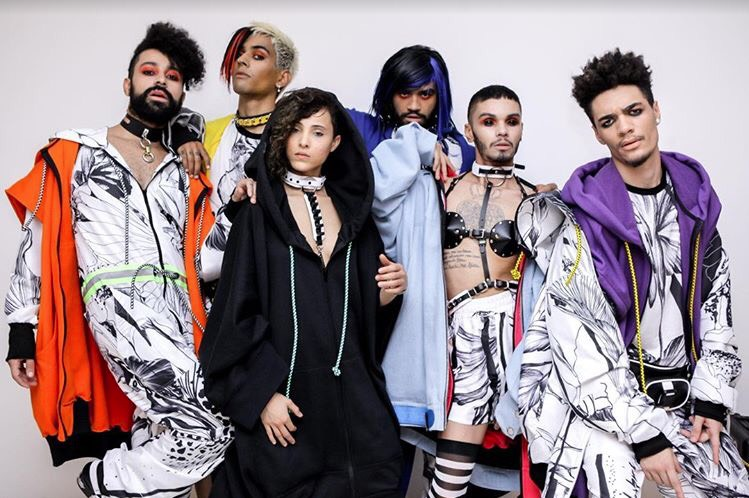 "Once we gathered, we became the first openly gay rap group in Latin America," says Guigo, a member of Quebrada Queer. "We are queer, black, peripheral artists, singing one of the most homophobic music genres of all. And that means resistance and representation." 
Only a month ago, Quebrada Queer ('quebrada' is São Paulo slang for 'periphery') launched its very first single, "Pra Quem Duvidou" (which means, "For those who doubted"). Turning the traditional rap aesthetics upside down, the music video has already amassed over half a million views on YouTube.
"It's fucking cowardice/To say it's opinion, when it's homophobia!/ (cut this shit) They threaten to kill my fellows/ When did it all get lost?/Can you see how contradictory it is to kill in the name of God?" demand the lyrics of "Pra Quem Duvidou".
Guigo believes it's time to kick in the doors that have always been closed; being celebrated in these traditionally excluding systems, however, is a whole different story. But Quebrada Queer is ready to fight: "We want to make sure that future queer artists will be welcomed with a red carpet," says Guigo.
"Half Drag, Half Rapper"
This is how Gloria Groove defines herself. And it is this exact same duality that deftly puts Gloria — a 23-year old queer singer — beyond any stereotype: "When I sing, I can be girl and a boy. This makes my music unique."
Groove is exemplary in her versatility, signing a whole range of genres from Soul to Trap, to R&B and Brazilian funk music. In her latest R&B single, "Apaga a Luz" ("Turn off the light"), Groove explores her vocal duality, singing both as a "male rapper" and a "female queer".
Launched in 2016, Groove's very first hit, "Dona" ("Owner"), is a sarcastic criticism to how queer people are portrayed in society: "Oh My Lord / What animal is that? / Nice to meet you, my name is art, darling".
Groove is considered one of the most influential queer musicians in Brazil: her hottest hits, such as the Brazilian funk track "Bumbum de Ouro" (Golden butt) and the Reggaeton-like song "Muleke Brasileiro" (Brazilian dude), are present on every dance floor across Brazil — not just within the LGBTQI community.
But behind all the humor and glamour involving Groove's music, her lyrics are an effort to shed light on the oppressive and dangerous reality of being queer in Brazil. "My music hopes to signify the existence of thousands of LGBTIQ people—our music becomes a platform of love and self-acceptance."
Gender Terrorist
Linn da Quebrada is another performer who is busy proving rap can be queer as hell.  Once a Jehovah's Witness, the singer believes she has broken free from an "overdisciplined, self-repressed body," to finally belong to herself.
The 28-year-old artist — who helped to found an NGO for trans people in São Paulo — calls her last album, "Pajubá" (2017), the "transgender Lemonade". Highly politicized, the afro/Brazilian funk/vogue album "Pajubá" sounds as rough as the battlefield they find themselves warring on.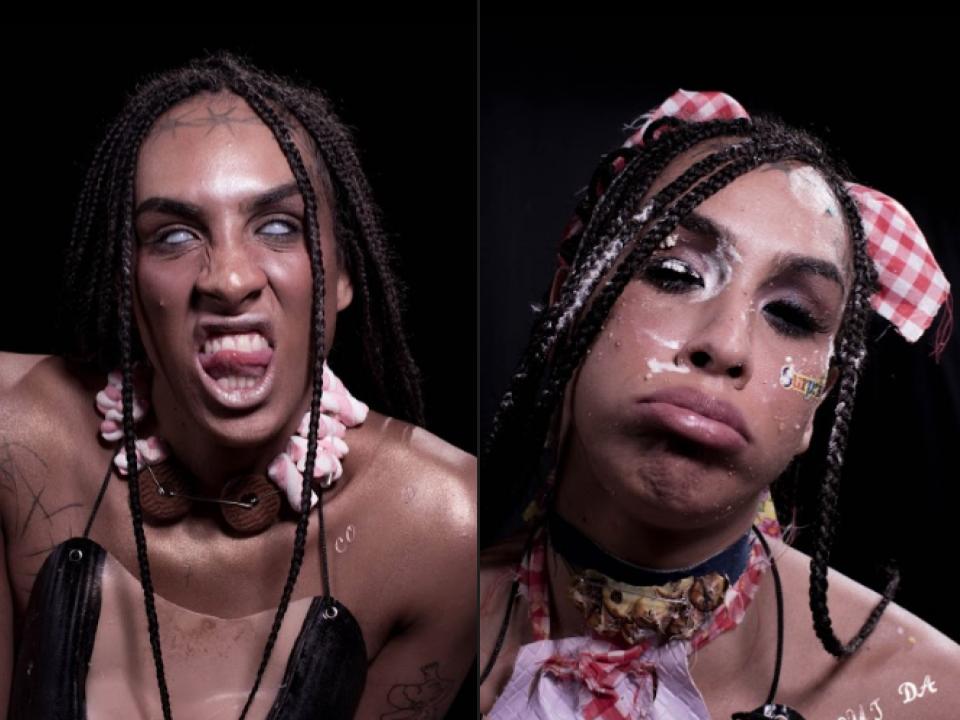 "Transvestite faggot/ of a single breast/ the hair dragging on the floor/ And on the hand, bleeding, a heart," says "Bixa Travesty" (Transvestite Faggot), one of the most lacerating songs from the album, depicting the everyday violence against trans people in Brazil.
Calling herself a "Gender Terrorist," Linn da Quebrada believes this boom of queer musicians in Brazil can work as a fundamental game changer: "Haven't we been harmless for too long? Maybe it is time for us to scare those who are afraid of losing their position of power."
Trans Pop Star Changing The Course Of History
Coming from one of the poorest states from Brazil (Maranhão, in the Northeastern region), Pabllo Vittar has taken LGBTQI representation to a whole new level. This month, Vittar became the first Brazilian artist to put land all the songs from one album — "Não Para Não" (Don't Stop), Vittar's second and latest album — on Spotify's Top 40.
Having debuted in the music market with a well-humored parody of Major Lazer's "Lean On," Vittar's career skyrocketed in late 2017, when she recorded with Brazilian singer Anitta and Major Lazer himself.
A constant victim of fake news (rumors ranged from Vittar being the new owner of Apple to the artist being canonized by the Vatican!), Vittar says the album aims to soften the dark days in Brazil.
A couple of weeks ago, Vittar broke professional relations due to political reasons. She was the sponsor of a shoe brand whose owner publicly supports Jair Bolsonaro, the far-right newly-elected president known for controversial LGBTQI-phobic statements.
Hacking The Process With Art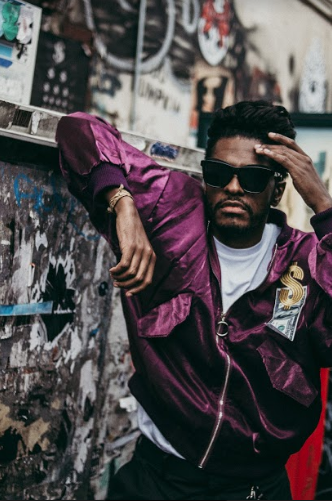 Like Vittar, Rico Dalasam doesn't hesitate to speak out against political regression now, when Brazil's democracy is under serious attack. Along with Brazil's most prestigious rappers, Dalasam, an openly gay and black artist, recently signed a petition against Bolsonaro, which alleges the presidential candidate represents a "mortal threat" against poor, marginalized people from Brazil.
Having recorded "Todo Dia" (Everyday) — one of the greatest hits from Carnival 2017 — with Pabllo Vittar, Rico Dalasam currently sings about being a black, gay, peripheral man in society.
For him, Brazilian queer music arises as an art of emergency, from the need to narrate a silenced story: "queer art is unbeatable, it is relentless in the pursuit of finding a way out, in hacking this oppressive process," he says.
Queer Invasion Of The Indie Scene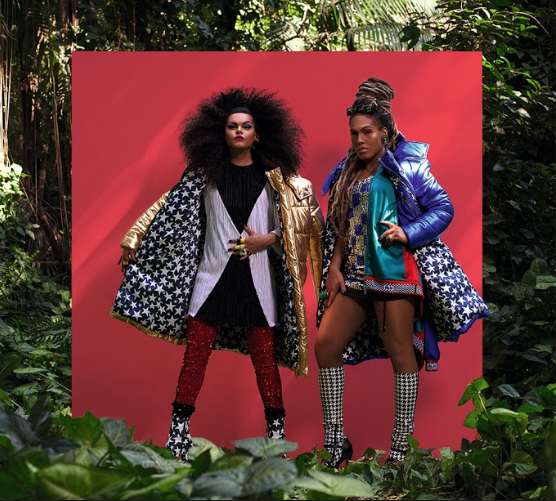 Following quite a different path from pop star Pabllo Vittar is the "As Bahias e a Cozinha Mineira" band. More popular in the alternative music landscape, "As Bahias" stands out for their politically engaged rock and MPB (a generic term used to refer to Brazilian popular music) songs. The band is composed of three cis male instrumentalists and two transgender vocalists, Assucena Assucena and Raquel Virgínia.
Placing the trans issue at the core of their lyrics wasn't exactly what Assucena and Virgínia had been looking for. However, the transgender vocalists couldn't see any other option: "being silent about this issue would feel like denying something that is in eruption inside me," says Virgínia.
Having started her career in music as a cis man, Liniker self-identifies now as a trans black woman and activist of the LGBTIQ rights. One of the most prestigious singers from the contemporary R&B and black music scene in Brazil, Liniker highlights the importance of taking sides. "This is the moment we have to resist through art. We can't stay in the margins any longer."
Find more amazing queer artists who are transforming the music culture of Brazil right the hell here: