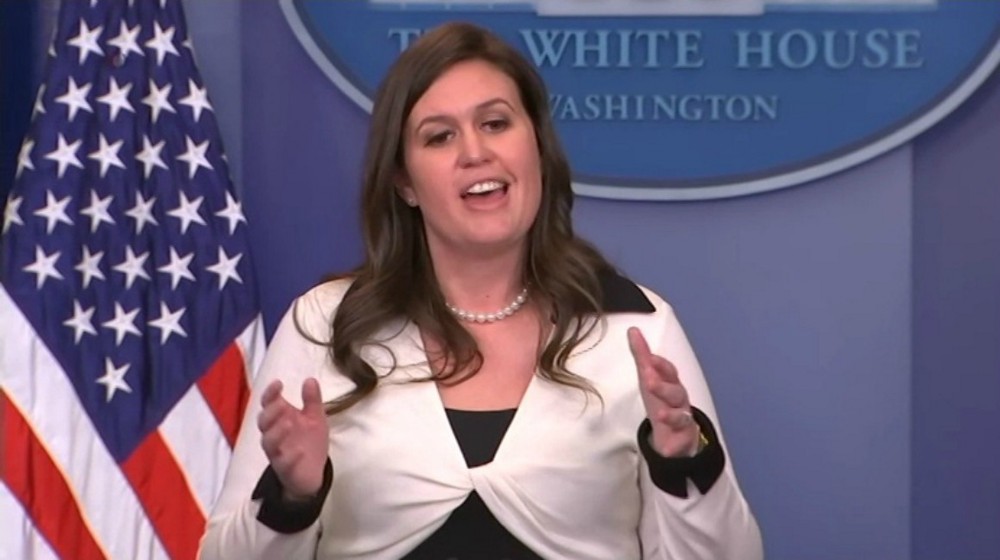 It's not hard at all to imagine what a moral emergency looks like to the extreme right.
Former White House advisor David Axelrod tweeted today:
Kind of amazed and appalled by the number of folks on Left who applauded the expulsion of @PressSec and her family from a restaurant.
This, in the end, is a triumph for @realDonaldTrump vision of America:
Now we're divided by red plates & blue plates!
#sad
The only thing that triumphed here is Mike Huckabee-esque anti-humor.
Meanwhile, a more sober take comes to us from the Washington Post editorial board, whose genteel relativism urges us to "let the Trump team eat in peace":
Those who are insisting that we are in a special moment justifying incivility should think for a moment how many Americans might find their own special moment. How hard is it to imagine, for example, people who strongly believe that abortion is murder deciding that judges or other officials who protect abortion rights should not be able to live peaceably with their families?
It's not hard at all to imagine what a moral emergency looks like to the extreme right. They've murdered abortion doctors and shot up clinics already. We were living in the Post's grim dystopia for decades before this point. Right-wing extremists, hopped up on their eschatological visions of the world, have indeed taken matters into their own hands repeatedly. They've committed massacres at mosques and schools, and from the Pizzagate crowd — deep in thrall to an alternate universe without peer even among the wild fever dreams of conservatism — we've only narrowly avoided mass shootings at a pizza parlor and a homeless camp in Arizona.
Thus, I'm less than perturbed at the fact that Sarah Huckabee Sanders was politely asked to leave a restaurant — indeed, she was even told the food she'd already been served was "on the house." More uncivil, arguably, was the DSA protest that drove Kirstjen Nielsen from a Mexican restaurant in downtown DC, but this involved no violence either and was eminently fair as she's a cabinet secretary in a public place. By her own claim, she was having a "working dinner" at the restaurant, to boot. So even the Post's "private time" distinction hardly applies.
The truth is that for all of the recent handwringing about civility, the methods now being employed against the administration's core supporters are actually quite civil. The manner in which Huckabee Sanders was asked to leave was actually the portrait of civility; it was a communal decision taken by staff, she was informed of the decision in private and politely asked to leave, and was not charged for any orders that had already been delivered. So what happened, exactly? Well, she was shunned. A social consequence was applied to her actions as Press Secretary that served as a powerful reminder: What she does is not normal, and should not be taken lightly.
This seems to be less the embrace of Trumpism than its precise opposite: the enforcement of normative moral standards through the application of polite, non-violent social consequences for immoral acts.
Trumpism, by its nature, is consequence-free. Just witness how Huckabee Sanders herself abused her power as Press Secretary to publicize the incident on her government account, leveraging her status and calling down a rain of abuse on the restaurant. That she used her @PressSec account to do this is a violation of White House ethics policy. It won't matter.
This is one of many problems with Trumpism. Scott Pruitt's bizarre, expensive peccadilloes and overt ethical violations as EPA secretary haven't cost him his job; Kellyanne Conway spruiking Ivanka Trump's fashion line in her official capacity didn't cost her hers; Trump himself experiences next to no oversight from the Republican-dominated Congress and routinely positions himself as being above the law — his simpering defenders on cable news argue much the same.
Therefore, an ordinary citizen took it upon herself to quietly, politely, apply a much needed consequence to a member of a government that thinks itself beyond responsibility to anything but Trump's whims. That doesn't seem like a validation of Trumpian callousness, but a repudiation of it.
Trumpism, by its nature, is consequence-free.
Click To Tweet
Of course, when you use the smooth, overgeneralizing language of the Posteditorial board — the same rhetorical gesture that categorizes even life-or-death political battles as "disagreements" — this can all be effaced. One act of incivility is as bad as another. I'd dispute that the Red Hen owner's actions were uncivil, but even in a case where a dollop of rudeness was at play, like the Nielsen protest, such things are necessary for exactly the same reason: Without these mechanisms, these people would experience no meaningful consequences for engineering and supporting horrors.
The people are doing the checking and balancing that our government will not. We should be much more worried that we've arrived at that point than about the politesse of a private citizen.
But if we must indulge the "civility" discussion, then it's worth saying that these acts of civic protest remain peaceful. They are a humane response to inhumanity, and, frankly, one more manifestation of democracy and decency. People who support this administration's cruel Zero Tolerance regime, whether from a White House podium or from a Twitter account spewing memes and hashtags, should be made to experience the power of shunning. It is, at bottom, a peaceful way to say "this is not okay, and you should go away and think about what you've done; then you can rejoin society."
The people are doing the checking and balancing that our government will not.
Click To Tweet
Furthermore, unlike, say, "conscience"-driven bigots who wish to use Christian belief to refuse service to LGBT people, the owner of the Red Hen wasn't antagonizing any class Huckabee Sanders belonged to. She was responding to Huckabee Sanders' actions as an individual. The very things she, and she alone, are responsible for. In another time, conservatives might've called that "personal responsibility."
Shunning is harsh in its way — we are social creatures, after all — but it is also humane and non-violent. In short, it is civil. Even better, it's grassroots. Citizens are taking their responsibilities seriously. As the Red Hen owner said, "This feels like the moment in our democracy when people have to make uncomfortable actions and decisions to uphold their morals."
That's more than can be said for Huckabee Sanders, Miller, or Nielsen, who rely on a consequence-free environment in order to do their dirty work.
I've often been leery of applying the language of interpersonal abuse dynamics to politics. "Gaslighting" is a word perilously close to being defined out of all meaning, just as "trigger" has been all but stolen from trauma survivors. But there is merit in the observation that abusers define any resistance to their actions as rude and uncivil, that they apply one standard to themselves and another to any who might raise a voice against them. That's long been the case here.
What Huckabee Sanders experienced was nothing compared to what she's propagandized for from her podium. She goes home to a warm bed and her loving family, not a cage where she sleeps on concrete under foil; her children will not be parted from her before being spirited through a ramshackle, Kafkaesque prison system that refuses to track its wards.
A powerful government secretary was denied the momentary privilege of eating at a specific nice restaurant. Even if I had tears left to shed, this would be the last thing to draw them from me. If these people are so concerned about civility in restaurants, then perhaps they can more aggressively take ICE to task for incidents like this.
We should not fall into the moral trap of analogizing a children's prison camp to a principled denial of service. Or, indeed, analogizing the latter to Jim Crow or shops that discriminate against queer people, as a breathtaking number of people have done in the last few days. We must be smarter and more discerning than this. We owe that much to ourselves.
Where The Washington Post sees sorrow, I see hope. If our government cannot hold its leaders accountable, then the people must.