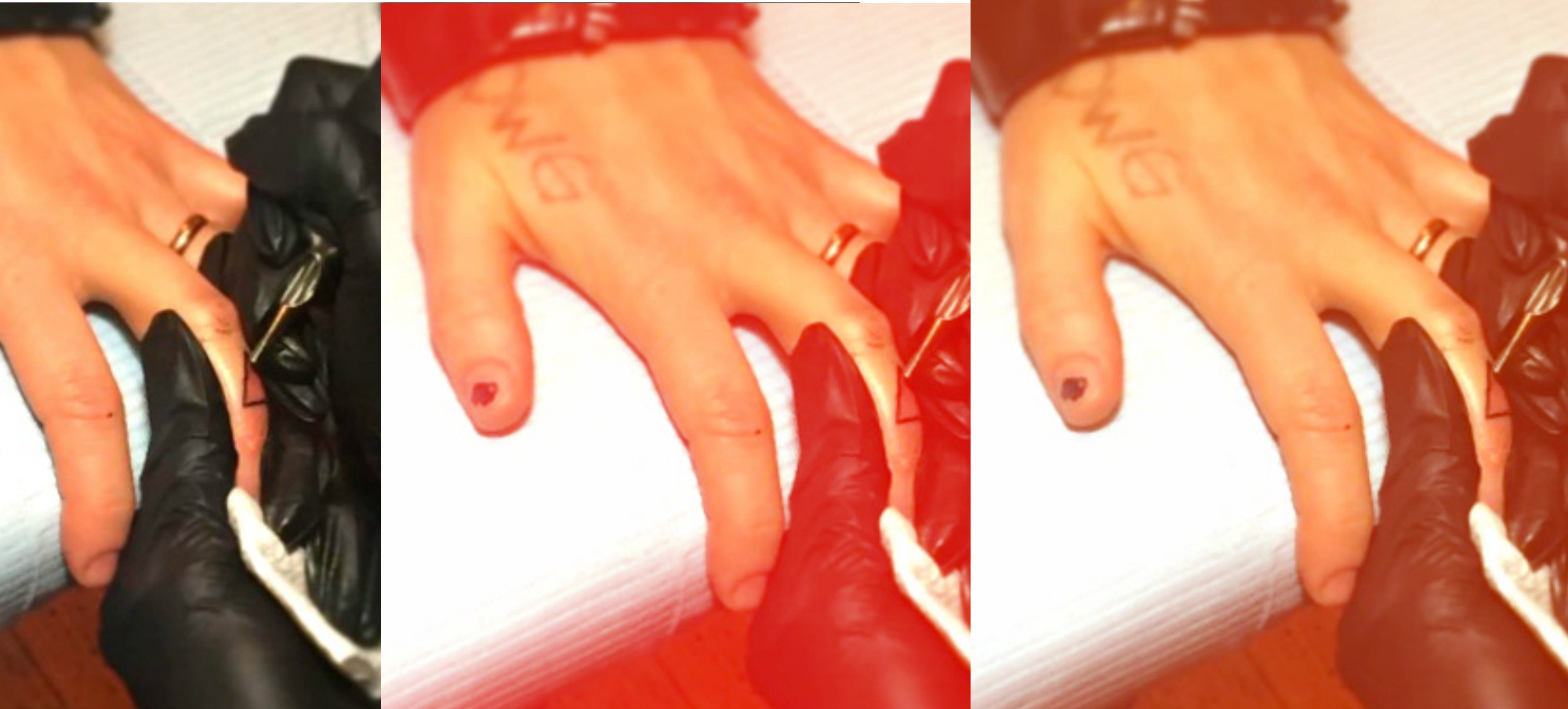 Things that are meant to last always hurt.
Getting tattooed is a sadomasochistic experience for me. I don't mean that I need to be sexually attracted to my tattoo artist, nor do I book appointments in public body art parlors with the intention of creaming my pants and loudly orgasming from the pain. My process of sitting for a tattoo artist and their needle is a cerebral — more than overtly erotic — form of kink for me. I'm obsessed with the sting puncturing the barrier between my insides and the world, making my skin vibrate like a trampoline.
One of the most annoying of the many annoying questions that tattooed people get asked is: did it hurt? While some places on the body hurt more than others, pretty much all tattoos involve a painful ceremony. Things that are meant to last always hurt.
A tattoo machine sends a needle slicing through layers of your epidermis between 50 and 3,000 times per minute, all while you have to remain very calm. In reaction to this stress, your adrenal glands start pumping out excitement hormones. Endorphins, dopamine, and serotonin create a sense of focused euphoria. The mind over matter experience of sitting quiet and still while your body's fight or flight symptoms kick in, responding to this unusual penetration, puts you in a certain state. You have to both concentrate on the hurt and let it go. For me, this state can be similar to what kinky people call subspace, or the transcendence of a masochist's role in a scene.


The elevated heart rate. The sweat. The flow state. It all sounds delightfully like a great fuck, doesn't it? This simple physiological parallel is one of many reasons I suspect people find tattooed bodies so attractive. One look at a tattooed person, especially a heavily tattooed person, and you know this is someone capable of consenting to and processing intensity. On some level, I think we know that a person who welcomes discomfort is more prepared for the complicated and unpredictable agony of being alive.
From the minute I met Tamara Santibañez, I knew she was someone who understood the overlap between body art and erotic pain. An accomplished tattoo artist specializing in classic Chicanx style as well as explicit fetish imagery of hoods and whips, she is also a painter who creates leather landscapes and an indie publisher who crafts darkly sexy books.
Tamara is one of those people who appears in person as a manifestation of her own art. She constantly fiddles with sleek dark hair using her equally long painted nails. She likes oversized heavy metal t-shirts and witchy jewelry. Every square inch of her skin is adorned with skulls and weapons, intricately locked together, harsh and graceful. She has my favorite combination of elements — a punk rock dark queen fuck-off look with a quick smile and generous manner.
We sat down on my couch with microphones one afternoon this December to explore the alluring language of the body, and the erotic potential of getting and giving tattoos.
Without hesitation, Tamara lists off the parallels between BDSM and tattooing. She points out that a medical play scene and a tattoo station don't look all that different, with the black latex gloves and intimidating instruments. Then there's the element of humiliation and vulnerability: The tattoo artist, like a dominant, is in full control of a compromised and vulnerable body. While she says she's never met someone with a specific fetish for getting tattooed, she has certainly given "Daddy" or "Owned" tattoos, something that accentuates an existing dynamic.


We discussed the image of the "alt girl," the porn trope of the otherwise conventionally attractive performer who happens to display "edgy" body mods. Besides a tendency toward more of a wild defiant attitude, alt porn mostly tends to reflect the ways that tattoo culture has been appropriated for mainstream understanding.
As tattooed ladies who know what it's like to be treated like our bodies are available for consumption, Tamara and I could also really dig into the paradox of permanent adornment. Tamara sees getting tattooed as a way of claiming agency, creating and insisting on your own iconography. In some ways, a tattooed body declares, "look at me, read my symbols, admire my beauty, I am a work of art." And of course at the same time, a tattooed body says, "Screw you, don't you dare look at me! I laugh at and welcome pain! I don't fit in, you cannot interpret me on any other terms than my own, and by the way I am tough as shit and you do NOT want to fuck with me."
Tamara sees getting tattooed as a way of claiming agency, creating and insisting on your own iconography.
Click To Tweet
After the U.S. election late last year, I realized in a moment of clarity that I wanted a pink triangle tattoo on my middle finger. The pink triangle, the symbol used by the SS to designate homosexuals in concentration camps, was reclaimed by ACT UP as part of their Silence = Death campaign in the late 1980s. Tamara happily agreed to mark me with this symbol of defiance. As I watched her dip her machine into a small plastic pot of hot pink ink and delicately take my hand, I knew that this thorny pain was nothing compared to the oppression my queer family has suffered in the name of love.
I felt grateful to be tattooed by someone who doesn't shy away from darkness, who understands how to harness pain for a purpose.
Listen to Tina's "Why Are People Into That?!" podcast chat with Tamara Santibañez, a painter, indie publisher—she founded Discipline Press (I am in l-o-v-e with the kinky neo-noir aesthetic)—and tattoo artist renowned for coupling Chicano and fetish imagery here.