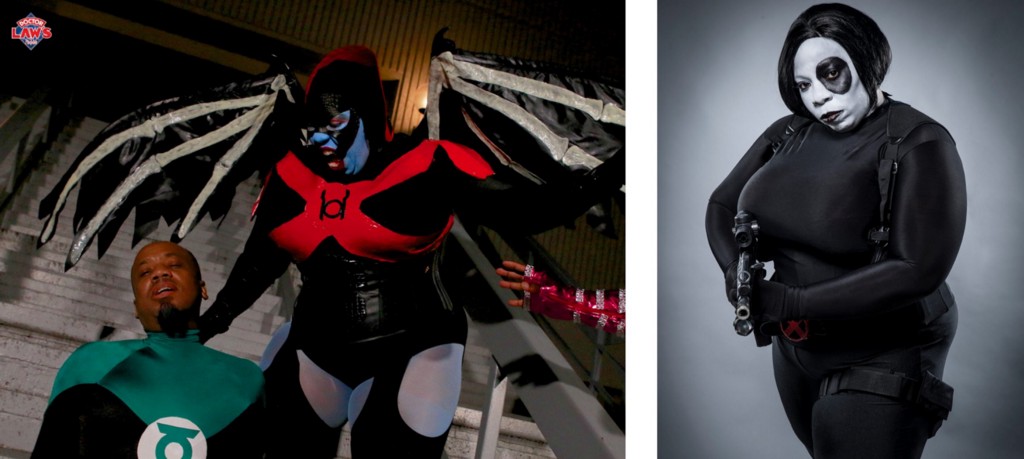 We've been told this hobby is a waste of time — but we see, feel, and live the difference it's made in our lives.
Immediately upon hearing about the annual conference featuring people dressing up as characters from movies, TV, and comic books, I knew I wanted to be get involved. I spent a year deciding on my costumes and getting my shit together so I could be a part of the spectacle. I wasn't concerned about my size, my color, or what people would think of me, mainly because I didn't know that going in costume made me an interactive part of the convention. I didn't realize that any of that mattered.
I didn't know that I would be openly rejected because of my brown skin or my size. Or that people wouldn't be able to recognize my character because I wasn't white. I didn't realize that a smaller woman in a bikini would always erase my visibility. I didn't know that my being there was an act of protest…but I learned.
I didn't know that my being there was an act of protest.
Click To Tweet
As cosplay has grown in popularity and visibility, I've heard more stories of people being sidelined for being a POC, fat, or differently abled. To protect myself from that, I've learned to surround myself with diverse people who love cosplay and geek life as much as, if not more than, I do. Over the years, I've watched every one of them grow in different ways as they engaged in this passion.
It's a passion we've been told is a waste of time — that we've been mocked for doing. But we see, feel, and live the difference it's made in our lives.
We create and share our Black joy in this community. We do it and we love it for a plethora of reasons. When we don't find what we need, we construct it ourselves, developing the cosplay scene we want to exist in. Even if it's just small pockets of monochromatic space, we bring color, fire, and life as we build the cosplay experience we desire.
We create and share our Black joy in this community.
Click To Tweet
Being in Atlanta has helped me connect with a spectacular geek community. From tailors and prop fabricators to stylists, photographers, and fun-loving artists, I am now part of a group of creatives who each bring their distinctive personalities to the hobby. Atlanta is where I learned cosplay existed, where I built my community, and where I continue to enjoy and grow in this hobby.
Here's a look at some of the people who keep my love for this creative and dynamic scene growing.
Cosplay as truth.
Dru Phillips, of AMP Cosplay, is an accomplished photographer who has a fun and beautiful approach to cosplay: Treat it like fashion photography. This approach works well for him, and makes his work stand out. He was producing high-quality, beautiful cosplay images back when people were still treating it like a side hobby.
Dru's love of cosplay grew from his passion for comics and drawing, which led him to photography. It was while earning his BA in illustration that he realized he wanted to change his focus and pursue photography. Now, Dru works as a full-time photographer, enabling him to combine his love of the medium with his love of comic art.
Cosplay exposes a deeper, often more joyous and authentic side of the people who participate.
Click To Tweet
For Dru, cosplay exposes a deeper, often more joyous and authentic side of the people who participate. From the care people take in choosing a character to the effort and attention cosplayers take in creating their vision, he seeks to capture the passion people have in making a full fashion garment from scratch. Revealing this depth that is, ironically, only visible when people are striving to look like someone else is a curious phenomenon that he feels compelled to share.
Dru is not only a creative force behind the camera. He's been known to don a unitard and bring his love for the craft in front of the camera as he embodies some of his favorite characters. You can see his full portfolio of work here.

Cosplay as style.
One of the least understood aspects of cosplay is that it requires style. And whatever that style is, it needs to be intrinsic. It's that special something that one personally brings to their cosplay — not the exact replica of the costume, but that which makes the costume meaningful to them.
While many people, myself included, had to learn this, JaBarr of Barr Foxx cosplay seemed to understand it instantly.
When you look through JaBarr's portfolio on his Facebook page, you see that yes, his cosplay is immaculate, but he also keeps personal aspects of himself in his representation of the character. Although creating an exact replica is impressive, our humanity is what gives these characters life. JaBarr modifies his costumes to ensure that he melds with his character, rather than erasing himself to be someone else. In fact, this is one of the things he discusses as a cosplay panelist at conventions.
Cosplay requires style. And whatever that style is, it needs to be intrinsic.
Click To Tweet
His approach to cosplay is no doubt influenced by his behind-the-scenes work in television and film. He's worked in casting, writing, editing, and most recently, production with The Edit Factor. As such, he knows how to work with lighting and angles to get the best shot. He often steps out of his role as cosplayer to direct portions of the photo shoots to maximize the impact of both the photographer's and cosplayer's work. As a result, his cosplay has been featured in Cosplay in America Volume 2, on the Marvel homepage, and in various articles spotlighting cosplayers to watch.

Cosplay as family.
Sometimes you meet people at conventions and they become like family. While they aren't in the spotlight demanding any attention, you always expect to see them at the con, and it feels like something is missing when you don't. DeAnna Cooper is one of those people.
A veteran cosplayer and congoer, DeAnna Cooper has been on the scene for 15 years. Drawn to the hobby through her love of anime, DeAnna's first cosplay was a hentai school girl uniform. Since then, she's regularly been spotted at conventions across the country, dressed as characters from comics, movies, television, and anime . . . some recognizable, and others original creations.
For DeAnna, cosplay is a very personal endeavor. She's developed a cosplay family made up of people she's met and her actual relatives. If you encounter her at a convention, expect to meet some member of her cosplay family because she keeps them close to her. In fact, she can be found participating in group shoots, such as her Conan the Barbarian shoot, with some of her cosplay family. One of her favorite cosplay is Ryomou Shemei from Battle Vixens because of the close bonds she made both creating and wearing it.

Cosplay as creation.
Cosplay is a creative art. It is the ability to recreate, and sometimes actually physically create, clothing and items that only exist as art on a page. Many times, biology and physics are not considered when comic artists create these costumes, yet for cosplay, someone must breathe life into those images and make them a wearable reality.
For cosplay, someone must breathe life into images and make them a wearable reality.
Click To Tweet
That's where Walter, owner and operator of Dean's Lyst, comes in. The physics of cosplay is a complicated arena, but he makes it look painless. This is quite the feat considering that he'd never made or sewn anything prior to 2007, when he bought his first cosplay. By 2013, he was making his cosplays from scratch. And now, in 2017, Walter takes cosplay commissions, builds his own props, and continues to pose for the camera as a cosplay model. Some of his most notable cosplays are Asgardian Storm, Aqualad, and Falcon.

Cosplay as Black geek love.
DragonCon is all things cosplay, and many of the people on this list met because of their love of the convention. This is true for the team of Dr. Law's Photolab. Leigh Willis, Jeffrey Hall, and Latoya Simmons bonded over their love of geek life and decided to take on a larger role in the DragonCon photography scene.
Leigh has always had a love for photography, but it was a hobby that he fell out of doing until he attended his first DragonCon. A lifelong geek, Leigh found himself overwhelmed by the artistry of cosplay. He promised himself that he would bring his camera to capture the embodiment of characters he'd only seen in the pages of comic books. Over time, he began participating in DragonCon's large group shoots, and this year he served as lead photographer at the 2nd Annual Black Geeks of DragonCon photoshoot.
"As a photographer, I could hear the comments other photographers made about Black cosplayers. I had a front row seat to the comments and exclusion. I knew I had the power to change that and that's what I try to do — I focus on giving love to the Black cosplayers and cosplayers of color."
Jeff, a Photoshop lover, was happy to feed his inner geek alongside Leigh. Acting as the team's second photographer, Jeff is able to capture much of the overwhelming cosplay magic at DragonCon. After the convention, he works his Photoshop magic on the images, adding hyperreality and recreating the drama of the comic art form.
The third member is Latoya Simmons. You'll learn more about her in the next entry.

Cosplay as connection.
Latoya created her first cosplay, Marvel's Monet St. Croix, with her friend, Dwayne Woodard. The duo used the process to reconnect and reminisce while participating in a fun, artistic endeavor. Despite his recent passing, she continues the art to pay homage to her love of fandom and as a tribute to her friend. It also allows her to work with other creatives, like fashion designer Mikos Laron.
Since that first outing, Latoya's been steadily bumping up her cosplay skills — not that she ever needed to. Drawn to cosplaying women characters of color, Latoya has cosplayed Akasha from Queen of the Damned, Black Panther's sister, Shuri, and Marvel's Roma. In 2016, Latoya unveiled her Moana cosplay.
As creative director of Dr. Law's Photolab, Latoya is responsible for creating, researching, and managing the fantastical aspects of cosplay photoshoots. Her role includes reaching out to cosplayers, developing concepts for photo shoots, and cosplay modeling.

Cosplay as therapy.
Let's be honest. Real life is often boring. The monotony, the routine, the same shit different day that we can all experience. For Ebeneezer Grinch, aka Sheridan, cosplay is a way to escape that tedium. It provides an outlet to be silly and creative. It also provides a fun and safe opportunity to temporarily embody other characters by learning some of the mannerisms and thought patterns of others.
Sheridan began cosplaying in 2012, when he first dressed as Scarecrow from DC Comics. Since then, he has cosplayed DC's Black Mask and Hugo Strange, as well as Marvel's Dr. Doom. His need to create has expanded past the cosplay arena and into creating custom decoupage shoes, usually with comic themes. For him, the freedom to create is everything, and it keeps him grounded when everything feels like it's falling apart.

Cosplay as party time.
Forget all the giving back and being an inspiration. Planning, creating, and wearing cosplay is just fun. Taking pictures is fun. Strategizing poses, photo shoots, shopping, styling, socializing — it's all fun as hell. And DragonCon, the convention where many of us were introduced to cosplay, is a four-day, 24-hour party. And Larry is there for the party. In fact, you may have seen him smiling while dressed as stoic Luke Cage, villainous Black Adam, or ever uptight Icon.
If it's not fun, why bother?
Click To Tweet
Since childhood, Larry has seen himself as a superhero. As an adult, Larry busts his behind styling and creating the cosplay he envisions. That could require everything from doing research on the character, to creating and painting certain pieces of the costume, to working out the logistics of group cosplays. But ultimately, it's a good time wrapped in the persona of a character he admires, which is primarily why any of us do it.
If it's not fun, why bother?

Cosplay as confidence.
As much as we say cosplay is for everyone, sometimes it takes that push for us to believe it. This was the case with Randy, who has been an avid con-goer for years but only began cosplaying in 2013. A friend suggested he cosplay Wilson Fisk, aka Kingpin.
"I've wanted to cosplay for years. I never thought I was good enough to do it. Too short, too fat, etc. Then, one day a friend suggested I do Kingpin. After thinking about it I thought, 'fuck it, he's right' and I cosplayed Kingpin."
Since then, he's smashed the game both as Kingpin and his now infamous Thulsa Doom, a cosplay that's won him free nights at hotels and earned international notice. Randy is now iconic in the cosplay world. He's expanded his repertoire to include cosplays from his favorite movies and '80s cartoons. Most recently, Randy's cosplayed Venger from Dungeons and Dragons and Ja-Kal of Mummies Alive.
And to think, he didn't think he was good enough to cosplay. Now he's owning the game.

Cosplay as art.
Cosplay can be as much about art as engineering, something Dwight Dunbar of Shattered Images knows well. He has a background in 3D animation, which has been instrumental in his endeavors to build cosplay armor. For years, he's leveled up his cosplay skills, building full Iron Man suits.
Dwight isn't limited to foam armor; he builds helmets, wings, goggles, and a multitude of props for himself and other cosplayers. He is known for his attention to detail when it comes to bringing his cosplays to life. He's drawn to complex cosplay pieces that challenge his skillset. Some of his past costumes include Archangel, Black Manta, and Ultron.
Cosplay can be as much about art as engineering.
Click To Tweet
These days, he's transitioning his love of design to creating statues and action figures using 3D printing technologies. His goal: to create new 3D art for the fandoms he loves.

Cosplay as engineering.
On more than one occasion I've heard Tanya say that if the world had been different, she would be an engineer. We don't like to admit that racism and sexism can dramatically influence our career decisions, but they do. Thrill Builds creator, Tanya, loves how cosplay provides her the opportunity to do applied engineering in ways that are interesting and fun for her.
Tanya has attended DragonCon since its inception in 1987. For a long time, she was a fabric-only person, but in 2014, she created her first armor cosplay — a Pacific Rim drive suit. Armor building opened an entire new world for her, as she learned to use 3D modeling software to build wearable armor. Tanya also livestreams her work on her Thrill Builds Twitch channel a couple of times a week. If you are looking for someone who shares your love of building, she's a great resource.
"I love the process of creating my costumes and am constantly amazed at the things other people are able to conceptualize and create. I encourage anyone who is interested to participate in whatever manner they find most enjoyable. At the same time, I really think everyone should try to build something at least once. I hear a lot of 'Oh, I could never do that. I wouldn't know where to start.' The internet is bursting with information, just try it. You might surprise yourself and discover a new passion."
Cosplay as everything.
Last, but not least, me, TaLynn Kel
For me, cosplay is everything. It's my friends and family. It's helped with my confidence. It's art, creativity, fandom, engineering, connection, style, and a party. When I started this, I had no idea the impact it would have on my life — the relationships it would forge and the way it would strengthen my voice. Cosplay gave me back a piece of myself that I sacrificed in my bid for independence and survival. It gave me a fun reason to keep earning that paycheck.
Cosplay is another form of my personal truth. It gives voice to aspects of myself that often have no place in society. It gives me a way to express my creativity, rage, love, fear, and pain in visible, yet protected ways. It has helped me shape a community of peers who not only enjoy the same activity, but also strive to make it as safe and acceptable as possible for anyone who wants to participate. We know how it feels to not fit, so we try to make a place for others to feel free to be who they are. And if they don't fit here, we hope they learn that they can create the spaces they need for themselves.
Cosplay gives voice to aspects of myself that often have no place in society.
Click To Tweet
We are not all one thing. And none of us bring the same things to cosplay. The fact that we are different, doing our art our way, strengthens the entire cosplay community. There truly is room for everyone who wants to be here, and all I want is for more people to recognize, understand, and work to expand that idea.
We are not cosplay diversity. We are the norm.