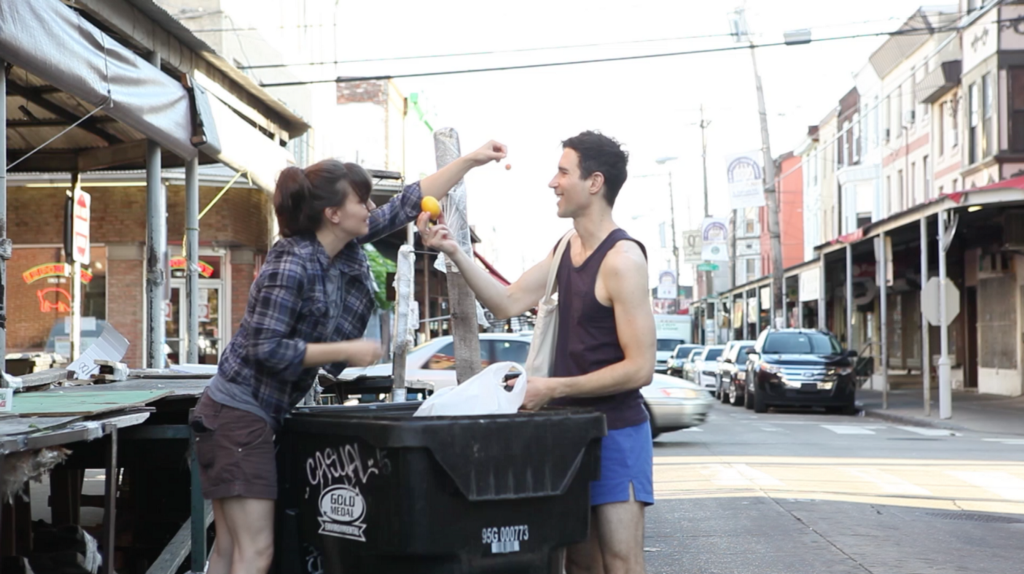 New Film, 'D.I.Y', Celebrates Commitment, Wedding Coiffures, And Queer Love
What does marriage mean when you're gender fluid and loathe the patriarchy?
Marriage is a fucking doozy. Those two syllables carry with them a positively dizzying array of socio-cultural conundrums; marriage sits at the red-hot heart of our, ahem, white supremacist, capitalist patriarchy (some reports place the value of the U.S. "wedding industry"—otherwise known at the wedding industrial complex—at $55 billion). And things are only getting weirder—just look to the emergence of WedTech if you want to feel sad/confused for a while.
It's a system that has not only held up the straight, cis, white, thin, and beautiful as the potent ideal of love, but has actively shunned those outside of these parameters. Weddings are, in short, a painful reminder of the sanctioned discrimination that runs rampant in our country, tangling gender, class, identity, and sexuality in a morass of white lace and marzipan flowers.
But, and I write this whole-heartedly, weddings are also a potent symbol of commitment — physically, emotionally, legally, and otherwise — and I deeply respect those humans who want to take the plunge.
So we find ourselves—torn. We are where we are. Society still showers the legal union with a heaping host of benefits, and people still want a killer party with all their favorite people honoring their brimming love-cups and dogged devotion to making someone's life happy as hell . . . even as the oppressive shadow of Marriage looms large.
I believe the reappropriation of this historically fraught ritual is a powerful thing—and the heart wants what it wants. But it's also so goddamned complicated and I see so few stories trying to explore it . . .
Which is why I was genuinely thrilled to learn about D.I.Y.—a film about a gender-fluid couple deftly wrestling with their pending nuptials and what the hell it all means in this day and age.
Written by actors and dear friends Sarah McCarron and Yuval Boim (who, incidentally, are both gay), D.I.Y. is one of a handful of films vying for a chance to pitch the Duplass Brothers, the actor-writer-director-producer team behind Safety Not Guaranteed, The Skeleton Twins, and most recently Room 104 on HBO.
The Duplass Brothers partnered with Seed&Spark—a crowdfunding and streaming platform dedicated to championing diverse storytelling in film and TV—on the Hometown Heroes contest. The top 10 projects that reach their green light and have the most support by October 13 will get to pitch The Duplass Brothers and win up to $25,000 in cold, hard production cash.
Making Room For Diverse Voices With The Duplass Brothers
The Establishment got a chance to pick the bawdy and brilliant minds behind D.I.Y., a film that has been two years in the making and is gunning to wrap up by spring 2018. Here's what they had to say about queer love, authentic storytelling, and why humor can lance psychological blisters.
Why center the story around marriage? Why is this issue at the red-hot center of race, class, gender, and our collective societal understanding of love…?
Yuval Boim:
D.I.Y. is a film about love. It's about two humans hellbent on protecting their love from oppressive social norms and defining for themselves what it means to be committed to one another.
Marriage is something with which almost everyone interfaces, whether they are married or not. We are living at a time when we are watching our institutions lose their meaning—including the office of the presidency—which is both terrifying and threatening. But it's really important and healthy that institutions change, evolve, and grow to serve as wider swath of humanity. Certainly the passage of Marriage Equality — which so many traditionalists view as threatening — is a massively important evolution in civil rights.
How do we define and forge for ourselves the meaning of the institutions governing our intimate relationships?
We've known so many couples whose relationship has not survived the process of getting married. As a point of inquiry, it's valuable to investigate why? It might be that marriage is a flawed oppressive tool of the state and failure to survive it is a sign of health. Or it might be that conflating marriage with an idealized myth of eternal romantic love is a set up.
We are interested in what real love looks like — the gritty day to day process of discovering each other anew each day — secrets, neuroses, warts, and all — and recommitting to that love.
Sarah McCarron:
In film history, especially in the classic rom-com narrative, the notion of "marriage" or "getting married" is often an endgame — a kind of prize hung out as a symbol of resolution, a restoration of order, or a marker of success. We hear the wedding bells . . . and the story is over! All have survived!
D.I.Y. is an inverted rom-com. Through this trope, we wanted to smash this notion that the wedding is the end—or worse—that it is evidence of having won something. What happens when two individuals attempt to plan their most perfect, unique, personalized wedding ceremony, but come to realize they have very different notions of what marriage even is or should be? How does a relationship predicated on love survive the institution of marriage?
Why Should You Become An Establishment Member For $5 A Month?
Linking marriage to love is actually a recent thing we humans have started to do! For most of its history, marriage has had nothing to do with love. Marriage is an ancient social, economic, and often religious rite — and it is still the primary way to transfer wealth. Marriage is also culturally universal — which is amazing to consider, and indicative of marriage's function as a tool of the state. As contemporary couples invoke marriage as a way of forging a life together predicated on love, we simultaneously invoke these huge deep cultural, economic, and political forces that have sway — consciously or unconsciously — on a couple's domestic life together.
We really wanted to Josh and Matilda's invocation of the institution of marriage to examine the ways it also "legitimizes" their love, and how they become unwittingly entrenched in a chess game of alliances across a chasm of the class divide. (That they weren't even aware existed between them.)
Marriage is culturally universal — which indicative of marriage's function as a tool of the state.
What is the role of humor in this film? What can humor do to serve the story or lance psychological blisters around "serious" issues that you're tackling in ways that more classic "drama" cannot?
Yuval:
It was very clear for us from the beginning that this was a comedy. Talking about class and gender and social justice can sound heavy. But when you have characters painting themselves into corners in the name of these things, and doing stupid, painful things to each other, we laugh because we recognize ourselves in their actions. It helps to break down barriers. People can enjoy it on the surface, because there's physical comedy and funny dialogue. But hopefully, if we do our job well, the motor underneath—the societal machine that the characters are trapped in—gets revealed.
Sarah:
My great uncle (who was a radical rabbi and renowned orator) always used to say "if you want people to hear the truth, first you have to make them laugh." I'm not insinuating this film has some claim staked on the truth — but we are as writers interested in investigating truths.
If we can laugh at the rituals, roles, and institutions we hold precious, we prevent them from having too much power over us. The most threatening force to a genuine oppressor is getting laughed at. Josh and Matilda are clowns and clowns have a long history dramatically as truth-tellers. Fools, jesters, mischief makers disrupt the status quo.
Because they believe in themselves with such conviction, they're blinded to the punches thrown at them and able to continually keep getting up and recommitting to love. If they didn't, it would be a tragedy. In many ways, clown and tragedy are inverted versions of the same dynamic — willful humans determined to make it. The power of laughter, though, is profound in its capacity to make it safe for audiences to contemplate and reflect on what they've recognized. Laughing is a truth-teller.
We don't laugh unless something hits a chord of truth. And in the laughter something opens up — perhaps a new possibility for how things could be.
Clowns have a long history as truth-tellers.
Do you believe art can serve as a vehicle of societal change?
Sarah:
Absolutely. This conviction could be naive and idealistic if we define societal change vaguely as "making the world a better place." And the reality is art can be super elitist and prove itself insufficient in the face of the challenges experienced by the least advantaged in our culture.
But, societies are comprised of individuals, and in the intimacy between art and receivers of art, minds and hearts can open. Art's power to reflect the reality of personal circumstances and awaken individuals to a call to action is profound. If/when I start to feel cynical, I lean on one driver: Fascists hate art.
Look at Pussy Riot. Look at Ai Weiwei. If art did not serve as a vehicle for societal change, the powers that be would never be threatened by artists such as these.
When I start to feel cynical, I lean on one driver—fascists hate art.
Yuval:
Art creates spaces. Literal and aesthetic. These can be spaces that allow us to feel included and represented, and thus feel safe. Or these can be — just as important — spaces to question the establishment, in perhaps more radical ways.
How do your personal identities intersect with the portrayal of this gender-fluid couple? What are your thoughts on authenticity with the writers behind certain stories? Is fiction "better" if those creating it have lived the experiences they're portraying?
Yuval:
I identify as a gay man. So personally this aspect of my character is not so autobiographical. But for me, the process of writing and acting is about empathy. About projecting myself out of the limitations of my own self, and expanding my capacity to connect with others.
Sarah:
I am married to a woman, but I have had sexually fluid relationships my whole life. I relate very much to Matilda's position of finding someone she wants to commit her life to, which doesn't necessarily mean it negates any other identities or precludes sexual fluidity.
This is a story about a couple who happen to be a man and a woman — though they could easily be with a partner of the same sex. So what becomes important is their personal dynamic — and thus the gender roles are really illuminated. Neither fall into either prescribed gender role. Matilda fucks Josh from behind with a strap-on, and they both love it. No explanation required. Needs are met. It's funny we've had folks be confused, asking "wait are they gay?" and wanting to put the characters in that box. Why is it that just because a man might like to have sex in his ass, he needs to be gay?
Any good writing should be a prism that includes multiple perspectives on the theme. If a writer is only allowed to write from their experience or perspective, the writing's capacity is limited in its potential to illuminate the limitations of all of our perspectives. This is why I love to write in collaboration — and why we are interviewing real people. To serve as a digestive aid to funnel the varying views of marriage into the script in a way that allows them all to be represented. In great writing, everyone is right. And everyone is limited. The writing itself illuminates the whole.
Sarah, you say that: "Getting the right to marry could be viewed as a a way for folks to assimilate into an oppressive and dominating patriarchal culture." I have many queer friends who feel this way. It's like, "Why the hell do I want to fight to be part of system that systematically rejected me and my love of another human…?!" It's decidedly complicated as hell, but I'm curious why you made the decision to get married yourself as a gay woman…!
Sarah:
What happened was, Elysa proposed. We definitely saw it as an oppressive institution, and I have very few models of a healthy marriage as compared to the number of marriages that prove the institution to be a set-up. But also it opened up this huge YES in my body. What was I saying yes to? An inquiry for the ages. I was saying yes to HER. Saying yes to being of service to our relationship for the long haul. To fostering her growth alongside mine, to loving every part of her, and to creating a safe secure commitment through which we could struggle into our best selfs and accept all the ways in which we fall short. Like a tomato plant stake. You know those cylindrical cages that prevent tomatoes from getting really big and out of control? I feel like that's what I was saying yes too. A structure we could plant our tomato in for optimal health.
Any good writing should be a prism that includes multiple perspectives on the theme.
Yuval, your character is a bit meta in that he is studying gender and the nature of marriage within the film. And then the film actually features real interviews. Can you talk a bit about your decision to include these "documentary" elements — also, did you learn anything surprising from these conversations?
Yuval:
The idea to include interviews with real people first came to us when we were shooting at Steve and Ruth Reiman's house in Joshua Tree. We were so inspired by the story of their marriage, that we wrote them into a scene. Then we thought, wow, we could invite other people to share their story, and that could shape the narrative of the film.
Narratives can and do organically emerge from the actual bodies in the room, and we see our work as a dialogue. An investigation which creates a conversation.
We were interviewing a couple who has been committed for 14 years and don't believe in traditional marriage. They talked about the judgment they receive from friends and family, and I was so moved I started crying in the interview. We were also taken aback by people's desire to share their stories. Many of the couples we interviewed, some of which were strangers, traveled from out of town to come speak with us, because they felt they finally had a platform in which to tell their story.
And that was like, wow. We are doing something that is touching a nerve.
Looking For A Comments Section? We Don't Have One.