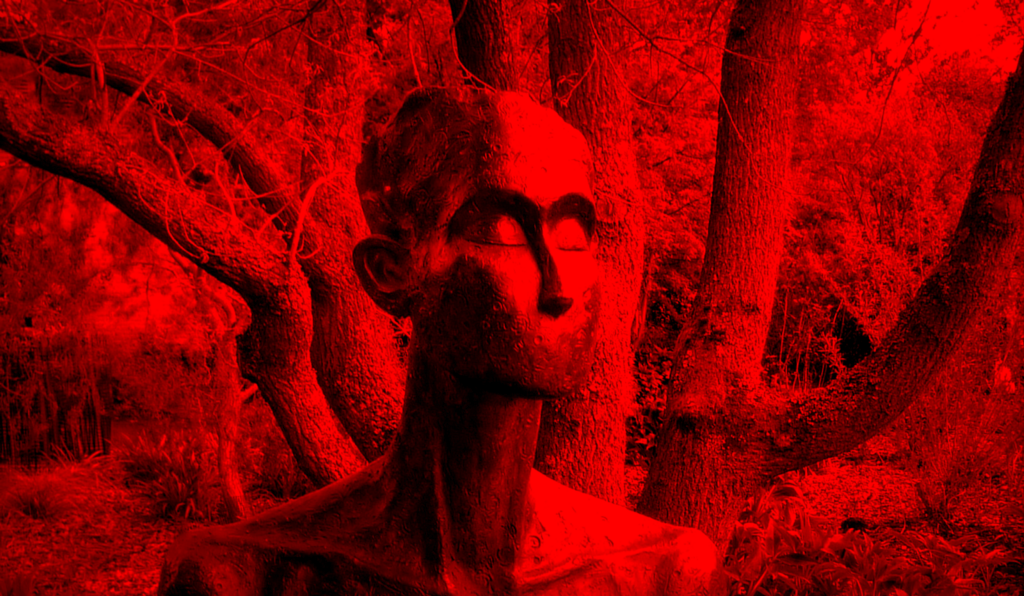 Every person who's misused arguments for free speech to defend white supremacists has some of Heather Heyer's blood on their hands.
The way we were going, this was always going to end in blood. Every person who's ever misused arguments for free speech to defend Nazis or white supremacists — just so they could puff out their chests and apocryphally quote Voltaire with smug certitude — has some measure of Heather Heyer's blood on their hands.
The road that James Alex Fields Jr. sped down was paved with countless editorials in major newspapers and magazines that positioned student movements or black women on Twitter as existential threats to "free speech." It was paved by those who said they were less afraid of Richard Spencer than the man who punched him. It was paved by countless people saying, "they're just words" or "it's just the internet, it's not real life" in defence of extremists' vitriol, never realizing that such statements are not mere words on the wind: they are promises.
After all, how many times have we seen white people online call for mowing down protesters? What happened in Charlottesville wasn't even the first time someone went out and actually did it. As a recent Slate article notes: "On July 10, 2016 — the same day a South Carolina fire captain threatened to run over BLM protesters who had shut down Interstate 126 — an SUV driver in southern Illinois plowed through a group of BLM protesters after yelling 'All lives matter, not blacks, all lives.'"
That was over a year ago, and we should have seen then how hateful social media slogans quickly become action.
Meanwhile, in the aftermath of Heyer's murder, a Springfield, MA policeman wrote on Facebook — in response to a news article about the terror attack — "Hahahaha love this, maybe people shouldn't block roads." He added, to someone trying to argue with him, "How do you know [the driver] was a Nazi scumbag? Stop being part of the problem." An incredible two step: celebrating a woman's murder, and then tut tutting someone who insulted her murderer while retreating behind formless relativism.
The many instances of whites letting loose their hatred online and calling for the mowing down of protesters are wishes being loosed into the ether. Eventually, they'll coalesce into a deed. As I said, they are not just words, they are promises, given force and urgency by the overheated rhetoric that prevails on social media, where even the most extreme racists are given free reign to agitate without limit.
Years ago, a study by the Southern Poverty Law Center made abundantly clear that hate sites like Stormfront were a common denominator for the spate of white nationalist terrorism we've seen on both sides of the Atlantic. The SPLC describes what should now be an all too familiar profile of an angry young white man with internet access:
"Assured of the supremacy of his race and frustrated by the inferiority of his achievements, he binges online for hours every day, self-medicating, slowly sipping a cocktail of rage. He gradually gains acceptance in this online birthing den of self-described 'lone wolves,' but he gets no relief, no practical remedies, no suggestions to improve his circumstances. He just gets angrier.
And then he gets a gun."
This was written in the days before GamerGate and the alt-right co-optation of 4chan, but the analysis readily applies to these larger, more easily accessible echo chambers, which have now claimed whole fiefdoms on Facebook, Twitter, and Reddit; their combined reach vastly outstrips that of the two decade-old Stormfront.
It was an important first step that GoDaddy and then Google booted the white supremacist Daily Stormer from their hosting services after the site's role in radicalizing Fields — and celebrating his rampage — was made abundantly clear. That decisiveness was vital, and an even stiffer moral spine will be needed in the days and weeks to come. The time for pretending this group of white-right terrorists are playing the same game of democratic discourse was over decades ago, but some continue to refuse to wake up and acknowledge this reality.
Sacrificing Lives for Liberal Principle
In truth, we need to add the ACLU to this list of naysayers; they actually defended the Nazi and white supremacist mob, fighting the city of Charlottesville when they tried to move or cancel the march. Now, the rally they fought for — because of vague, abstract "free speech" principles grounded in a liberalism allergic to meaning — has claimed a life and seriously injured many others.
Liberals like Jonathan Chait, Jon Ronson, and Michelle Goldberg deserve their share of criticism for their spinelessness. Free speech absolutism originates, after all, from both Constitutional minimalism and a particular school of liberalism that sees principle as an end in itself — but there are leftists who are quite keen on the usual cliched arguments as well.
Why Punching Nazis Is Not Only Ethical, But Imperative
Glenn Greenwald, for instance, defended the ACLU at length for their choice to defend both the extreme right troll Milo Yiannopoulos and the Charlottesville march. He likens us — those who openly criticize the reductive use of the Constitution to support hate crimes — to people who attack the ACLU for defending the civil liberties of terror suspects, or who attack the Council on American-Islamic Relations as "terrorists."
Take note of the following, content-free argument I'm sure you've never heard before: "One of the defining attributes of fascism is forcible suppression of views."
(Running over a young socialist woman does indeed suppress her views, but Greenwald is wringing his hands here for her murderers, keep in mind.)
Or this equally vacuous cliche:
"Is it not glaringly apparent that the exact opposite will happen: by turning them into free speech martyrs, you will do nothing but strengthen them and make them more sympathetic? Literally nothing has helped Yiannopoulos become a national cult figure more than the well-intentioned (but failed) efforts to deny him a platform."
As someone who watched Yiannopoulos' rise, I've borne witness to the fact that no one with any real power stood up to him and his abuses; this absence is what abetted his growing popularity. The passive permission granted to him by social media platforms, universities, and the press carried with it an imprimatur of approval and acceptability. The grating noise you heard was the sound of the Overton Window shifting.
Greenwald's words are interchangeable with those of any number of liberals he otherwise abhors and disdains as warmongering crypto fascists — a fact I find darkly amusing. But he makes a more novel argument here that's also worth quoting:
"It's easy to be dismissive of this serious aspect of the debate if you're some white American or non-Muslim American whose free speech is very unlikely to be depicted as 'material support for terrorism' or otherwise criminalized."
This is as insulting as it is fantastical. Most of the noble warriors for abstract free speech I've encountered, who especially elevate the speech of Nazis and their ilk to prove their virtuous fealty to a principle, are white. In truth, it's marginalized people, queer/trans people and women of color like myself, who often look askance at the tremendous amount of ink spilled by white men like Greenwald defending the untrammeled rights of people who A) say they want to kill us and take away our rights, and B) do so on a regular basis.
We don't look at Nazis being too scared to march and think "there but for the grace of God go I," but instead think, "good, I can breathe that much easier."
His defense of the ACLU here also makes no note of how their Virginia chapter was apparently trolling the counter-protesters hours before Fields' terror attack, snarkily pointing out how a black counter-protester was carrying a bow and arrow.
In addition to functionally narc'ing for the very police state Greenwald claims to abhor, it expresses the same tut tutting of our self-defense and political expression liberals love to indulge in. At the risk of stating the obvious, it wasn't that counter-protester who ended up killing anyone; it was the ACLU's client and object of Greenwald's fetish principle.
There is a difference between defending the civil liberties of someone accused of terrorism (I have no doubt Fields, as a white man, will be accorded every democratic legal courtesy) and saying that a group of people who we know will likely be aggressively violent and bigoted should be permitted to congregate—with weapons—in a public square rich with targets.
Further, Greenwald's direct comparison of the defense of Muslims (a vastly diverse group of 1.6 billion people who, in the West, comprise a religious minority routinely subject to discrimination and abuse) to the defense of Nazis (a discrete affinity group united by racial supremacism with murderous intent towards those self-same minorities), and the racism directed at the former to justifiable outrage at the latter, is completely obnoxious.
Much like his comparison between Nazis and left wing activists.
Since Greenwald is so eager to liken us to Dick Cheney, I might point out that this invidious equation of fascists, socialists, and communists is itself a popular right wing talking point. But one need only say this: there are many kinds of socialism and communism that are not Stalinism; there is no expression of fascism but Hitlerism. We can and should be able to make moral judgements accordingly.
Our deaths — the deaths of trans folks, POC, and members of other marginalized communities — are the true content of Nazi, white supremacist, and neo-Confederate speech. Their rallies are "peaceful" in the way Richard Spencer's promise of "peaceful ethnic cleansing" is peaceful.
Contrary to Greenwald's bizarre fantasy about how all non-whites agree with his absolutism, we understand that reality and organize around it. Securing unlimited rights for Nazis does not guarantee my rights; it forfeits them. Bear in mind who Fields targeted with his car: a group of protesters, many of whom were women and people of colour carrying "Black Lives Matter" signs.
There are many kinds of socialism and communism that are not Stalinism; there is no expression of fascism but Hitlerism.
As I was at pains to point out months ago, this vision of untroubled free speech always runs afoul of the fact that there are rights conflicts in any democracy. No one person can have unlimited rights, lest they inevitably interfere with the rights of others. In this case, the privileged indulgence in the rights of Charlottesville's Nazi marchers conflicted quite directly with the right to life putatively enjoyed by the counter-protesters (who all comprise direct targets of Nazi violence).
What Liberals Don't Get About Free Speech In The Age Of Trump
How many of us must die before liberal and left wing white men realize that they're not the ones being asked to make the ultimate sacrifice so they can hold on to a parlor game principle? Why do they not see that the "free speech" argument creates a moral loophole large enough for these murderers to drive through?
Jeremy Christian, who murdered two men on a light rail train in Portland, OR, reportedly said "Get stabbed in your neck if you hate free speech" to police, days after attending a "free speech rally" in the city that hosted extreme right wing groups. These people are adopting this term for a reason. When we use "free speech" as moral spackle to cover up the true content of these people's' beliefs and deeds, they will take that as a cue and use it accordingly.
This nonsense will keep getting people killed until we grow up as a society and accept that we can make decisive moral judgements about speech acts. Taking action against Nazis is not a slippery slope; it's a sticky floor. It is the ethical ground on which we must stand in order to take our bearings.
A Foolish Consistency
The catastrophic failure of mealy mouthed "both sides"-ism, which Greenwald's editorial is but the liberal version of, was revealed this week when Trump's initial condemnation only blamed nameless "many sides" for violence that had a single source.
To look at how white supremacists, neo-Confederates, and Nazis cheered on that statement, even though it (in some vague, abstract way) condemned them, is instructive. It tells you how and why they thrive on moral ambiguity and relativism, why condemning "both sides" is illusory in its fairness and how it actually emboldens the true culprits by enabling them to skulk in the shadows of namelessness.
Why do they not see that the "free speech" argument creates a moral loophole large enough for these murderers to drive through?
One of the last social media posts that Heather Heyer made was the popular slogan "if you're not outraged, you're not paying attention." Her final act was to march with Black Lives Matter protesters and members of the local DSA chapter — which has fundraised a storm for Heyer and her family. Meanwhile ten others remain in hospital, like Natalie Romero, a Latina student at UVA who joined the counterprotest.
It didn't have to come to this.
But every inch of permission granted by our liberal thought-leaders, and the leftists who've abetted their arguments, every bit of digital earth ceded by Twitter, Google, and Facebook, every "it's the principle of the thing!" argument made by well-meaning whites in defense of our would-be assassins, brought us closer and closer to the point where Charlottesville was inevitable.
As so many of us pointed out, the Klansmen, Nazis, and neo-Confederates were marching en masse in broad daylight without hoods or masks. That boldness has its origins in the permission granted by powerful institutions and prominent commentators who said the "marketplace of ideas" would crush Nazism, in Twitter's ongoing failure to stamp out the Nazi presence on the platform, in the excuses made by liberal/left commentators eager to score easy points off of student activists rather than do the hard work needed to fight an actual threat to freedom.
All this in the name of that foolish consistency that Emerson excoriated so long ago, as if discernment were not also a moral and intellectual skill.
I could say "the time for illusions is over" or some such thing, but people of color have been dying for decades so that people like Greenwald or Chait could cling to a fantasy of "free speech" that never includes us when we need it most, that privileges the speech rights of our murderers over our right to live. It needs to stop now.
I am not the price to be paid for the hobgoblin of your consistent arguments.
Looking For A Comments Section? We Don't Have One.