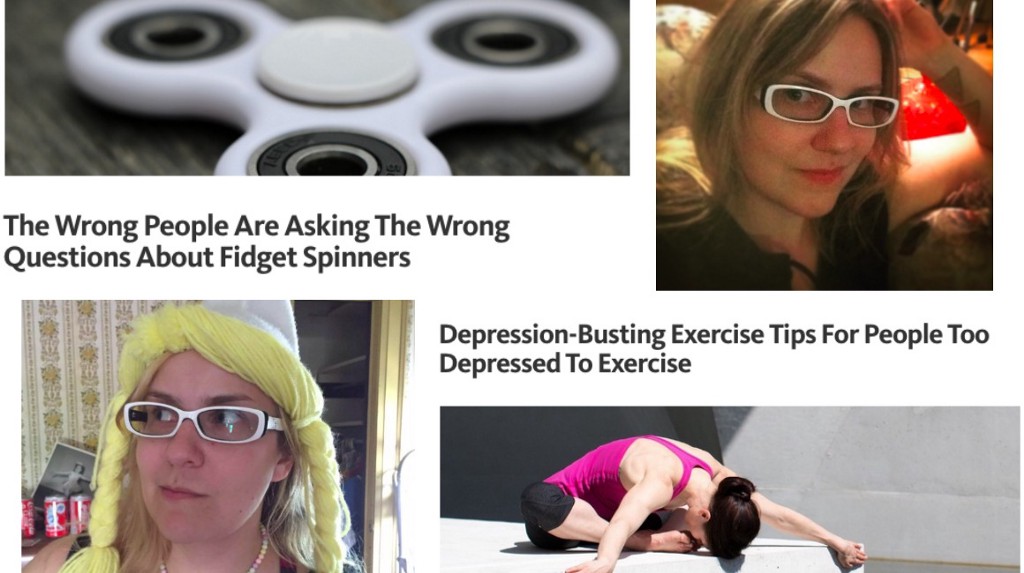 'I'm living the dream! I have no choice!'
There are many skills one can acquire as a writer: grammatical accuracy, structural integrity, a robust vocabulary. But one writerly skill can never be found in the pages of a how-to book or within the classroom of a writer's course: an authentic voice.
To employ that classic old idiom, you either have it or you don't.
Sarah Kurchak has it.
You feel, after reading Sarah's work, that you don't just know her as a writer; you know her as a person. There is no pretense, no laboriousness, no smoke or mirrors. She is, well, real…and because of that, as a reader you implicitly trust and feel connected to her.
Sarah's inimitable genuineness is unflagging, whether she's deftly exploring the mental-health impacts of social media, shrewdly questioning the fidget spinners phenomenon, thoughtfully heralding an autistic muppet, constructively offering actually useful exercise tips for those battling depression, or lovingly diving into the wonderful world of teen toy-horse hobbyists.
In short: We could read Sarah all day. And we kindly invite you to do the same.
Below, Sarah shares her thoughts on writing, Man From U.N.C.L.E. memorabilia, and being able to share her undying love for Robert Vaughn.
You can generally find me writing in my apartment on a beleaguered laptop while searching for gifs of Robert Vaughn and desperately trying to convince myself that it's part of my process.
The TV character I most identify with is Abed Nadir from Community.
I think "paying writers in exposure" is disingenuous bullshit. And I've noticed that a lot more people offer to pay me in exposure since I started writing about autism. Wonder why that is…
My most listened to song of all time is "Turbo Lover" by Judas Priest.
The coolest thing I've bought from money made writing is a set of vintage Illya Kuryakin and Napoleon Solo Man From U.N.C.L.E. dolls from the '60s. They've been sitting on my desk ever since. In various poses that I would consider canon compliant.
If I could give the amazing people who sponsor stories anything in the world to express my gratitude, it would be a mixtape. Alternately, if these amazing people do not share my taste in music, I could give them the gift of sparing them from one of my mixtapes.
I like writing for The Establishment because it's genuinely the best outlet I've ever written for. They're not just dedicated to publishing neurodivergent voices, they're actually willing to make accommodations for our needs throughout the process. (And they let me write about Robert Vaughn.)
Robert Vaughn Was The Greatest Actor-Activist You've Never Heard Of
The story I want to write next is an essay that explores the ways in which Duran Duran's 1985 concert/sci fi film Arena (An Absurd Notion) unwittingly predicated online fandom and mansplaining is, therefore, one of the most relevant works of our time.
Writing means this to me: I've wanted to be a writer since I was 6 years old. I've tried and failed to do a lot of other things, often at the cost of my physical and mental health, since then and nothing has worked out. So now I'm in a place where writing is all I've ever wanted to do and the only thing I can do. I'm living the dream! I have no choice!
If I could summarize writing in a series of three GIFs, it would be:
The idea phase:
The whole actual writing part:
Publication:
Looking For A Comments Section? We Don't Have One.