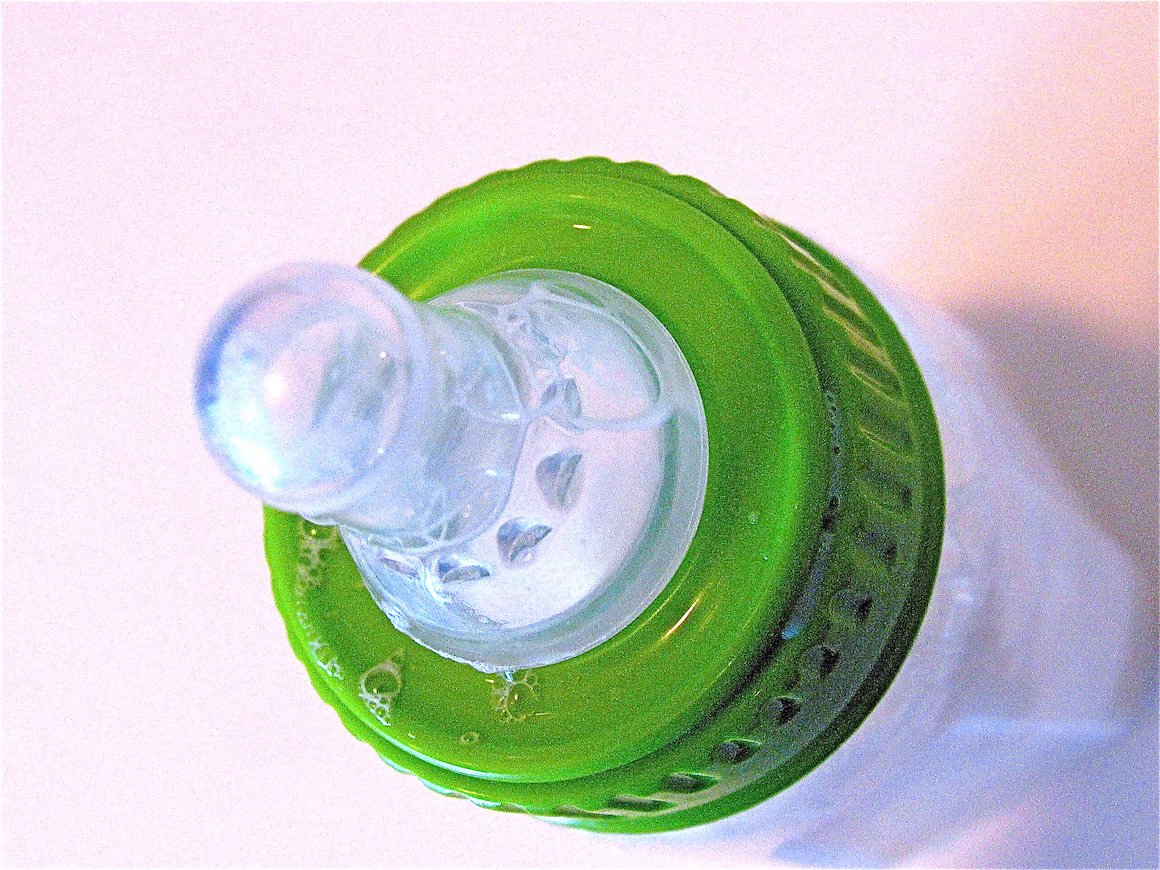 I felt pressure in my chest, as I saw that the number on the baby scale had dropped. My daughter was starving. I was starving her.
I pretty much always planned to breastfeed. It seemed like a given—not even a choice, really, but something I had to do. I knew that breast was best, because that message is everywhere from billboards, to magazines, to social media, to the posters on the wall of my doctor's office. When the nurses asked me, "how do you plan to feed your baby?" I told them I was breastfeeding. Their smiles made it clear I had answered correctly.
When she was born, the first thing I did was nurse her. As a "Baby-Friendly" hospital, they encouraged all new moms to breastfeed exclusively. I carefully logged her feeding sessions on the chart they provided—30 minutes, 45 minutes, 15 minutes. When the nurses came to check on me, they said things like, "you're doing such a good job, mama" and "everything looks great."
After the first 24 hours of motherhood, I felt like a rock star. Everything was going exactly as planned. Then the next 24 hours were brutal. My daughter alternated between nursing and screaming. She couldn't stay awake to nurse, but wouldn't stay asleep if I put her down. She cried; I cried. I was too exhausted to think.
The next morning, I called the La Leche League. They told me to "just keep breastfeeding." Everything would work out, and my baby was fine. Then I called the hospital lactation consultant, who said the exact same thing. My milk likely hadn't come in yet, the baby was fine, and I shouldn't worry as long as I kept nursing. She scheduled an appointment for me to come in the next day.
I didn't want to fail at breastfeeding. It was not an option. As I reread my worn copy of The Womanly Art of Breastfeeding, I started to panic. I knew deep down something was wrong, and she wasn't getting enough milk, but I was doing everything right, and I wanted it to work so badly.
Everyone said that breast was best. My friends, family, midwife, and the brochure they gave me at the hospital. When I had my baby, I worked for a women's health provider, where we talked about breastfeeding with our clients, as if it was the easiest thing in the world. Public agencies like the Centers for Disease Control promote exclusive breastfeeding, as if it's a simple problem of awareness. The truth is breastfeeding is hard, and sometimes not even close to possible. This pressure is not only unfair, and misguided, but parents and babies end up getting harmed in the process.

At the time though, I thought I just had to try harder to make breastfeeding work. I mean, obviously the problem was me. I met with the lactation consultant. She pressed my breasts into hamburger shapes, and squeezed my nipples to produce drops of milk. I felt my daughter's tiny mouth latch on like a snake. I felt pressure in my chest, as I saw that the number on the baby scale had dropped. My daughter was starving. I was starving her.
My baby was admitted to the hospital for jaundice and dehydration. As I watched her gulp down formula, I felt like a failure. I told myself that I would just have to try harder, to do anything it took. There was a "breast is best" sign on the NICU wall. I asked for a breast pump and left her lying there under blue lights. When I returned with less than an ounce of breast milk, the nurse said, "is that all?" I felt the weight of her disappointed gaze.
I didn't want to fail at breastfeeding. It was not an option.
Click To Tweet
When my daughter was discharged, I started the impossible routine of breastfeeding, supplementing, and pumping 10 times a day, to boost my supply. I don't really remember much about the next few weeks, aside from the pressure and pain of trying to make breastfeeding work. I should have spent the so-called fourth trimester loving my baby and learning how to be a mom. Instead, I was so preoccupied with breastfeeding, that I didn't get a chance to really be her mom. I don't really remember things like her first smile or laugh. I just remember the pumping.
I felt so much pressure, not just to breastfeed, but to breastfeed exclusively, as though my entire existence depended on increasing my supply. My midwife secretly prescribed me expensive prescription drugs that aren't approved in the U.S.  I drank breastfeeding tea, took herbal supplements, and ate food reputed to increase supply. My nipples bled and cracked. My supply increased, only to dip again, and never became enough for my baby. I continued for months, not taking time to sleep, eat, or bond with my baby.
I felt shame. Rather than be seen in public giving her a bottle, I would hide in the bathroom to feed her. My identity was so wrapped up in how much milk I was making. I thought I was selfish, lazy, and a bad mother. Other people thought this too—the woman in the formula aisle said, "don't you know that breast is best. The relative at my grandpa's funeral said, "oh, you stopped breastfeeding? That's so sad. My breastfeeding friend said, "you should just try harder." Strangers on the Internet went so far as to tell me that formula was like feeding my baby McDonald's or that it would make her sick. Hell, even the can of formula has the phrase Breast Is Best on the side.
As a woman, I'd spent my life under pressure—to be pretty and thin, to be pleasant, to succeed, to get married and have babies. I had been molded by society and myself into a perfection-seeking missile, never wanting to miss the mark. After 30 years of living up to expectations, there was no way I was going to fail to provide the best for my baby.
Eventually, I cracked under the pressure. I started to think my daughter would be better off without me. I made plans for her, once I was gone. I figured that my husband would be fine. He would have help from my parents. Or maybe someone else could care for her. A breastfeeding mom could nurse her. I wasn't able to think straight, to really process what I was feeling or how the pressure to breastfeed was making me hate myself. My daughter was thriving on a combination of formula and breast milk, but I still thought I was not enough.  
Hell, even the can of formula has the phrase Breast Is Best on the side.
Click To Tweet

Now, I have breastfed and formula-fed three babies to varying degrees, and I learned there are so many more important parts of being a mom. The constant refrain of "breast is best" made me hinge my success as a mother on something I couldn't control—the physical ability to exclusively breastfeed—which I later learned was never going to be possible for me. It actually isn't possible for a lot of new moms.
As human milk researcher Shannon Kelleher, PhD notes on themomvist.com, between 10 and 15 percent of moms can't produce milk, and many more cite supply issues as the reason they stopped breastfeeding. While organizations like the World Health Organization and the Baby Friendly Hospital Initiative (BFHI) recommend exclusive breastfeeding for at least six months, only 22 percent of moms in the U.S. meet that goal.
Recommendations like this sound awesome, but fail to acknowledge how physically challenging breastfeeding is. Not to mention other pressures moms face in our society to "do it all"—working jobs with no parental leave, and not having enough support to raise babies, let alone exclusively feed them with our bodies. For many of us, the pressure to breastfeed contributes to postpartum depression, which impacts an astonishing one in seven new moms.
In July, Trump Administration rejected a breastfeeding resolution at the World Health Assembly in Geneva to promote exclusive breastfeeding worldwide and fund initiatives like the BFHI. And while people largely dismissed this move as patently bad, I had a moment of relief. As a culture, we've set the bar so high, and put new moms under so much pressure to achieve the impossible, that they are literally dying.
When you consider that in the U.S., babies do just as well on formula as breast milk, it's time to take a step back from the "breast is best" rhetoric, to support all new parents in choosing to feed their babies in a way that works for them, and relieve some of the pressure of new motherhood, which is hard enough as it is.
As a culture, we've set the bar so high, and put new moms under so much pressure to achieve the impossible, that they are literally dying.
Click To Tweet
I still remember the day the pressure started to dissipate for me. In the middle of my panic over breastfeeding my first child, I called a friend, the only formula-feeding mom I knew. I don't know why I called her that day, but she came over. She sat with me, while I called my doctor to schedule an appointment. She held space for me to cry and vent all of the worries, and fears I had about formula, and all of the shame I felt about not breastfeeding. She offered no pressure, just support.
Most importantly, she told me about how her kids had done well on formula when breastfeeding didn't work out for her. As we watched our beautiful children smile and coo from a blanket on the floor, I knew that she was right. Breastfeeding or not, I was enough. Formula was enough, or maybe even best for us. It was like being reborn as a new mom, without the crushing pressure to breastfeed. Slowly, but surely, I began to thrive, and my baby thrived, too, without another ounce of breastmilk.