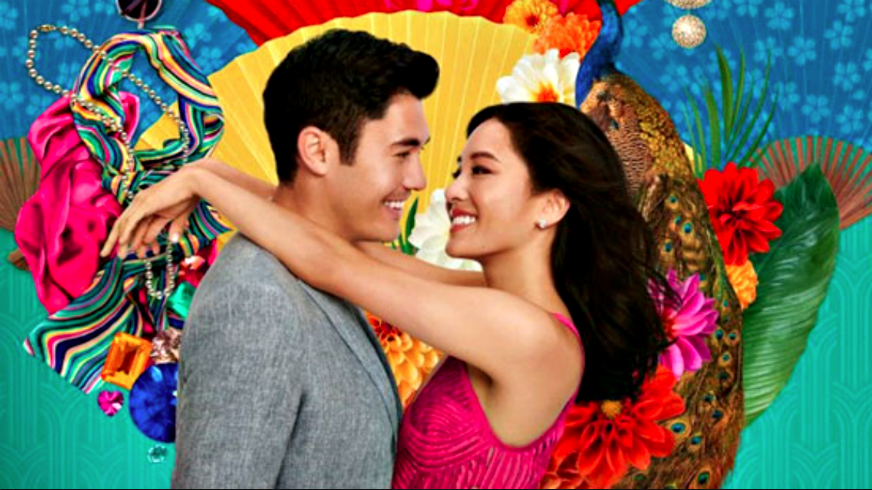 All art deserves criticism, but it's important to evaluate where that criticism is coming from.
Crazy Rich Asians is being touted as the hit romantic comedy of the summer and a cultural win for Asian-Americans, but not everyone feels that way; the dialogue surrounding this charming and effervescent rom-com has been divisive and complicated.
The criticism Crazy Rich Asians has received for its promotion of the model minority myth and moments of anti-blackness are completely valid, but we also need to be realistic about the role pop culture plays in pushing a truly progressive agenda and the timeline in which that agenda unfolds.
As a poor, fat, queer, mixed Filipina-American, I didn't relate to Crazy Rich Asians either, but as a person who studied film and works in the entertainment industry, I know better than to look for my story in the mainstream. This movie is not all of Asian American representation. It's the introductory course that gets Hollywood interested in more complex lessons about our community.
It's easy to focus our hatred on a tangible product rather than at the larger system. The Joy Luck Club was the last major American film with a majority Asian American cast and it was released 25 years ago. This film too—which is decidedly more serious and more relatable to a larger group of Asian-Americans, continues to receive hypercritical ire for not doing "enough" for the community. But Amy Tan, the author of The Joy Luck Club, and Kevin Kwan, the author of Crazy Rich Asians, have a responsibility as artists to share their truth—however small a slice of truth that is—and it's unfair to demand that these singular pieces of art speak on behalf of all of Asian America.
This is a complex community—representing 21,655,368 individuals with ancestral ties from over 40 countries— comprised of multiple ethnic groups, social classes, and intersectional experiences.
We need to be realistic about the role pop culture plays in pushing a truly progressive agenda and the timeline in which that agenda unfolds.
Click To Tweet
When Kwan wrote Crazy Rich Asians, he was drawing from his experience as a wealthy Singaporean-American. In a video op-ed for Harper's Bazaar titled "These are the Real Crazy Rich Asians," Kevin Kwan says, "How much of my book is based on reality? About 150% of it." This is the world he lives and knows. For Kwan to write a book based on any other Asian-American experience, but his own would be hollow and disingenuous. To expect more denies the validity of his experience and sets a dangerous precedent for other marginalized writers.
We already have to hide certain facets of our identities when navigating this bigoted world, we shouldn't have to hide our truth from our own communities. All art deserves criticism, but it's important to evaluate where that criticism is coming from. Our community's resentment with Crazy Rich Asians and The Joy Luck Club has less to do with the actual films and more to do with the painful truth that Hollywood continues to deny our multicultural and multifaceted existence.
Crazy Rich Asians was never going to be a radical criticism of capitalism, white colonialism, and racism in the United States. The gatekeepers of Hollywood benefit from upholding those systems; to take aim at these systems would take aim at their own power. Despite its self-purported  progressive reputation, Hollywood is a business—a business that made $11.7 billion in 2017—and is still keenly focused on making a profit. And that profit is believed to stem from a film's ability appeal to the whiter—ahem, wider—American audience.
The disillusionment felt by many Asian-Americans shows that marginalized people are hungry for representation in Hollywood and that they don't fully understand the trials of filmmaking in a system as bigoted and bureaucratic as Hollywood's.

There are three major parts to the film production process,  and a film can die at any of these points: Development, Production, and Distribution. For a major motion picture, every step of this process can cost hundreds of thousands of dollars. This goes to pay writers, talent, crew, executives, lawyers, and everyone else involved in the making of the film as well as costs for costuming, location, and props.
It's impossible to find out how many scripts get passed over by the power players in entertainment, but here are figures from a small facet of the industry.  The Black List is a "an annual survey of Hollywood executives' favorite unproduced screenplays" founded by Franklin Leonard, a Black Hollywood executive that wanted to get the industry to take chances on scripts that kept getting passed over. Along with the annual survey, the Black List has become a place where unrepresented writers can get feedback and industry eyes on their work.
The Black List "has hosted more than 55,000 screenplays and teleplays" since it started and of those 55,000 only 338 were put into production. Only 6% of the movies that were hosted on the site made it into production, and that's coming from a place that wants writers to succeed.
With Crazy Rich Asians, the source material was already there in Kwan's bestselling book. In August 2013, Nina Jacobson, the founder of the production company Color Force, bought the adaptation rights to Crazy Rich Asians only 2 months after the book was released. Once the rights were bought, it would be logical for production to start soon after. Well, that's when the production entered its personal "Development Hell"— an industry term for a project that's stuck in the development stage for years.
Crazy Rich Asians didn't start production until 2017 for many different reasons, including a scheduling conflict with lead actress Constance Wu, due to her role on Fresh off the Boat. Roadblocks like this aren't uncommon for productions, especially feature films. All of the normal struggles that a feature film faces—script, crew, actor changes, going over-budget, licensing issues, etc.—are heightened when the film centers on people of color. It is a lot easier to say no to a film that doesn't have a profitable precedent, so it's remarkable that people kept saying yes to Crazy Rich Asians at all.
As a poor, fat, queer, mixed Filipina-American, I know better than to look for my story in the mainstream.
Click To Tweet

When people see Crazy Rich Asians in theaters, the logos of the production companies flash before their eyes and the first few names aren't recognizable to most American moviegoers—SK Global (made up of Sidney Kimmel Entertainment, and Ivanhoe Pictures), Color Force, and Starlight Culture Entertainment. The last logo to fill up the screen is the iconic Warner Bros. Studios shield, with the words "Distributed By" above it. This demarcation as distributor—and not as a production company—is extremely important.
Jacobson knew that if she wanted to make Crazy Rich Asians a reality, she would have to go outside the American studio system for funding, hence the partnership with Ivanhoe Pictures, a U.S.-based Asian film investment group. Starlight Culture Entertainment, one of the other production companies involved, is a giant Hong Kong investment company with stakes in multiple industries aside from entertainment, including chemicals, environmental protection products, and gambling. These production companies are the ones that believed in Crazy Rich Asians.
They are the ones that work on adapting the material and creating a package (attaching a director and producer to a script to make it more marketable). They are the ones that bring their creative assets to distribution companies to get more funding and guarantee that people will get a chance to see it.
According to the Hollywood Reporter, Warner Bros. and Netflix were the two distributors that the creative team behind Crazy Rich Asians had to choose between. Kwan and Jon Chu, the film's director had to make the final decision. They ultimately chose to go with Warner Bros., despite the lesser offer, because they wanted the cultural impact of a theater release.
As a traditional distributor, Warner Bros. backs the project and sends it out to their distribution channels— theaters, rentals, and personal copies—hoping to make a profit (or at least their investment back) in ticket, DVD, BluRay, and digital download sales. Warner Bros. shares of the profit come back to them, so they can continue the cycle with another film.
The disillusionment felt by many Asian-Americans shows that they don't fully understand the trials of filmmaking in a system as bigoted and bureaucratic as Hollywood's.
Click To Tweet
It's not shocking that Netflix was willing to give Crazy Rich Asians a trilogy deal right off the bat. Netflix, and other digital subscription based distributors, have taken more chances on projects that feature marginalized characters than traditional studios because of their business model. They don't have to gamble on ticket sales to make their money back—they already have a well of money from subscription fees to draw from. But if Kevin Kwan and John Chu had chosen the initial Netflix payday over Warner Bros. smaller budget, Crazy Rich Asians wouldn't be a cultural touchstone that sold out theaters for multiple weeks.
The initial goal of any film is to make the backers' investment back, but the stakes are even higher with minority-lead films. The experiences of people of color are automatically politicized, and subsequently othered. Studio executives don't think general (i.e. white) audiences will relate to characters of color. They don't believe that the stories of marginalized communities will succeed (even when it's been proven they will time and time again).
Girls Trip was only given a $20 million budget (even with the star power of Queen Latifah, Jada Pinkett Smith, Regina Hall, and Tiffany Haddish) and it ended up making $140 million gross—seven times its budget back. Warner Bros. believed in Crazy Rich Asians enough to back it, but gave it a relatively small budget of $30 million considering the high-profile actors and the lavish backdrops, costumes, and set pieces that the story demands. In its first two weeks, Crazy Rich Asians, more than doubled its budget in box office revenue, proving that it wasn't such a risky bet after all.
The American film industry has largely failed us since its inception in 1907, and will continue to fail the most marginalized of us. Supporting major releases—even begrudgingly—helps convince major studios and distributors to bet on more of our stories. All the odds were stacked against Crazy Rich Asians—a fun, apolitical, rom-com with light-skinned Asians that speak King's English. It took years of community building and pushing against Hollywood gatekeepers to get this film made. It took allies with power to bet their good standing in the industry on the stories of people of color. It took the cultural groundwork of The Joy Luck Club, Fresh off the Boat, and every bit of honest representation in between.
If people still aren't content with our victories in the mainstream, seek out and support the underground! There ARE independent filmmakers making the most brown, queer, anti-capitalist Asian-American films you can imagine—like the 2017 short film Salamagan (dir.  Elisah Oh) currently on the film festival circuit.
Organizations like CAAM, CAPE, Kore, and 18 Million Rising, are dedicated to uplifting diverse Asian-American artists through funding, fellowships, film festivals, screenings, and promotion through social media. CAAM's film festivals feature some of the biggest names in Asian-American entertainment right alongside new talent (and they're taking submissions right now!)
Many of these organizations have events with actors, writers, directors, and producers at all talent levels because they are meant to uplift our community through art and mentorship. I urge you to take all your anger, disappointment, and pain at Hollywood and Crazy Rich Asians and put that energy into artists and projects you want to see succeed.
Kwan told his story with Crazy Rich Asians. Now, let's go share our own.