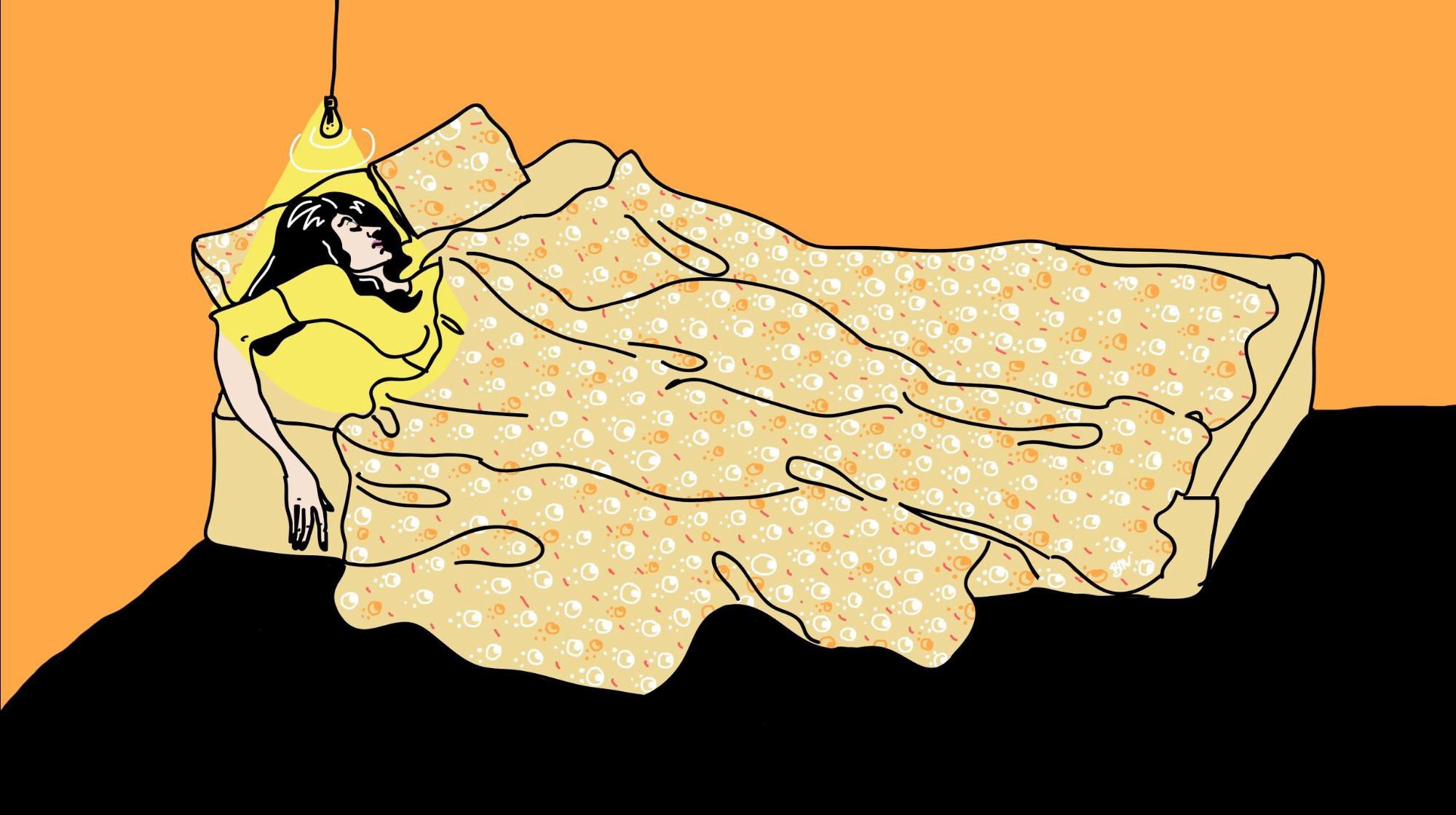 Most people I knew were quite invested in my happiness. So much so, that I lived in fear of disappointing them.
I wasn't trying to lie — not to outright deceive, anyway. I liked to think I was getting straight to the point. People were always asking questions that I already knew they didn't want the real answers to. They wanted to be reassured and sent on their way. Like when my mom gave me the rest of her finely smoked bacon before she and my dad went on vacation. It was a way of thanking me for a ride to the airport. Though if they had ever looked in my refrigerator, they would have known I was trying to cut down on my meat consumption. If they paid attention to how I lived, they'd have asked for a ride a week in advance.
"So how was the bacon?" my mom asked a week later. They had dusted my backseat in a light layer of sand. I told her that it was great. It was fantastic. I knew it was, she had told me so herself. Its quality had not diminished because I left it on my counter overnight and did not want to eat afterwards. It wasn't not great because I threw it away.
"Okay, good." My mom nodded and we said nothing more about it.
"Well, that's on you," my ex-girlfriend, August, might say. She was the kind of woman who was always showing up for friends who sometimes got so worked up that they had to take space and not talk for months. She liked to encourage me to take some space myself or take up more space or create space — the space around me wasn't right.
One night, August and I got drinks with some new friends of hers and when I dropped her off at home I said, "That was fun, thanks."
"Was it?" she asked.
"Yeah, it was fun," I said again. I meant it. We all sat around a cozy booth in a bar I liked and laughed and drank cheap beer and drew pictures of our young queer selves. I was charming and understanding and funny — because I knew that was what August had invited me there to be — and we really were an excellent team in that particular department. I enjoyed being those people together. But now with her pouting out the window, I wasn't so sure.
"I don't know anything about you. I tell you everything about me and you never tell me anything. Why is that?" she asked.
I watched her head shake and I tried to imagine that several months ago, we had not sat in this same car, in this exact driveway, her head faced away from me in the exact same posture, while I cried because she was breaking my heart and she had asked me to stop because I was making her uncomfortable. That this kind of pressure on her was exactly why we were breaking up.
So, now, as we sat again in her driveway and she wondered aloud why I was not open and forthcoming with her, I told her what I thought a person without my painful memory of that driveway conversation might find helpful. "We have different ways of being friends," I said. Which wasn't a lie, it was absolutely true. But it wasn't everything I was thinking right then, and I knew I was not taking up the requisite amount of space.
"Okay," she said. "I'm not mad or anything, I just want to know about you."
"I know," I said. "I really care about you."
"I don't just care about you, I love you a lot." August said this with more than a hint of exasperation. She leaned over to give me one of those car hugs, where you hang half of your body over someone else and then pat each other. I felt simultaneously stupid and comforted by this because it was sharing myself with another person, but also more of a redistribution of weight than anything else.
I went home after that. I put on my t-shirt that featured a Mt. Rushmore configuration of adorable kittens. I watched Friday Night Lights and lusted after Tim Riggins and Tammy Taylor until that got boring. Then I tried to read an old New Yorker article about Jeb Bush and charter schools, but fell asleep instead. I woke up a little while later and the lights were still on. I considered that maybe in another version of my life, there could be a person who would know to turn the light off for me, and how nice it would be to let them do that.
"So what did you do last night?" my co-worker Ben asked me the next day. He popped his little head over the top of the wall between our cubicles.
"Nothing," I said. I didn't feel like explaining that I'd spent the evening working toward a productive friendship with my ex-girlfriend. So many of my friends tended to scoff at that idea. But then, most of my friends had an incredibly easy time finding people to turn their lights on and off for them, so I didn't think we were operating with the same value system.
Ben seemed to notice that I was just standing there too long, fingers hovering over my keyboard. "Must have been some crazy nothing," he said. "Mama's a little slo-ho this morning."
I sighed. "Mama did have some beers last night and then she didn't sleep all that well."
Ben shook his head. "Taking a page from Daddy, I see. Well the aspirin's on my desk if you need it."
This was the kind of lie that I didn't feel terrible about because Ben knew I was not telling him everything and he didn't mind. Ben also just wanted to get straight to the point.
"Okay," he continued. "If you had to be stuck on a raft in the middle of the ocean with me or Allan, who would you choose?" He paused to adjust his glasses. "And remember that I'll feel bad if you choose Allan, but that I would also understand because he is more handsome than me and I'd choose him because I'd hope he'd hold my head to his perfectly hairy chest and then fuck me."
"Oh my god," I said. "Don't worry, I like you better than Allan. If I were going to die on this raft, I'd want it to be with you."
"Awww, thanks," he said and reached his hand down from his giraffe height to pat my shoulder.
"But," I added, "if there was any chance of a rescue — any at all — I'd better be with Allan, because Daddy would definitely do something stupid and get us killed."
"It's like I can't even argue with that, because you're so right," Ben said. His voice betrayed his unreasonable gratefulness to me. "You're so wise," he murmured, and I heard him descend into his desk chair.
These were the kinds of truths that my friends applauded me for dispensing. I didn't know what to do with the fact that I felt no ownership, no special relationship to these types of "truths" — that they were no more or less real to me than the greatness of the bacon or mine and August's friendship. Everything was tenuous. Reality did not exist. There were just other peoples' versions of reality that you could acknowledge and learn your way around and eventually find a reasonable place to stand within. That was what I meant when I said that I liked to get straight to the point. I wanted to find a good place to stand in other peoples' lives, where I liked the scenery and felt that I was wearing appropriate shoes.
There were other cases that weren't as easy, but which I'd learned to navigate, all the same.
"Would you consider me to be high maintenance?" Goldie, my first love and now an exquisitely costumed drag king, texted me one evening. As if our relationship had not been born out of a shared obsession with Goldie. As if the question, itself, were not the answer. It was 10:30 pm in California, too late in New York City for unloaded banter.
"Ferraris are high maintenance," I texted Goldie back. "They also feature high performance."
"Thank you, that's right," came their prompt reply, and I heard nothing else for a week.
This was all well and good, though sometimes I lost track of the points I was trying to get to. With Goldie, it seemed that for more than a decade, the point had been to efficiently remind each other that we knew each other — that this prevented us from being entirely alone in the world. But it did occur to me that getting straight to the point left certain territories of our lives — namely the more recently developed, somewhat more mature portions — perfect mysteries to each other.
And it wasn't just with Goldie. There were large swaths of my life that nobody knew about. This was absurd because I had so many people in my life and they all knew so much about me. Still, there were nights when I went out walking, just to let the sharp prick of the stars make me feel lonely.
Sometimes I went into a dark dive bar alone and ordered a whiskey soda. I drank it very slowly and closed my eyes to really listen to the music. I made up dishwashing challenges for myself. I stood in front of the mirror after I got dressed and told myself, "Girl, I don't know what's up with that thing your pants are doing, but damn, you look cute today." I played the keyboard with my headphones on and recorded catchy tunes that got stuck in my head. My voice was so deep in the morning, so high and bright at night. I drank coffee on my tiny deck and imagined that the whoosh of the train passing by was the sound of the ocean. There was so much delicate beauty in my life.
And everybody had ruined it, just by being there. Though there was an exception.
"I'm worried about your particular happiness because nobody else knows how fragile it is," was Sophie's conclusion. This observation was not unlike one of the "truths" that I would dispense myself. This made Sophie the lone fixture on the lawn of my life. It didn't matter where she stood, it was always reasonable and did not require shoes — that was my highest level of friendship. We both lived for the moments when the movie we were watching on Netflix paused to buffer and rendered an otherwise flawlessly beautiful woman, horrifying. We believed success was living in the eye of a storm — in absolute calm, but at the center of everything.
'I'm worried about your particular happiness because nobody else knows how fragile it is.'
Click To Tweet
There was no direct point to get to with Sophie and so I never pretended anything. We wrote long meandering letters addressing every detail and turn of thought in preparing for and executing routine errands, like getting gas or going to the grocery store. When she came to visit me in the first apartment I'd ever lived in alone, she said, "It feels exactly like you, like home."
I couldn't have agreed more. But I understood that this sentiment was not even remotely available to anyone else. I had to consider that the series of direct points to which I'd been intent on adhering, had led me astray. Because I was 30 years old, and while I didn't expect to fall into deranged love anymore, while I didn't presume I'd be moved on a daily basis, I did hope that one day I would find others to contribute to the delicate beauty in my life. At least one person for whom the conflation of me and home would be natural. Which is to say, I still believed in an uncynical kind of romance. And if this wasn't happening through my active social life, then maybe my writing would take me there. Either way, it hinged on my ability to share my most private of property.
So the only reasonable action, I supposed, was to leave the gate open, if you will. To let people wander where they would and give them the chance to try to find a good place to stand. I began with August, who, as a poet and my ex-girlfriend, was already familiar with the landscape. Even if she couldn't contribute to the delicate beauty herself, I knew she would facilitate my own contributions.
"Let's rent a cabin," she emailed me one afternoon. I figured since she was the expert on space, I'd follow her advice. I chose a little place in Mendocino, in California, surrounded by trees and nothing else. I imagined I would reconfigure my space into a little donut, the hole of which would contain the final touches on the novel I'd been wrestling with for three years. Why not? Everything was tenuous. Reality did not exist. If we declared ourselves good friends, we were. If my novel sounded finished, it was. Afterward, in some other reality, these things would not be more or less true, but August would be there to remind me that I wanted them to be.
She and I had dinner together one evening in a beautiful restaurant with a high wood beam ceiling and low, warm candlelight. It reminded me of a cabin. "I can't wait to get away and just disappear into my book," I told her.
"What if you could do that all the time?" she asked me. "You've been wanting to quit your job since I met you. You might want to get started on that sometime."
"I might," I said. Then, instead of going home and putting on my kitten shirt and looking for life advice from Friday Night Lights, I said to her, "I might also need to admit that if I haven't quit yet, I lack the will and gumption to be a real writer. I fear I may not want it enough. Or maybe I fear that I do."
August pushed the last of our chocolate torte at me and shrugged. "You might, you might not. Don't you think just doing it is better than all of this navel-gazing? I, for one, believe in you." She said this like it was no big deal, but in that moment, we'd finally found appropriate places to stand, and it nearly brought me to tears.
I had to admit that I was feeling emotional. Assessing the value of my life and its collection of lies and truths seemed urgent because I'd suddenly gotten accepted into a writing residency in Vermont. It was not an altogether life-changing situation. However, if I were getting straight to the point with myself, I had really wanted it to be. I'd applied to the program knowing it would make a graceful way to leave my job. If I were going to brashly dispense my own "truth," the entire purpose of all of my private property — each delicate beauty — was to have a rich and endless abyss from which to pull threads for my writing. And the purpose of my writing was to create public pieces of my own private property, where myself and maybe others could feel that they'd come home.
Which wasn't happening. Or at least it wasn't happening at any rate that could propel me into the eye of any storm.
"I have to agree with August," Sophie sighed. She didn't like having to agree with anyone who had ever made me cry in a driveway. But she and I saved all of our letters so that when we became famous writers one day, the journey there would be preserved for any curious bystanders. There was no question about the point of our lives and yet, it had never seemed obvious how to get directly to it.
For the first time, I allowed myself to go around and ask for advice — not for validation, but for actual answers. "What do you think?" I asked everyone: the glitter-faced women with whom I sat around in Dolores Park on Pride, old friends who liked to make bread and cookies, new friends who liked tiki bars, my sunglass-clad art friends in LA and New York, my aunt who gave me the best gifts I had ever received. "Is it crazy and selfish to quit my job and run away with my writing? Am I just ungrateful? Will we all die alone anyway?"
"Hmmm," they said. I think it was safe to say that everyone had been aware of my private property for some time and had wanted to look in without being intrusive. Now that my proverbial gate was unlatched, they all hesitated briefly. My internal landscape was more cluttered and hilly, less sunny than they'd imagined. Not everyone appreciated my brand of delicate beauty. Eventually, however, they offered me a collective, "You know, why not?"
When I asked Sophie what I should be doing with my life she said, "The hard part is that you've yet to fall into serious decline and so it could start at any time. But that's okay because you already have such a beautiful life. You can always make that again."
Sophie was leaving her job in a month. There was a new life stage ahead of her, in which her boyfriend was going to attempt to become a lawyer in New York City and they were likely going to become a family — the kind that included children and a home, maybe even a legal contract. It didn't change the point of Sophie's life now, but I didn't see how it couldn't eventually have an effect on where we would stand. I told her as much, of course.
She had answered my phone call while riding her bicycle and I heard the click of her chain and the rush of her breathing while she considered this. "I don't know who I'll become yet, but if all else fails, I think I'd like the option to be happy," she said. "Wouldn't you?"
"Well, maybe," I replied.
I was generally all-in or all-out. I wasn't sure I knew how to maintain a back-up plan like that. I saw friends most nights of the week, felt fleetingly alive and then went home to put on my kitten shirt and then watch TV or write or cry or read until I fell asleep with the light on. There was a certain beauty in that. It both was and was not comfortable. It both was and was not happiness. It did keep my mind and my heart in constant motion, but it wasn't bold and it wasn't satisfying.
"You can't be like Elizabeth," my mom added sternly. Elizabeth, her massage therapist, who unequivocally gave the best massages my mom had ever received. Elizabeth, who purportedly couldn't get her cavity drilled because she had no dental insurance.
My parents wanted my reality to be like theirs. Everyone who loved me did, too. Most people I knew and even some I didn't, were quite invested in my happiness. So much so, that I lived in fear of disappointing them.
It was so much easier to construct half-truths and direct points that we could use to skirt around the real issue. Happiness, theirs or mine, was not the point of my life, exactly. It sounded melodramatic and inflammatory when spoken aloud. It sounded a lot like a lie.
Because I was well-known for my pool floatie collection, for colorful nights out, my love for pizza, personalized gifts and peaceful weekend getaways. I was incredibly fun. My private property, however, was something else. It was my place for exploring my unproductive tangles and knots. It was where I kept all of the people I was and might become and knew and resented and loved and missed and would lose — I hung around with lovely ghosts who left me with the same perfect ache as a loose tooth.
Together we wallowed and navel-gazed, were wistful and nostalgic, occasionally hopeful and forever incomplete. That was where my writing and I wanted to bask. It was life at its most gorgeous. And maybe that was selfish and irresponsible. I'm not saying there wasn't more to do with a person's life — with mine specifically. I certainly wasn't sure who could be expected to find a good place to stand, let alone a home in that. But this was my reality and I didn't have to keep it a secret. It was no more or less valuable than anyone else's. If the point was to keep company for my fluttering heart and its garden of sweet misery, there was no reason to make it private.
"It's like, what is happiness, even?" Ben had asked me on one of the quiet, dull days in our office. "It's basically just a social construction." He'd meant it as a joke, but it wasn't really. It was what August and Sophie had been telling me the whole time. I was allowed to make the people in my life acknowledge my private property, to spend as much time as I wanted wrapped up in its nuances — that was one version of what it meant to be bold and satisfied.
And I could live there if I wanted.