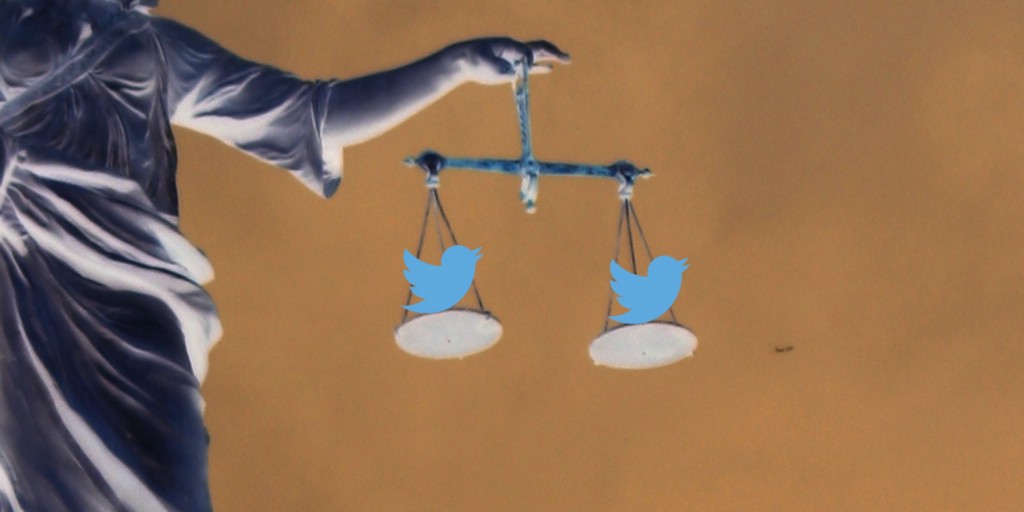 For many of the victims who posted their experiences as part of #MeToo, their options were internet justice or no justice at all.
By Becky Hayes
The most persistent criticism of the #MeToo movement is that advocates have abandoned due process in favor of trial by the faceless internet mob. Critics accuse the women leading the movement of pursuing "vigilante justice" or worse, a witch-hunt.
These critiques have dogged #MeToo from the beginning, and now that the backlash to the movement has reached a crescendo, we're about to hear a whole lot more.
But don't listen.
Social media is exactly the right place for #MeToo to play out. In fact, it's the only place it ever could. The frequent invocation of due process ignores just how inadequate the American legal system is for protecting women against sexual violence and harassment. It is precisely because the courts of law and other traditional avenues of recourse have failed women that they've turned to the internet and the court of public opinion.
Due process sounds great in theory. Zephyr Teachout, former Democratic candidate for the U.S. House of Representatives in New York, defined it as "a fair, full investigation, with a chance for the accused to respond" in her recent New York Times op-ed on this topic. It's hard to argue with that. The concept of due process is a fundamental pillar of the American justice system and one that we pride ourselves on.
The problem with #MeToo—according to its detractors—is that women have bypassed the courts, where due process rights apply, and gone directly to the public to seek out justice. The public, in turn, has rushed to judgment. Critics argue that justice can only be served by submitting these claims through the formal legal systems that guarantee basic fairness to the accused.
Social media is exactly the right place for #MeToo to play out.
We know from experience, however, that the systems currently in place to deal with complaints of sexual harassment and assault have systematically failed victims and have allowed far too many perpetrators to continue their abuse unchecked.
This is true of the nation's criminal and civil courts, forced private arbitrations, HR department investigations, and campus tribunals. There's no great mystery as to why. We have shorthand for these kinds of impossible-to-prove claims: "he said-she said."
The phrase refers to the fact that all too often the only evidence in sexual harassment or assault cases is the victim's word against the abuser's denial. The incident of alleged abuse almost always takes place behind closed doors, so there are no other witnesses. With so little to go on these claims almost never result in a successful verdict.
And while no database tracks the outcomes of employment discrimination cases nationwide, a review of a random sampling of cases by Laura Beth Nielsen, a professor at the American Bar Foundation and Northwestern University, revealed that only 2% of plaintiffs win their cases.
Even when there are eyewitnesses, much of the mistreatment women are complaining about falls short of the legal definition of sexual harassment. There is a big gap between what the public believes is appropriate workplace behavior and what is considered egregious enough to warrant discipline, dismissal, or legal sanction under our existing guidelines and laws.
For example, did you know that your supervisor grabbing your butt at work is not enough, on its own, to sustain a claim under Title VII, the federal law that prohibits workplace sexual harassment? The Equal Employment Opportunity Commission (EEOC) defines sexual harassment as "unwelcome sexual advances" that "unreasonably interfere with an individual's work performance," or that create a hostile atmosphere at work. Under Meritor Savings Bank v. Vinson the Supreme Court held that such conduct must be "sufficiently severe or pervasive" to "create an abusive working environment.'" As recently as 2014 a federal court dismissed the claim of an employee whose boss grabbed her butt twice in one day in front of co-workers because it was neither severe nor pervasive enough to offend the average woman according to the judge, a woman no less.
Laws protecting women from sexual misconduct are much narrower than the commentators who want to redirect all these claims into the courts seem to realize. Annika Hernroth-Rothstein argues in National Review that "[i]f sexual harassment is a crime, it should be fought not with hashtags but with the full force of the law" in a piece titled, "#Metoo and Trial by Mob."
Sexual harassment is not, in fact, a crime. Title VII imposes only civil liability — i.e. money damages — on employers in cases of workplace misconduct. Further, only employers with more than 15 employees are covered. Employees of small businesses have no federal protection.
Due Process Is Needed For Sexual Harassment Accusations — But For Whom?
The same goes for freelancers employed as independent contractors and unpaid interns. Some state and local laws are more generous, but these are few and far between. Sexual harassment claims against anyone but employers and, under Title IX, federally funded schools are not covered at all.
Even if your claim is covered and meets the legal definition of harassment, there are still multiple barriers to seeking recourse through the courts. First, going through the formal legal system costs money. There are court fees and lawyers to pay, in addition to the time off work required.
Second, sexual harassment claims are subject to statutes of limitations — meaning that victims cannot bring these claims after a certain amount of time has passed. In many cases, these time limits are very short. The federal statute of limitations under Title VII, for example, is only 180 days, or roughly six months.
The New York State limit is three years.
Many of the claims of sexual harassment—and worse—that are coming out now as part of #Metoo are many years, and in some cases, decades old. Victims of sexual harassment often have more pressing needs in the immediate aftermath of the experience than filing a lawsuit, including dealing with the resultant trauma and, all too frequently, job loss. For these men and women there is nowhere else to go but the internet to air the grievances that have long been buried.
What Happens When Your Rape Expires? – The Establishment
The calls for due process are often tied with calls for reform to the existing laws. Reforms can take years to pass, and even when they do, they almost always apply prospectively to new claims, not retroactively. Thus, for many of the victims who posted their experiences as part of #MeToo, their options were internet justice or no justice at all.
Which would you have had them choose?
Social media has no barriers to entry. It is free and open to all. The only thing women need is an internet connection and the guts to come forward. Unlike the federal courts which are bound by the strictures of a nearly 50-year old law, the public has shown great willingness to consider the whole wide range of women's stories that run the gamut from rape to a squeeze on the waist during a photo op.
Even better, social media has allowed for a dialogue among diverse voices about what kind of behavior is acceptable and desirable in the society we want to live in, rather than just what is legal or illegal. The recent engagement around Babe's account of a young woman's date with Aziz Ansari is the perfect example. That article engendered some of the most thought provoking discussions on today's sexual politics despite the general consensus that the behavior described didn't break any laws.
To Raise A Feminist Son, Talk To Him About Aziz Ansari
One of the unique advantages of social media that makes it particularly well suited to this movement is the incredible power of hashtags to connect women with similar stories. The men who have been brought down by the #MeToo movement have not been felled by individual women tweeting out isolated claims. In each case consequences have been visited upon abusers based on the strength of a large number of women coming forward with often nearly identical allegations that show a pattern of misbehavior.
Such is the power of #Metoo that it can aggregate the stories of women who have never met and who are separated by decades. Hashtags allow for the revolutionary possibility that sexual harassment will no longer be characterized by "he said-she said" allegations, but, as illustrated poignantly in a recent New York Times ad, "he said- she said, she said, she said," cases, ad infinitum. (Though, of course, even one "she said" should not be dismissed.)
For all its utility, the role social media played in the #MeToo movement has also been overstated. The stories that brought down industry giants like Harvey Weinstein, Louis C.K., Mark Halperin, and others did not originate on social media platforms, but rather in the pages of the nation's finest newspapers. The allegations were thoroughly vetted by investigative journalists bound by a code of ethics that provides its own kind of due process. Journalistic ethics require corroborating sources before going to print with a story with serious allegations such as sexual harassment. Furthermore, journalists always seek comment from the accused, giving them an opportunity to speak out on their own behalf.
Critics' insistence on due process presupposes an answer to a still open question: What is "the point" of #MeToo? The courts are best at meting out punishment for violations already committed. What if #MeToo isn't about punishment, or, more to the point, what if it's about more than punishment?
What if it's about changing the system prospectively, not seeking redress for the past? What if it's about prevention? The author of the Shitty Media Men list wrote that her goal was to warn others about men in her industry so they could protect themselves. What if #MeToo is about catharsis and about having a long overdue conversation where we all get to have a say? What if there are a multitude of points, and very few of them are well served by the courts?
The reflexive outcry about the need for due process from #MeToo critics is not well considered. It's time we stop telling women where, when, and to whom they can tell their own stories. If #MeToo is about anything, it's about the end of the era of women and other victims suffering in silence.