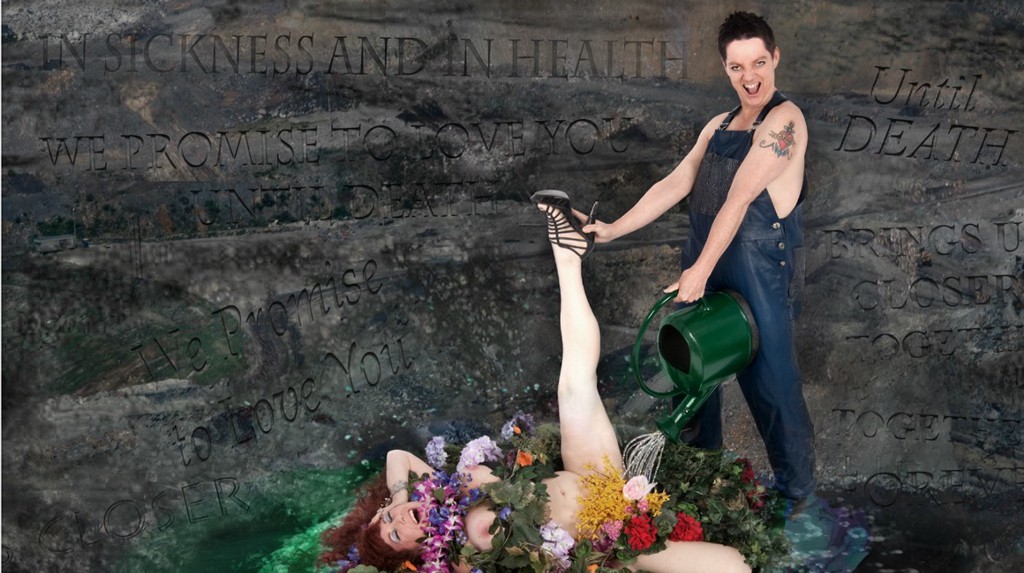 Ecosexuality is focused on the red-hot — if unusual — cross-section of ecology and human sexuality.

By Catherine Gigante-Brown
"I'll never look at trees the same way again," admitted a woman during the EcoSex Walking Tour of Central Park.
And for the burgeoning ecosexuality movement, that's precisely the point.
Launched by artists and activists Annie Sprinkle and Beth Stephens, ecosexuality is focused on the red-hot — if unusual — cross-section of ecology and human sexuality. The premise: "If you see the earth as your lover, as your equal, a partner, and not a force of nature to be overpowered or exploited, you're less apt to mistreat it," explained Stephens during the walking tour.
The tour, which took place in September as part of the Queer New York International Arts Festival, also included an orientation and "E-spot" (yup, an ecosexy spot) tutorial. Its climax? "Rubbing Manhattan's planetary clitoris," of course. Later that day, some 100 attendees were also treated to the debut of Sprinkle and Stephens' latest ecosexuality film, Goodbye Gauley Mountain: An Ecosexual Love Story.
If this all seems a little cheeky, that's because it is. But for Sprinkle and Stephens, it's also sincere — their mission is to fundamentally shift the way people look at the world around them. As their ecosexuality pledge puts it: "I promise to love, honor and cherish you Earth, until death brings us closer together forever."
A New Sexual Revolution Is Born
An interdisciplinary artist and activist, Stephens is a professor at the University of California, Santa Cruz, where courses on ecosexuality are among her specialties. For more than 25 years, her visual and performance work has explored themes involving the intersection of bodies, queerness, and feminism.
Sprinkle is a former prostitute and 1970s porn star who blossomed into an artist and sexologist. A gifted photographer, she earned her BFA from the prestigious School of Visual Arts and was the first adult film performer to earn a PhD.
The two met in 1990 when Stephens was in grad school and curated one of Sprinkle's shows.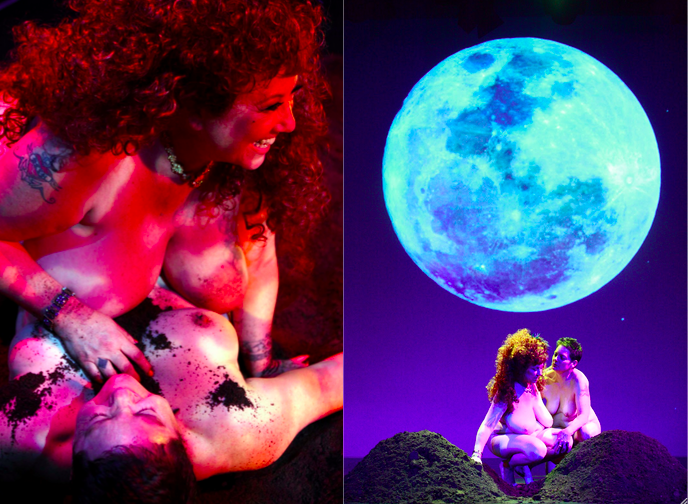 And their union — as creative collaborators and life partners — is a powerful one. Their Love Art Laboratory serves as a response to the violence of war, the anti-gay marriage movement, and the prevailing culture of greed. Projects have included "Post Porn Love," a theater/performance art show exploring everything from artificial insemination to queer weddings, and "Extreme Kiss," which involved the couple kissing passionately — without it leading to anything else — for three to four hours straight in public spaces.
The duo's work took a turn for the ecosexual in 2008 when they decided to marry the earth in Santa Cruz, California. In the seven years since, they've staged a new performance-art wedding each year in order to bring attention to another aspect of the Earth that needs some loving.
In 2009, for instance, Sprinkle and Stephens were invited to marry the sea in Venice, Italy, as part of the Venice Biennale, which has a long history of celebrating all things aquatic.
"We vowed to love, honor, and cherish the sea for eternity," Sprinkle said at the New York event. "Artists came from 19 countries to help us. Then, we married the snow in Canada and consummated it with icicles."
Their costumes are elaborate and sumptuous, crafted by their artist friends — voluminous sheaths of fabric with breast plates and ornate headpieces join forces with billowing yards of sensuous tulle. In their 2011 Appalachian wedding, the theme was purple . . . as in "purple mountain majesty."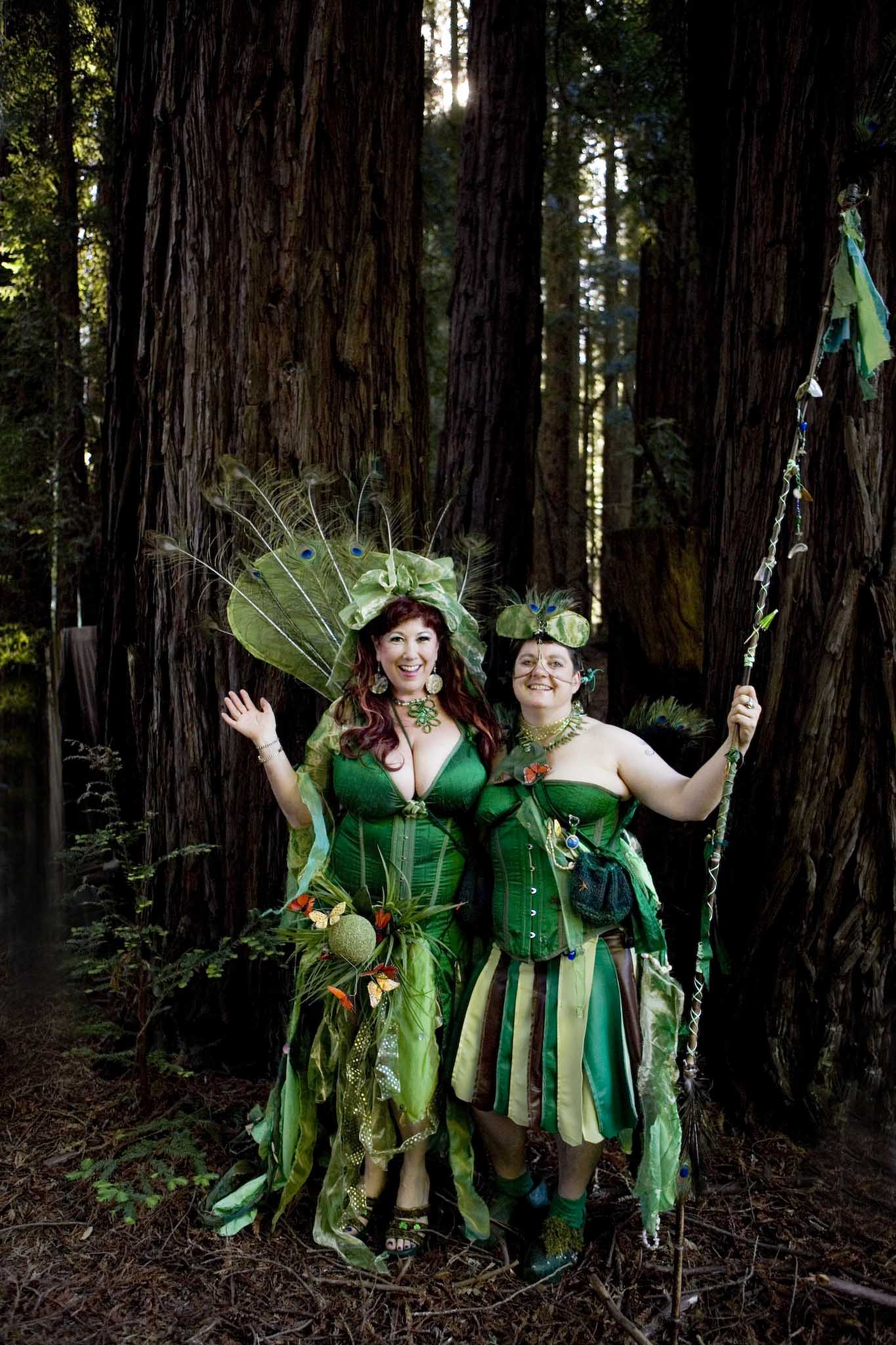 The weddings themselves are visually spectacular, sometimes with hundreds in attendance, and seamlessly incorporate elements like fire, water, ice, and snow.
"In Spain, we married coal and proclaimed that if you love coal, you leave it in the ground," Stephens recalled at the event. "We married the moon in Los Angeles with Reverend Billy officiating. The police came three times."
A Naughty Education
Before the screening of Goodbye Gauley Mountain, Sprinkle and Stephens gave the audience a crash course on ecosexuality (which is also sometimes referred to as "sexecology"). Using a slideshow, the pair shared "25 Ways to Make Love to the Earth," including:
# 1. Tell the Earth: "I love you. I can't live without you."
# 11. Hug and stroke her trees.
# 18. Bury parts of your body deep inside her soil.
"We're trying to create a new paradigm," Stephens said. "All too often, the earth is thought of as an enemy, as something to conquer. Or as a 'mommy' who 'feeds' you, provides for you, and gives you things like coal and oil. Well, Mommy is tired and she needs to be taken care of!"
Sprinkle, who is known for being abundantly amorous (she's been referred to as the "Tinkerbell of Porn"), has an innocent joy in loving the earth, whether it's licking a tree's bark in unison with Stephens, frolicking in a frigid mountain stream, or marrying a fossil fuel.
"The earth is all genders," she said. "Beth and I started calling ourselves ecosexuals — people who find nature erotic. It's a fetish, an expanded sense of love."
To further prove her point, the next slide at the event highlighted acrophilia (sexual arousal from high altitudes), terraphilia (sexual arousal from earth), pyrophilia (sexual arousal from fire), and aquaphilia (sexual arousal from water). "Who here hasn't straddled the jets of a hot tub?" Sprinkle posed to the audience.
No hands were raised.
The Sprinkle-Stephens Scale — "Based on Kinsey, but greener," qualified Dr. Sprinkle — rates ecosexuality on a scale of zero to six.
The audience was now sufficiently ecosexually-prepped for the film screening.
The Reigning Queens Of Gauley Mountain
The seed for Goodbye Gauley Mountain was planted when Stephens flew home to visit her native West Virginia a few years ago. She was crushed when the view through the airplane window revealed once green, gorgeous peaks that were ravaged by mountain-top-removal (MTR) mining. She and Sprinkle vowed to do something about it.
They responded as only artists and activists could — through creative channels. The end result — which they produced, directed, and appear in — is alternatively informative, moving, humorous, sensual, and cerebral. An all-too-dire environmental situation is injected with a touch of camp and ingenious activist strategies to call attention to Gauley's plight. Included is footage from Sprinkle and Stephens' 2010 purple Appalachian wedding.
Now available on Netflix, the film also includes memorable moments like Sprinkle hiking through the woods carrying a purse ("I'm the femme one," she blushed) and Stephens trying in vain to convince the police to sing along with her to a traditional West Virginia tribute song that ironically and eerily echoes:
"Oh, the West Virginia hills! How majestic and how grand . . .
Oh the hills, beautiful hills, How I love those West Virginia hills!"
Stephens traces her roots from a mining dynasty in 1600s Sheffield, England to Appalachia. Many in her family still live in the same town where she grew up. "Half of them don't talk to me because of this film," she shrugged. The other half attended the Purple Wedding.
Here Come The Ecosexuals!
Sprinkle and Stephens' next film effort, Ode to a Drop of Water, is currently in production. "Our documentary film company Pollination Productions is dedicated to making environmental movies more sexy, fun, and diverse," Sprinkle explained at the event. Ode… will look at practices like fracking, mining, and oil extraction in unexpected — but educational! — ways, deftly coupling activism with their signature kitsch.
The pair have also launched a project called "Here Come the Ecosexuals!" It's part road trip, part pop-up performance walking tours, H2O talks, parades, video, and more. "We bought and restored a trashy trailer and rechristened it 'The Pollination Pod, aka 'Polly,''" Sprinkle said of their converted 1975 Perris Pacer camper. "It's a traveling gallery, café, theater, and interactive educational/archive center." The plan is to criss-cross the country as time and schedule allows with Polly and their dog Butch, educating the masses on ecosexuality as they go.
Polly's debut and ribbon-cutting ceremony was at San Francisco Pride in the LGBTQI Parade this June. "I want to add the 'E' at the end of LGBTQI for 'ecosexual,'" smiled Stephens. "Our time has come."