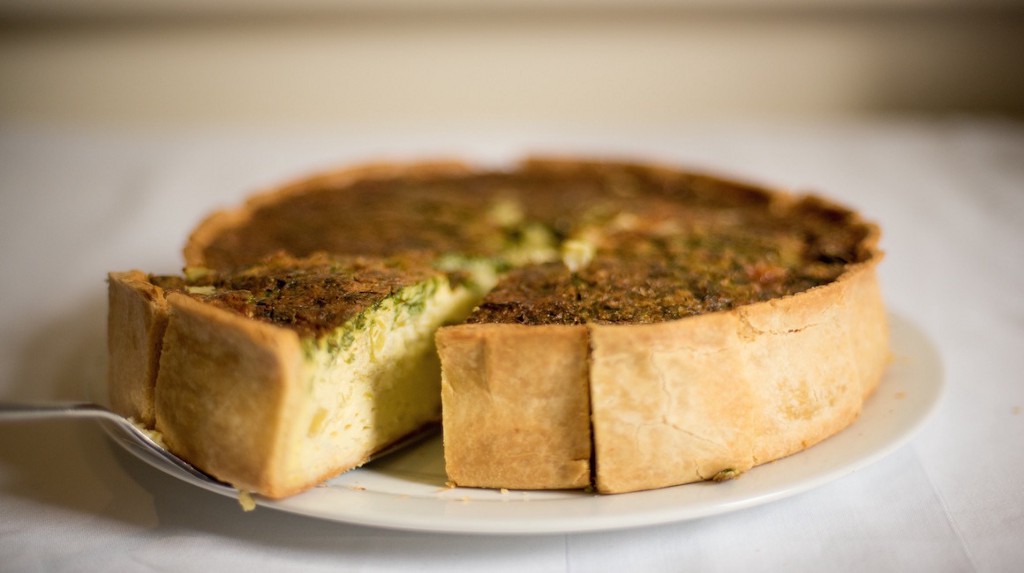 The first time I saw my child and held him, and touched his perfect little baby hands — that pales in comparison to this pie.
People say that the birth of your child is extraordinary, and that you'll never know love like the kind you experience after you've had a child of your own. This is true. But it's nothing compared to this pie I just made.
I know what you're thinking: Is it a sweet or savory pie? The answer may surprise you — the pie I'm waxing rhapsodic about is actually a savory pie. It is that good.
The crust — oh, the crust is glorious. It's filled with butter — SO much butter — and it rolled out perfectly. It's browned on top exactly the right amount. It looks just like the picture in the recipe. How often does that actually happen?
I mean, the first time I saw my child and held him, and touched his perfect little baby hands — that pales in comparison to this pie. Seeing my son learn to crawl and take his first steps was the most amazing experience of my life — until I put a bite of this pie into my mouth and it just melted.
The filling in this pie is magnificent. It is just the right melange of ingredients and flavors in perfect harmony. It is the yin and yang of pie fillings. It has chard in it. You might be thinking, "I hate chard." But in this pie, you'll love it, I swear. There's ginger in it, and coriander. The onions are subtle, and are neither undercooked nor too caramelized.
The ingredients have been sourced at my local farmers' market at the peak of their freshness. The chard is from a farmer I personally know; his name is Pete. Did I mention everything is organic?
I know already that the future accomplishments of my brilliant child will pale in comparison to the deliciousness of this pie. My child was accepted into Baby MENSA and was the first to be elected president of his kindergarten class (they don't usually even have class presidents in kindergarten), and I know he's going straight to Princeton before he hits double-digits, like Doogie Howser. But this pie . . . I'm telling you.
I cannot wait to serve you this pie, my friends. You are going to be so impressed. You will take a bite and say: "This is the absolute best pie I have ever had in my entire life." It's going to pair beautifully with a cold white wine. Forget hearing my child speak his first words or teaching him to ride a bike — this pie is the best thing I've ever done. Once you try it, you'll agree, even though it will make you question what you've done with YOUR life.
Also, the pie only took a few hours to make, as opposed to 41 weeks, and I did not have to get an epidural to produce it. Plus, there was no risk of pooping on the table. Perfection.
Editor's Note: Yes, this piece is based on a real pie.