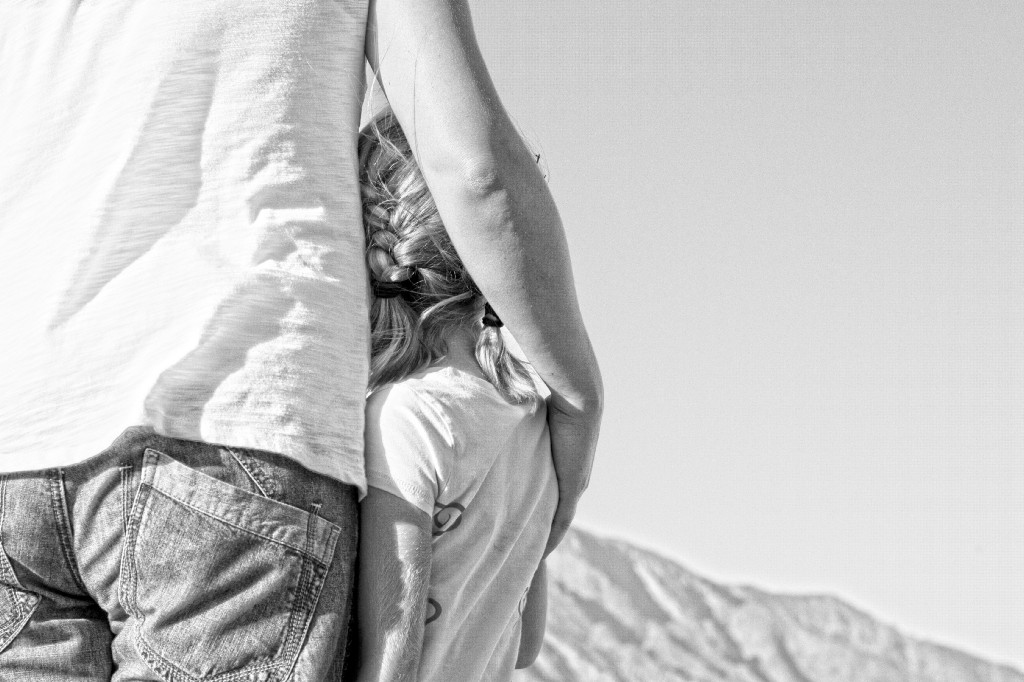 I entertain the thought that my father really did know that there was more to women, to me, and that he just didn't know how to deal with it.
Both my parents are the oldest of three, with two younger brothers. When my mother found out she was pregnant, she thought the talk of "their son" was due to this: that they had both experienced babies as being boys, and thus defaulted to the idea that so, too, would theirs be.
But while this was true for why my mother originally believed that she must be carrying a son, I don't think this was true for my father. When my mother happily called her own father to tell him the news — that she was pregnant, that it was going to be a girl — my father turned to her and said, "Is he excited?" When my mother replied that yes, of course he was, that both he and my grandmother were shouting in excitement over the phone from Poland, he scoffed. "He must be lying. He's got to be disappointed it's not a boy."
Because to my father, this was the tacit code among men: that a daughter was fine and good, if she preceded or succeeded a son. Daughters were sources of "daddy's girl" affection, and procurers of son-in-laws with whom one could barbecue and bond. A daughter will care for you in old age, fret and fuss about you taking your vitamins, while a son will be out in the world spreading your (however puffed up or imagined) legacy.
This is not so much bitter postulation as it is a direct recounting of what my father would often say on the topic. A male family member had had three daughters, and divorced his wife when she refused to find out the sex of the baby before having an abortion; three children was enough. How dare she: If it was a boy, she had no right.

My parents divorced a few months after I was born. I don't have many early memories, or many memories of childhood at all. In the classic family unit, children arrive into a domestic universe that is well-established: the family home, the family dynamic, the external support structure of extended family, the rules, the beliefs, the time dinner is served. However, when you are born into a time of extreme upheaval in two people's respective lives, you join them in the upheaval, and participate in two completely separate laws of physics. In the land of my mother, my girlhood was celebrated in the socially dictated gender-role ways: Spice Girls cassette tapes and funky dresses. In the land of my father, there was anger and confusion.
In all of my baby photos, I am covered in frills and ruffles. But while no one can refuse a baby girl, teenage girls are different: further away from lap candy and closer to nuisance. So by the time I approached the 4th grade, as the awkwardness of adolescence was slowly approaching, the lovable pigtails of babyhood were over. There was a shift: Suddenly, my hair had been cut short and I was in corduroys and rugby polos at all times.
No one can refuse a baby girl, but teenage girls are different: further away from lap candy and closer to nuisance.
Click To Tweet
One day, on the last day of school in June, there was a fair of sorts on the asphalt basketball court. I got my hair spray-painted blue. I had eaten a firecracker popsicle, because I remember going to the bathroom and sticking out my blue tongue in the mirror and hissing like a blue dragon. My dad had planned a camping trip on Bull's Island as the first order of summer; we pulled out of the parking lot of the fair and drove straight there. A few hours later we were on the rocky beach, and my dad threw a towel at me and gestured to kids playing in the water. I rummaged around in the bag he had packed for my swimsuit. It wasn't there.
"Where's my swimsuit?" I had asked.
"Guess I forgot," he shrugged. "Just go in with your shorts."
I paused, unsure what he was suggesting. "And a shirt?"
"No," he said. "You don't need that yet." He pointed to my flat chest. I was 9.
"I'll wear a shirt," I said.
"No you won't."
I still don't know why he obstinately refused to let me cover up my chest, as much as I still don't know if he actually had forgotten the swimsuit. I just remember crying. I remember being pushed onto the beach in only shorts and my blue bowl cut; a group of boys my age wading up to me, excited to see a new friend. "Hey, man! Cool hair."
I remember my chest tightening and tears stinging my eyes, feeling utterly mortified and so dysphoric I forgot my own name, which is completely unisex and did nothing to prove that I was actually a girl. (It's important to note here that not everyone assigned girl at birth identifies that way, or as one or the other gender, but I always have.)
I remember looking over at my dad, and seeing him beaming. His son. Being boys with other boys.

Something had settled in me by the time I was 13: I didn't like women, and I didn't want to be like them. There were millions of inane things women were simply bad at: like directions, my dad would say. They have no sense of a map. A step-girlfriend came into my life: a woman who seemed to sway slightly as she stood straight on her skinny legs, with a constant look of wide-eyed bewilderment, a pixie puff of golden curls, and always bright pink lipstick. She looked for all the world like who would be cast as Big Bird's wife in the live cast version of Sesame Street.
Sandra had her eyebrows and lip-liner tattooed on, and she said things like "serviettes" instead of napkins and "do you want to set the table?" instead of "could you set the table?" She put flax powder on everything she ate and made tea by dipping a tea bag once into hot water and setting it aside. Her favorite things to do were to go out dancing, and watch me scrub the bathroom and point out spots that were missed. She was, as my father said, "the icon of femininity: submissive and demure," or as my grandmother put it, "a Barbie doll with no self-respect." These were, allegedly, the same thing. Meanwhile, I was a chubby middle-schooler with frizzy hair and glasses. I often felt like a Semitic goat-herder next to her.
My Father, The Oppressor, The Immigrant, The Patriarch, My Hero
theestablishment.co
One time, I went with Sandra to the grocery store. She had only lived with us for two weeks at this point. We passed by an outdoor clothing sale, and she gasped at a long black number, holding it up to her body. "What do you think?!" She squealed, swishing it around. I shrugged. I was moody and contrarian and hardly knew the woman. Of course, she bought it.
Back home, she instructed me to sit and wait for her to try it on. She emerged two minutes later in the clinging dress, which consisted of a sparkly black slip underneath an ankle-length sheath of fine mesh. It was nice, and I said so. All of a sudden she gasped, then clapped her hands and squealed with delight. "I have an idea!"
She quickly shut the door behind her again. This time, she emerged in only the long sheath of mesh, without the slip underneath, or underwear. Nipples, stomach, ass; all dimly lit under the column of tight mesh. Whenever I encounter the phrase serpentine smile, I recall this moment. "Do you think your dad will like it?" She said, twirling.
This is the first time I understood that this was power.

Now that I was 13, my dad was over the desire to make me a tomboy and was now interested in fostering the future woman in me. He encouraged me to take "makeup lessons" with Sandra, to buy colorful clothes and more dresses. He wanted me to lose weight. He said that when I was 18, he would get me lasik surgery, and that when I was 21, he would pay for teeth whitening, and breast implants. He continued to lament my lack of affection toward him.
"When I heard the baby was a girl, I thought, at least she'll be affectionate," he'd say every time I'd swat away his hand from the back of my neck, where he liked to control where I looked while we walked.
I became aware of my father's preoccupation with women's bodies: When I would comment on a shirt a passing woman was wearing that I thought was cute, my dad would respond with, "I like what's underneath it." He had a critique for every woman we encountered: "She'd be attractive if she lost five pounds," or "Why is her husband with her with an ass like that? She must come from money."
I became aware of my father's preoccupation with women's bodies. Click To Tweet
This served his relationship with Sandra well. She was a stay-at-home Body, retired and tasked with only one duty — maintenance. Her days were spent eating slowly and carefully, and executing day-long exercise regimens. My father would often try to convince her to go to a fertility clinic to impregnate a Y-chromosome fertilized egg. At school, I would eat only bell peppers and cubes of watermelon for lunch. In nightmares of failure, I would often dream of a slowly rotating petri dish.
More and more my father pushed for me to be more effusive, eager, and skirted. There were two opposing categories for a woman's appearance that were negative ends of the spectrum: "like a lesbian" and "like a prostitute." Where fathers wanted their daughters was somewhere safely in the middle. For my father, the main source of power any woman could possess was her sensuality.
I think, in some deeply misguided way, this was his most genuine expression of love, as well as his most perplexing directive. At once, he wanted me to have power (read: sexuality) while remaining modestly pure and virginal. This was confusing for him. I was his child — he wanted me to command attention and be heard — yet the only way for a woman to accomplish that was to be enticing. "You want to be pretty, but not beautiful. If you're plain looking, then you'll be overlooked in life. If you're beautiful, life will always be very difficult for you." By "difficult" he meant: experience violence at the hands of men who will want you.
My Dad Wanted A Melania Wife And An Ivanka Daughter
theestablishment.co
By 14, I was at a prestigious all-girls school. I wore baggy clothes and focused entirely on books, being angry, and debate club. At school, I was immersed in a culture of women I respected, but I was not pretty or enticing, so I defaulted to the only other method of power I knew: my father's.
As the emotional abuse of Sandra increased at home, in which she would be elaborately punished for hours for absent-mindedly leaving a burner on, the flame of my own resentment for her weakness and meek toleration grew. I would dry-heave in the train station when it was time to go home. I was condescending and abusive in conversation. Every time I spoke to someone who threatened me with vulnerability, I would think of Sandra's most pathetic expression — her wide-eyed teariness and profuse apologizing for the most inane crime — and export that disgust upon anyone in my vicinity who dared to be a "pussy." I wanted, more than anything, for that pitiful woman to punch my dad in the face in defiance. But that concept didn't fit into sensuality or tyranny, the two forms of power, the yin and yang, the Mars and Venus, that I knew of. Every day this failed to happen, the gentlest parts of myself shut tighter.
From there, it is a poorly edited film. Image: many stills of my father screaming, at me or Sandra, or anyone. Stopping the car, kicking on the highway, locking us in rooms, withholding school or medicine. Scene: the day the judge announces that I am finally emancipated. Scene: Sandra visiting me at my mother's house and squeezing my arm urgently to say, "I'm leaving him too." Scene: Sandra taking it upon herself to visit me at college a year later to tell me she is back with my father. Scene: my grandmother telling me that my father has "adopted" a 23-year-old woman as his "daughter." Scene: finding out he has broken off contact with his "daughter" after she flirted with men in his presence. Same scene: realizing that my father has never seen me past the age of 17. Image: wearing a dress, image: feminist theory!, image: challenging and changing, image: loving being a woman, loving myself.
Every time I spoke to someone who threatened me with vulnerability, I would think of Sandra's most pathetic expression.
Click To Tweet
There is much more that happened than I could possibly cover, but what remains are the questions — how do we reconcile with what has happened to us, from the broadest way we must reconcile with the most vicious histories of our foremothers' treatment to the barest facts of our childhood? What does it mean for the clinical toxicity of the patriarch when his only reflection is found in the pool of a daughter? In which no woman is willing to bear him a son, in which no daughter is willing to be his, in which female dissent has dictated the dissolution of his most profound desire: an heir?
I have his hands, his chin, his sense of humor, his love of apples, bluegrass, and compulsive need to share articles. I have never seen him cry. I am the only child he will ever have. I entertain the thought that my father really did know that there was more to women, to life, to me, and that he just didn't know how to deal with it.
A few months ago, my father and I talked on the phone for the first time in six years. He asked if I remembered when he would lock me in the bathroom in five-hour increments. He reminded me that I was in there so long because every time he would open the door to tell me time-out was up, I would stubbornly say, "No worries, I'm enjoying myself just fine." This was infuriating for him, this way in which I would turn the power trip on its head. He explains that I have the same problem as my mother, who would pretend it didn't hurt when her father beat her, which made my grandfather so angry he would keep going. On the phone, my dad said to me, "Can you blame us? How else do you deal with a girl like that?"
I can't answer this because in truth, I have only loved and celebrated girls like that. I have only tried to tell girls like that that loving others does not make you weak, and resisting mistreatment does not make you a delinquent. I have only dreamt of a girl like that whose spirit is made neither for sex nor breaking, who knows she is complex, dynamic, and wanted, who exists beyond the fears and insecurities of those who aren't able to imagine the universe of her.